The Company
The Cato Corporation (NYSE:CATO) is a low-end fashion retailer with a primary focus on women's apparel and accessories and its strongest presence being in the southeast United States. It has a market cap of around $900M and currently operates 1,328 stores, under the names 'Cato', 'Cato Fashions', 'Cato Plus', 'It's Fashion', 'It's Fashion Metro' and 'Versona Accessories'.
The company is in the mature growth stage with significant free-cash flow and shareholder friendly management. Due to some sluggish results in recent years, Cato's share price ($30.97) has lagged that of its peers; however, I think there are some good reasons to believe in a coming turnaround and as such, I feel Cato offers a compelling case for long-term investors at current market prices.
Recent Results
In the past 3 years, Cato's EPS has fallen 16% ($2.21 in 2011 to $1.86 in 2013).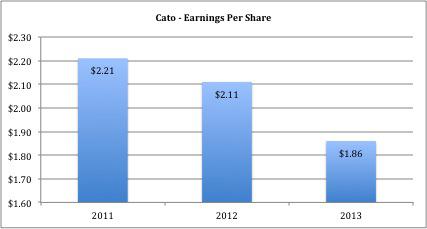 Chart Figure Source: Form 10-K (Diluted Earnings Per Share)
Similarly same store sales growth has declined in each of the past 3 years; 2011: -1%, 2012: -4%, 2013: -3% (Source: 2011 - 2013 Form 10-K); although when viewed against the backdrop of declining national retail sales growth over the same period (chart below), it's easier to sympathize with CEO John Cato's recent musings in the 2013 annual report, that 'Cato has operated in a very challenging environment for several years now…slower job growth and higher living costs reduced our customers discretionary income'.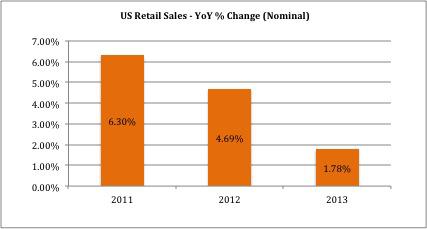 Chart Figure Source: www.multpl.com
Having said that, in my view, this most recent struggle with same store sales and the fall in EPS (although Cash Flow from Operations has continued to grow), are mere hiccups in an otherwise sturdy long-term growth story.
Sources of Growth
To my mind, there will be 4 main drivers of revenue and profit growth in the coming years:
1) An improving economy
This is the obvious driver; if the economy continues to grow, namely incomes and retail sales, which are up 4.3% annualized YTD (Source: US Department of Commerce), it likely spells increased same store sales growth for Cato.
Already in 2014, same store sales for Cato were up 3% in Q1 and 3% in both May and June. These figures point to top-line growth, something that's been very hard to come by for Cato ever since the recession.
2) E-Commerce platform
Cato was late to the game in establishing an online sales platform (launched Q4 2013). Nevertheless, this now has the potential to be a significant growth driver.
While it may take time to have a material effect on results (it currently accounts for less than 1% of revenue), the website should eventually drive additional sales. Other competitors derive a significant amount of sales from their online presence, such as Ascena (8.5%), The Gap (14%) and Abercrombie & Fitch (19%); all of which appear to have been done with minimal cannibalization.
Furthermore, Cato's e-commerce website has all been developed and operated in-house. According to CEO John Cato, from the 2013 annual report: "We are handling all operations in house as well. We built our own photo studio, created an order fulfillment process in-house through our distribution center, and utilized an existing customer service function for a customer call center."
This development augurs well not just for additional revenue growth, but also for net operating margins in the coming years.
3) The continued expansion of the Versona store concept
In 2011, the company launched 'Versona Accessories', a brand focusing mainly on jewelry, handbags and shoes.
From 2011 to the end of 2013, Cato has opened 39 Versona stores. This accounts for 100% of all new store growth for Cato (the number of 'Cato' & 'It's Fashion' stores has remained flat over the same period).
Per the 2013 annual report, John Cato on Versona: "As we have stated in the past, the concept allows us to diversify not only our customer base but our real estate as well. We look forward to continued profitable growth of this concept." As accessories sales have also traditionally been a higher margin play than apparel and Versona currently accounts for only 3% of Cato's total storefronts, a continued focus on the growth of this concept in the coming decade, should contribute to both top-line growth and continued margin expansion for Cato.
4) Share repurchases
Cato management has a track history of returning cash to shareholders through a combination of increasing dividends, special dividends and share repurchases. The share repurchase program has been a big part of the reason Cato been able to grow EPS at a 5.9% compound rate over the past 10 years, with revenue growth of only 1.8%.
Cato has no debt and a continually growing cash balance (now up to $239 Million, or 27% of Cato's market cap), but in the past few years has experienced declining returns on equity (from 18.7% in 2010 to 14.4% in 2014).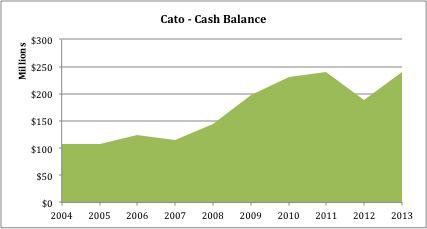 Chart Figure Source: Form 10-Ks (Cash & Short-Term Investments)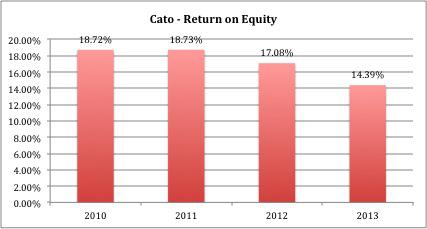 Chart Figure Source: Form 10-Ks (Net Income/Average Equity)
There's one simple way for management to reverse this declining ROE trend: increase share repurchases to lower their cash on the balance sheet and shrink the share base further. Already in 2014, management has repurchased almost $40M of outstanding stock, which had the effect of shrinking the outstanding share base by 1.7%.
In addition, on May 20, 2014, the board of directors increased, by 2 Million, the authorization to repurchase shares. If management repurchases this full amount (which at current market prices represents only a quarter of their cash currently on hand), this alone would shrink the share base (and increase EPS) by an additional 7%.
Risk Factors
I believe the biggest downside risks for Cato include the following:
1) Increasing costs
Any inflationary pressures in the coming years could have a negative impact on Cato's margins moving forward. In fact, increasing rents were a big part of the reason gross margins fell from 38.4% in 2012 to 37.9% in 2013, negatively impacting EPS; from Cato's annual report: "The increase in cost of goods sold as a percent of retail sales resulted primarily from higher occupancy costs."
2) Slow economic growth
If income growth stalls and costs of living continue to rise, Cato may experience (or should I say continue to experience) flat or declining same store sales growth. Fortunately, so far this year, it appears consumer spending is on the rise and this is showing up in solid same store sales growth for Cato.
3) E-Commerce platform fails to deliver
If Cato's website fails to drive online sales, this new development could actually have an adverse impact on net margins. As mentioned earlier, all operations of the site, from the photo studio to the customer call center, are being done in-house. If online sales don't materialize in coming years, these increased costs will be a drag on earnings.
4) Management doesn't reach new store growth targets
This is not so much a risk as it is a reality. Management have consistently over-promised and under-delivered on new store growth. In fact, not once in the past 10 years have management reached their net new store guidance. See here, here and the chart below: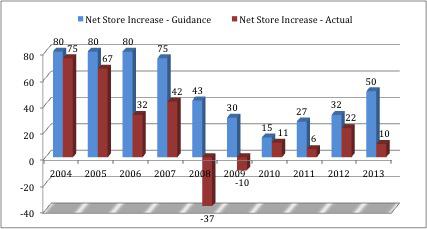 Chart Figure Source: Form 10-Ks (Store Development)
The most recent excuse from CEO John Cato in the 2013 annual report was "the lack of shopping center development remained a significant hindrance on opening new stores." While a stronger economy makes it more likely that management will get close to its targets (see 2004 & 2005 in the chart above), there's probably no reason to believe this trend will change anytime soon; net new store guidance for 2014 was 47, while fiscal year to date (as at June 30), the company had opened only 8 net new stores (opened 11 and closed 3).
Since same store sales growth has been non-existent in recent years, the main source of growth has been these new storefronts. Since 2004, even with this consistent shortfall vs. guidance, new store growth has contributed an average of 2.5% to annual revenue growth (calculated by subtracting same stores sales growth and an additional 2% in 53-week fiscal years from annual revenue growth). If management does start reaching (or even getting close to) its targets, new store growth alone could conceivably add 4-5% in annual revenue growth.
Valuation
There's no question in my opinion, that Cato's stock is now under-valued, after investors have lost patience following a string of poor results and constant excuses from management. Since the broad market recovery began in 2009, Cato's share price has significantly lagged that of its competitors (up 57% in 5 years vs. 178% for the SPDR S&P Retail ETF - XRT), however, there's every reason to believe that Cato's stock price is now due to play catch up.
With a significant portion of cash flow being returned to shareholders via dividends and repurchases, and the growth factors discussed above expected to materialize in the coming years, I believe a 2-stage Dividend Discount Model is the most appropriate valuation tool; I'll use a 10-year first stage period in which these growth factors play out.
Let's begin by breaking down revenue growth assumptions for this 10-year period. As previously mentioned, new store growth in the previous 10 years has been responsible for an average of 2.5% in annual revenue growth. While this 10-year period included a severe recession and consistently large misses on new store guidance, I'll keep the model conservative and use this figure again (2.5%) for annual revenue growth from new stores.
In relation to the launch of the e-commerce platform, I think it's reasonable to assume that by 2023, Cato would be deriving at least 10% of its sales from this stream (some of its competitors have a higher figure than this in 2014), done with no cannibalization (which appears to have been the case with other retailers' e-commerce sales). If we add this revenue linearly over a 10-year period, this new development will add 1.0% to annual revenue growth in the coming decade.
Same store sales growth will be heavily dependent on economic growth and consumer spending patterns. Again, let's remain conservative and assume same store sales growth of just 1.0% per year for the next 10 years.
Using these assumptions for new store openings, e-commerce sales and same store sales (2.5%, 1.0% and 1.0%), I've projected 4.5% annual revenue growth for 10 years.
The next assumption needed to derive EPS, and then DPS, is net profit margins. In 2013, Cato's net operating margin was 5.9%; however, just 2 years ago, Cato's net profit margins were 7.0% and with the continued focus on the expansion of Versona (the higher margin accessories concept), the growth of online sales and the eventual construction of their new distribution facilities (see here), I think it's reasonable to expect that Cato's net profit margin will gradually expand to be closer to some of its competitors (e.g. The Gap: 7.9%; Ross Stores: 8.2%; L Brands: 8.4%). For the purpose of this valuation however, I'll assume that net margins expand back to just 7.0% linearly over a 10-year period.
We also need a dividend payout ratio and to model in share repurchases. I'll use this year's dividend payout ratio ($1.20 per share will be around 60% of net income), which is also close to the average payout ratio over the previous 10 years. I'm going to also assume that management uses 20% of net income each year to repurchase shares; a conservative assumption given the amount of cash on the balance sheet, the track record of repurchases and management's stated intention of returning value to shareholders through future share repurchases.
I've used a terminal growth rate of 4.0%, a good amount lower than Cato's 10-year average of 5.6% EPS growth and finally, I've assumed an 8% required rate of return; arguably higher than the overall market's expected return at this point.

Per above, using a host of conservative assumptions I put Cato's intrinsic value at $41; undervalued by around 25% at current market prices.
Similarly, Cato looks undervalued by just about every valuation metric; it currently trades at a trailing P/E of 16.9, compared to the apparel industry's 24.4 (Source: Yahoo Finance), a P/S of 1.0, compared to the industry's 1.3, and a notably inexpensive Price/Cash Flow from Operations of 9.7.
Conclusion
Due to Cato's lackluster revenue growth since the onset of the recession, consistent over-promising from management and more recently, negative EPS growth, the market is fast losing patience with Cato.
Yet for value investors, Cato now offers an attractive buying opportunity at any price under $33 (20% below my fair value). With minimal downside risks, a dividend yield of almost 4%, significant free cash flow, numerous reasons to expect solid EPS growth in coming years and a management team dedicated to returning cash to shareholders, long-term investors would be hard pressed to find many more compelling opportunities in the apparel retailer space.
Disclosure: The author has no positions in any stocks mentioned, and no plans to initiate any positions within the next 72 hours. The author wrote this article themselves, and it expresses their own opinions. The author is not receiving compensation for it (other than from Seeking Alpha). The author has no business relationship with any company whose stock is mentioned in this article.