The 3D printing industry is growing at a fast pace. However, the stock price performance of Stratasys (NASDAQ:SSYS) has been weak this year, with shares declining 20%. But, Stratasys' performance has been better than rival 3D Systems (NYSE:DDD), which has been languishing with a stock price drop of 41%. Moreover, Stratasys' financial performance has been better than 3D Systems'.
Terrific growth
In the first quarter, Stratasys reported revenue of $151.2 million, up 53.9% from the year-ago quarter and exceeding the consensus estimate of $144 million. However, EPS was $0.30, less than the consensus estimate of $0.33. The company's gross margins increased 213 basis points to 60.9% as compared to 59% for the same quarter last year. In comparison, 3D Systems' bottom line had dropped as much as 17% last quarter, while revenue growth was slower at 44.7%.
Looking ahead, Stratasys should continue doing well as it has a solid position in the industrial 3-D printing segment. While the company focuses on the industrial 3-D printing market, other companies are aiming for the consumer market, which is yet to adopt this technology. The company, in the first quarter, announced its new systems, namely Objet500 and Connex3, Color Multi-material 3D printer. This is the first and only 3D printer to combine color and multi-material 3D and features a unique triple jet technology that allows the user to combine color with various combinations of flexibility and transparency.
Positive moves
The high-end printers of Stratasys range from Fortus 250mc to Fortus 900mc, with each being different from one another only in terms of size of the output and the number of input materials. While Fortus 400mc costs around $185,000, Fortus 900mc is around $750,000. The company shipped 8,802 units of 3D printers last quarter, taking the total toll of sold units to 84,620.
The earlier successful Stratasys-Objet merger resulted in strong revenue growth. The acquisition of MakerBot, a company already leading globally in the 3D printing industry, has helped Stratasys achieve good results. MakerBot earned Stratasys a market share in the consumer segment, also adding to the company's profitability, which will prove to be beneficial for its long-term growth.
The MakerBot platform includes three new fifth generation MakerBot replicator 3D printers -- the MakerBot Replicator Desktop 3D printer, MakerBot Replicator Mini Compact 3D printer, and MakerBot Replicator Z18 3D printer. The MakerBot Replicator Mini won the CES 2014 Editors' Choice Award from Popular Mechanics, the CES 2014 Best in Show award by Digital Trends and ZDNet and was named the Best of CES 2014.
Stratasys has also acquired two major private companies -- Solid Concepts and Harvest Technologies. The acquisition of Solid Concepts and Harvest Technologies goes with the company's strategy of acquiring leading companies to achieve its goal of continued leadership in areas where it operates.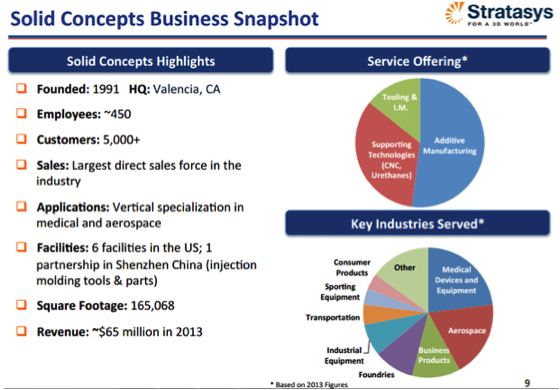 While Solid Concepts will help Stratasys with its knowledge of manufacturing and focus in medical and aerospace, Harvest Technologies has experience in power production, along with material and system knowhow. The collaboration of Solid Concepts and Harvest Technologies with RedEye will increase opportunities for Stratasys in selling systems and services across the company's large customer base.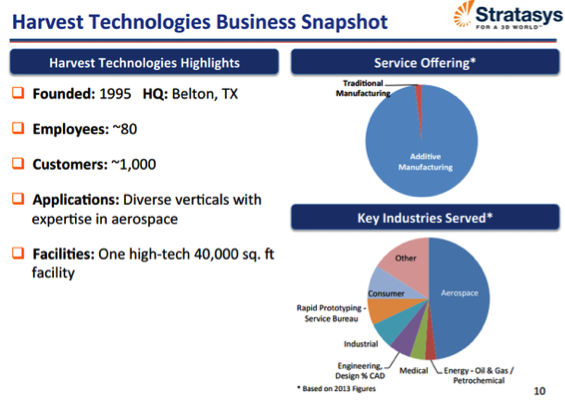 Stratasys has also acquired some assets of Interfacial Solutions. This acquisition is expected to accomplish three objectives for Stratasys -- strengthening the material R&D skills and bandwidth, helping the company become vertically integrated in material development and manufacturing, and increasing material production space and capacity.
Better than 3D Systems
Stratasys has done a better job of integrating its mergers and acquisitions into its core business than 3D Systems and this is the primary reason why it has a better business model. Stratasys' acquisition of MakerBot has broadly enhanced its business in the consumer segment. Stratasys has been a dominant force in the industrial segment of 3D printing. However, it has lagged in the consumer segment.
However, the acquisition of MakerBot brought it right back into the game. 3D Systems, on the other hand, has acquired numerous companies, and the company will definitely struggle to integrate these acquisitions into its core business.
Moreover, nearly 50% of M&As tend to fail, which means that the chances that many of 3D Systems' 40+ acquisitions will fail are high. The high number of acquisitions is the primary reason why 3D Systems has been reporting weak profits for the past two quarters. The company claims that it is investing money in order to reap rewards in the future. However, if even half of these acquisitions fail (which is highly likely), 3D Systems will lose a lot of money and lose investors' confidence.
In addition, the industrial segment of 3D printing has a much larger potential than the consumer segment, and as things stand, Stratasys is all set to benefit from it. It already has a market share of 54%, as compared to 3D Systems' 20%, and Stratasys is investing in R&D to make better products and add to its wide list of industrial clients.
Conclusion
Evidently, Stratasys is making some solid moves in the 3D printing market. In fact, it is even better than 3D Systems in terms of growth and because it focuses on the industrial market. Its performance on the stock market has been better than 3D Systems, while Stratasys' acquisition strategy is also sound. So, investors should consider investing in Stratasys instead of 3D Systems.
Disclosure: The author has no positions in any stocks mentioned, and no plans to initiate any positions within the next 72 hours. The author wrote this article themselves, and it expresses their own opinions. The author is not receiving compensation for it (other than from Seeking Alpha). The author has no business relationship with any company whose stock is mentioned in this article.