Empresa Brasileira de Aeronautica S.A. (NYSE:ERJ), better known as Embraer, has reported an EPADS of 54 cents for the third quarter of fiscal 2010, above 32 cents in the year-ago quarter and 40 cents, the Zacks Consensus Estimate. Net income was $99.7 million, up 64.5% from $60.6 million in the third quarter of 2009 driven by better cost control and favorable foreign exchange translation.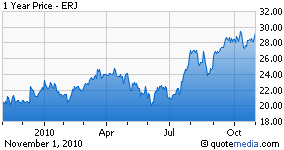 Net revenue reduced to $1,042.6 million from $1,246.0 million, a reduction of 16.3% year over year based on lower firm order backlog and lower aircraft delivery. The fact that there was no significant recovery in economic conditions did not help matters.
Revenue from the Commercial Aviation segment dropped 26.8% year over year to $603.0 million while revenue from the Defense segment increased marginally to $73.6 million from $70.8 million in the corresponding period of fiscal 2009. Executive Aviation and Aviation Services segmental revenues almost remained flat at $201.0 million and $129.7 million from $200.7 million and $127.1 million, respectively.
Gross margin shot up by 330 basis points to 22.1% from 18.8% and Earnings before Interest and Taxes (EBIT) increased to $62.7 million from $68.0 million in the same period of 2009. The EBIT margin stretched by 50 basis points. Third quarter Adjusted EBITDA almost halved to $388.0 million from $627.5 million with a margin of 37.2% from 50.4% in the year-ago quarter. The prime reason behind the decrease was lower revenue.
Embraer earned a foreign exchange gain of $2.7 million compared with a loss of $35.0 million in the third quarter of 2009. This was the reason for the increase in net income during the quarter. The company delivered 20 commercial jets and 24 executive jets, a decrease from 69 deliveries in the second quarter of 2010. The order backlog remained flat at $15.3 billion.
Embraer generated operating cash flows of $125.4, flat compared to $125.6 million in the same period of 2009. However, cash & cash equivalents decreased to $1,044.4 million from $1,393.2 million as debt was repaid. At the end of the third quarter, Embraer's net cash position dropped to $623.8 million from $658.7 million at the end of the previous quarter.
Outlook
Embraer expects a reasonable increase in its fiscal 2010 EBIT and EBIT margin. It expects EBIT to reach $380 million from $340 million and EBIT margin to move up to 7.25% from 6.5% guided earlier. EBITDA and the EBITDA margin are expected to reach $460 million and 7.75% from $420 million and 8%, respectively. Fiscal 2010 revenue guidance remains at $5.25 billion.
Following the certification of the Legacy 650, the majority of deliveries of the Legacy aircraft is also scheduled to take place during the fourth quarter of fiscal 2010.
An increase in management's outlook also remains encouraging. Further, Embraer's strong liquidity position, diversification into broader defense and corporate jets and the support of the Brazilian government will help it sustain in a difficult situation. Hence, we reiterate our Neutral recommendation for the long term. This is in line with the short term "Hold" rating (Zacks #3 Rank) that the company has.