By Jason Raznick
Interesting what some view as the best ETFs to play the BHP Billiton (NYSE:BHP) and Potash (NYSE:POT) saga. A fine example of missing the boat can be seen here, courtesy of a major financial news publication.
The piece mentions the BLDRS Developed Markets 100 ADR Index (NASDAQ:ADRD), the BLDRS Asia 50 ETF (NASDAQ:ADRA) and the Direxion Daily Developed Markets Bull 3x Shares (NYSEARCA:DZK) as preferred ways to get exposure to BHP.
Or you could try the S&P Global Materials Sector Index Fund (NYSEARCA:MXI), which allocates almost 14% of its weight to BHP securities AND Potash combined.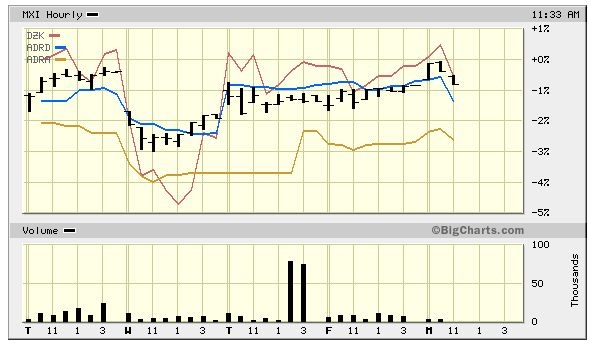 Today, MXI is higher than ADRA and ADRD while DZK is not outperforming MXI by enough to justify the risk of being in a leveraged ETF.
Same goes for the last three months. MXI blows ADRA and ADRD away while barely trailing DZK. Factor in the expenses of owning a leveraged ETF for an extended time period and MXI is clearly the better bet of this quartet for BHP/Potash news.
Disclosure: No position