Current trends may carry price to a new peak that by historical analogy could be surprisingly higher for gold, oil, stocks and five Top Line Cash Payers --- Freehold Energy Trust (OTCPK:FRHLF), buy-recommended Dorchester Minerals L.P. (NASDAQ:DMLP), Permian Basin Royalty Trust (NYSE:PBT), Sabine Royalty Trust (NYSE:SBR) and Cross Timbers Royalty Trust (NYSE:CRT). From the same point of the four-year cycle in October 1978 as today, the gain in price to a peak within two years was four-fold for gold, more than two-fold for oil and about a half for the broader stock market (see chart Gold, Oil and Stocks, 1977-1981 below).
Stocks of small cap oil and gas producers gained several fold (pdf) during the same period. The climactic gains arose from a base price that already was up from a decade earlier by six-fold for both gold and oil. Should even part of the multi fold gain occur again, Top Line Cash Payers would likely participate. In any case, income is attractive at a median 6.8% a year, financial risk is low at zero to slim debt, revenue royalties are a median 77% of income and the stock price trend is positive. While we want to be positioned for the upside, our estimates of income are grounded in recent futures quotes for oil and natural gas and latest volume and expense indications for each stock.
Click to enlarge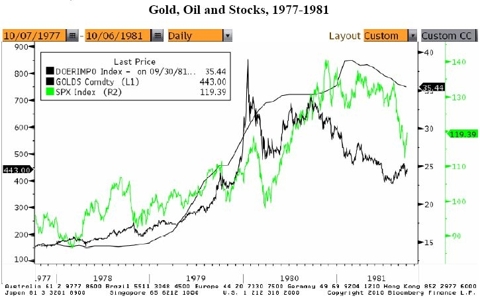 Originally published on October 8, 2010.