Shares of Yahoo (NASDAQ:YHOO) moved higher on Wednesday following the release of Eric Jackson's article, Is Alibaba Or SoftBank About To Buy Yahoo? While a deal may still be a long shot, I believe the odds of Alibaba (NYSE:BABA) making a move to acquire YHOO are increasing.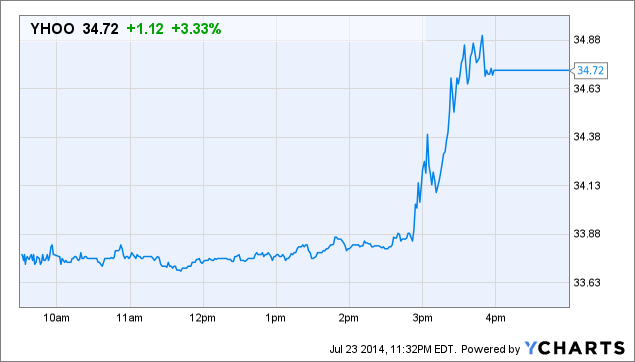 YHOO Price data by YCharts
Deal Logic
Like many other deals that have been happening of late, the key factor that makes YHOO an interesting takeover target for Alibaba has to do with taxes. If Alibaba were to acquire YHOO, a significant tax bill would be avoided. Currently, based on current market valuations of Alibaba, YHOO is expected to pay $10- $20 billion of taxes when it sells its entire Alibaba stake. YHOO's Alibaba shares are currently, in my view, being valued on an after tax basis. Under the plan that Eric Jackson outlined, after buying YHOO, Alibaba would then swap YHOO's 35% stake in Yahoo Japan for a commensurate amount of Alibaba stock currently owned by SoftBank. By buying YHOO, and engaging in an asset swap with SoftBank, Alibaba would be able to alleviate the issue of a large overhanging shareholder which could keep Alibaba shares under pressure after the IPO.
Yahoo To Sell Fewer Shares
In a somewhat surprising move, YHOO recently announced that it has received approval from Alibaba to reduce the number of shares it is selling in the IPO to 140 million from 208 million. I believe this move could indicate that a deal is becoming more likely. It is unclear to me why Alibaba would want YHOO to sell fewer shares than had previously been agreed upon. However, it would make sense that Alibaba would want YHOO to sell less shares if a plan is in the works for Alibaba to ultimately buy all of YHOO.
Weak Earnings and Lack of Strategy
YHOO recently reported Q2 earnings which were headlined by a 4% drop in revenue. YHOO shares traded sharply lower following the disappointing earnings results. YHOO's weak earnings point to a larger problem than simply a bad quarter: the company is unlikely to create additional value by using the 50% of Alibaba proceeds that the company has not already committed to return to shareholders. Given the lack of long-term strategy and potential, it seems likely that YHOO shareholders would want to take advantage of a possible deal to sell the company to Alibaba for a premium due to Alibaba's unique position which would allow it to realize the full value of YHOO's stake without incurring taxes.
Yahoo Stock Price
As shown by the chart below, despite the increasing hype surrounding the upcoming Alibaba IPO, YHOO shares have performed poorly so far in 2014. YHOO's weak stock price is providing Alibaba with an opportunity. If YHOO shares were trading at say, $45, a deal would be difficult to achieve because it would be hard to Alibaba to offer a premium deemed "significant." However, with YHOO shares currently trading in the mid 30's, Alibaba could easily offer $45- 50 per share, which would qualify as a significant premium.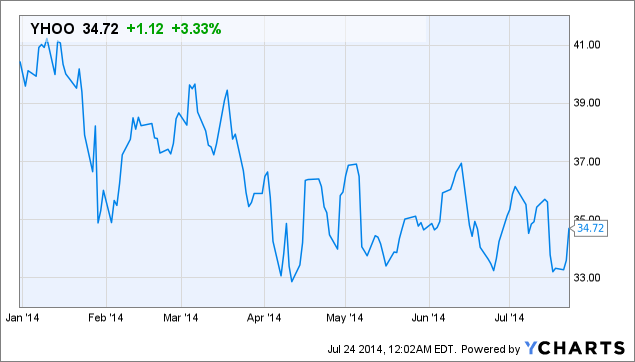 YHOO data by YCharts
Conclusion
While a deal for Alibaba to acquire YHOO might still be unlikely, I believe such a transaction is becoming increasingly likely. YHOO's decision to reduce the amount of Alibaba shares it is selling along with YHOO's lack of a long-term strategy and the strong logic behind a deal are reasons why I believe a deal is becoming more likely. The timing of such a transaction is unpredictable but, in my view, a deal would be more likely shortly following Alibaba's IPO because the company will have a significant amount of cash raised from the IPO which could be used to help finance a deal for YHOO.
Disclosure: The author is long YHOO. The author wrote this article themselves, and it expresses their own opinions. The author is not receiving compensation for it (other than from Seeking Alpha). The author has no business relationship with any company whose stock is mentioned in this article.