General Electric (NYSE:GE) has confirmed its plan to hold an initial public offering for its retail finance unit, to be named Synchrony Financial (Proposed ticker of SYF). General Electric will sell 125 million shares of common stock, representing 15% of Synchrony Financial, later this month for $23-26 per share. The remainder of the company will be spun-off in 2015. This values Synchrony Financial at about $20 billion. In 2013, Synchrony Financial reported $2 billion in earnings, down slightly from $2.1 billion in 2012. This puts the EPS at 2.4 and a valuation of between 9.6X and 10.8X earnings, depending on the IPO price. This is considerably lower than GE's current valuation of 17.7X earnings. General Electric likely underpriced Synchrony Financial in order to generate interest in the company ahead of spinning-off the remainder of the company in 2015.
If you have ever been pestered to sign up for yet another credit card at JC Penney (NYSE:JCP), Wal-Mart (NYSE:WMT), or Amazon.com (NASDAQ:AMZN), then chances are you are familiar with Synchrony Financial. Synchrony Financial is the largest issuer of store-branded credit cards in the U.S. ahead of other big players, including Citigroup (NYSE:C) and Capital One (NYSE:COF). Synchrony Financial operated under the umbrella of GE Capital, which in addition to consumer lending, also operates in commercial lending, real estate, energy financial services, aviation services, and corporate finance.

Source: http://www.ge.com/sites/default/files/ge_capital_2q14_supplement_07182014_0.pdf
As shown above, GE Capital is one very large umbrella. Given how much volatility this unit added to the parent company during the financial crisis in 2008, it makes sense that GE wants to reduce its reliance on them while focusing on expanding its industrial unit. Last quarter, GE Capital contributed 43% of GE's total revenue, but most of GE's growth came from its industrial unit.
IPOs and Spin-offs are Outperforming the Market
Synchrony Financial's IPO will be the largest one so far this year, surpassing Ally Financial's $2.4 billion IPO in April. This year has been red hot for IPOs; in fact, we have to go as far back as 2000 to find a comparable 7 month span when as much money was raised and as many deals were made. Of the 156 IPOs that have come out this year, the average first day stock price jump has 15% with the average total return YTD of 12.8%. In the long-term, IPO performance as tracked by the First Trust IPOX-100 ETF (NYSEARCA:FPX) has outpaced the S&P 500 index by 12% annually since 2007.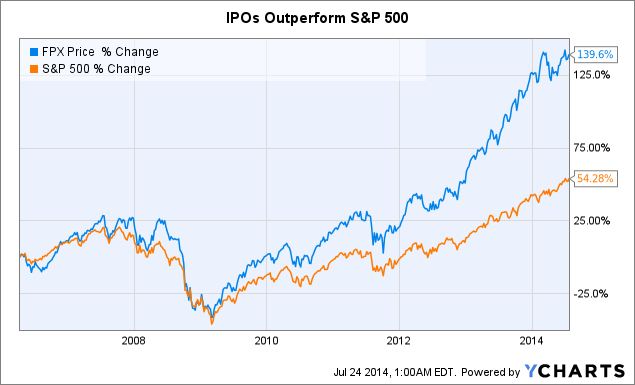 Ultimately, the remaining 85% of Synchrony Financial will be spun-off next year in a tax-free transaction to General Electric shareholders. So far this year, there have been 28 spin-offs completed vs. 18 spin-offs completed this time last year, indicating that this is becoming a more prevalent strategy for parent companies looking to become more focused and leaner entities. Leaving aside the merits of Synchrony Financial for now, let's discuss how spin-offs in general perform compared to their parent companies. This has been the focus of many academic studies. Most of these studies find that both the parent company and the spin-offs tend to outperform the market, with the spin-offs doing better than their respective parent companies. A study by Patrick Cusatis, James Miles, and Randall Woolridge found that between 1965-1988, spin-off companies and parents beat the S&P 500 index by an average of 30% and 18%, respectively, during the first three years of trading after the spin-off occurred. Several other studies covering different time periods echo these results, indicating that spin-offs generally outperform the stock market and typically outperform their parent companies by nearly 2X as much.
The Claymore Beacon Spin-off ETF (NYSEARCA:CSD) follows spin-off companies for up to 30 months since the spin-offs occurred. Since 2007, this ETF has outperformed the S&P 500 index by nearly 6% annually.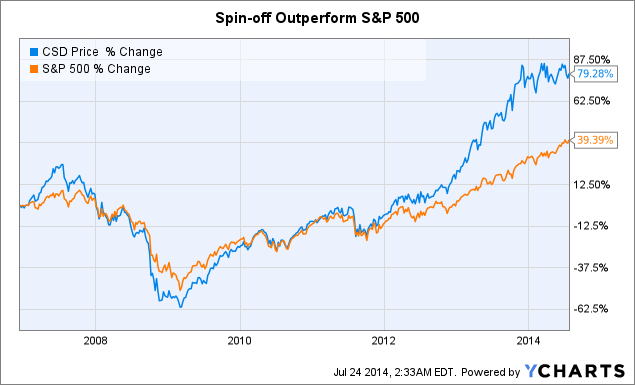 In general, IPOs and spin-offs outperform the stock market. For this reason alone, Synchrony Financial is worth considering. Let's now consider what this company has to offer.
General Electric Vs. Synchrony Financial
General Electric is a large conglomerate that has its fingers in many honey pots, many of which are no longer growing. However, its industrials unit is showing promising signs of growth ahead, and the company is making a concerted effort to decrease its earnings reliance on its financial unit, GE Capital, and instead increase its reliance on its industrial unit. This is supported by recent news that it is spinning off Synchrony Financial, selling its consumer appliance business, and acquiring the French industrial company Alstom. As a more focused company, General Electric has more attractive growth prospects. However, this is still a very large and diversified conglomerate and only offers a projected 5 year growth rate of 7.5% annually according to Thompson Financial.
On the other hand, Synchrony Financial is likely being purposely underpriced by General Electric in order to generate interest ahead of its spin-off next year. Even at the high-end of its expected IPO pricing, it is only being valued at 10.8X earnings compared to 17.7X earnings for its parent company, General Electric, and 17.1X earnings for its main competitor, Citigroup. As such, this company is a buy up to $41, which is valuing the company at a competitor-comparable valuation of 17X earnings.
Synchrony Financial has had its share of problems during the financial crisis and recently announced a settlement of $229 million for claims that it violated consumer protection laws, including failing to offer credit-resolution products to Spanish-speaking customers. With the financial crisis and resolution of it in the past, Synchrony Financial has a rosy future ahead.
Stores are looking at store-branded credit cards as a way to reduce their costs, relative to general-purpose credit cards like Visa (NYSE:V) and Mastercard (NYSE:MA). Synchrony Financial has also said that the percentage of customers who are more than 30 days late on their payment on these credit cards has declined from 8.2% in 2009 to 4.3% at the start of 2014. This trend of better credit repayments will continue to help Synchrony Financial's bottom-line.
Conclusions
Synchrony Financial promises to be an attractive investment opportunity when it IPOs later this month. General Electric seems to be underpricing the company in order to generate interest for it ahead of spinning-off the remaining 85% of the company tax-free to its shareholders next year. Investors considering an investment in General Electric may want to consider Synchrony Financial instead for the attractive valuation and promising growth prospects it offers.
Disclosure: The author has no positions in any stocks mentioned, and no plans to initiate any positions within the next 72 hours. The author wrote this article themselves, and it expresses their own opinions. The author is not receiving compensation for it (other than from Seeking Alpha). The author has no business relationship with any company whose stock is mentioned in this article.