The reason we like commodities so much is that they have an ability to impact industries and economies to a greater degree than many understand. Watching commodities can lead to one being able to anticipate moves in the market before others, especially if it is a big idea such as oil going from $10/barrel to $100/barrel long-term.
Our focus today is upon companies and industries affected by commodity companies and commodities in general terms. As it relates to the airlines though, we think there might just be something investors should be more worried about than oil prices.
Chart of the Day:
Today's natural gas inventories figure helped push up natural gas prices after only 90 billion cubic feet were added; a large number for sure, especially when compared to historical figures, but lower than what traders had anticipated.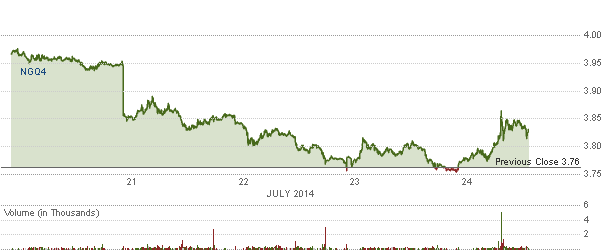 Source: CNBC
Commodity prices are as follows (at time of submission):
Gold: $1,291.10/ounce, down by $13.60/ounce
Silver: $20.505/ounce, down by $0.49/ounce
Oil: $102.29/barrel, down by $0.83/barrel
RBOB Gas: $2.8367/gallon, down by $0.0234/gallon
Natural Gas: $3.834/MMbtu, up by $0.072/MMbtu
Copper: $3.267/pound, up by $0.06/pound
Platinum: $1,472.40/ounce, down by $14.30/ounce
Mixed Report For Mining Equipment
There were a few bright spots from Caterpillar's (NYSE:CAT) quarterly report, but far too many negative comments for investors to get excited. We have been skeptical of Caterpillar's outlook for a while now, not short the stock but certainly not long, as we saw too many questions surrounding their mining equipment business. That segment was indeed the anchor this quarter, dragging down results even as North America and the construction equipment business drove results.
The company clarified their guidance moving forward and tightened their numbers moving forward, but management continues to see mining equipment as a weak spot in future quarters. They blame the big miners and questions about the economic growth of China, something that might not be good news for copper stocks that we have liked.
Airlines Facing Non-commodity Pressures?
Some of the biggest winners in the market over the past year have been the airline stocks. Consolidation has helped dramatically increase profitability, and now names such as United Continental Holdings (NYSE:UAL), Delta Air Lines (NYSE:DAL) and American Airlines Group (NASDAQ:AAL) are posting some of the best results they have ever had. Southwest Airlines (NYSE:LUV) is no longer the only airline making money and with the entire industry performing well, the company has seen competitors' balance sheets improve enough to be able to take advantage of opportunities to lower their fuel costs.
The airlines have done quite well this past year, but there are storms on the horizon. Success regionally by new carriers could prompt serious capacity additions nationally.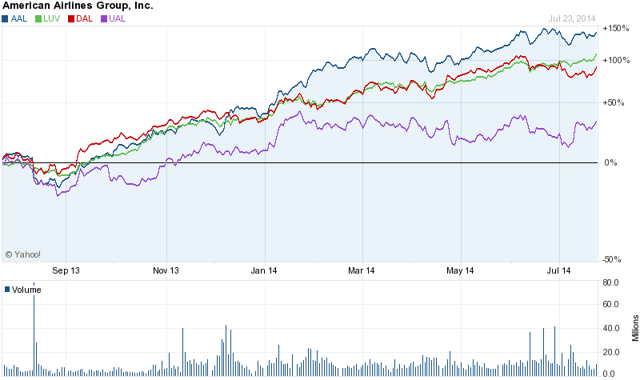 Source: Yahoo Finance
As United Continental, Delta Air Lines and American Airlines have consolidated the industry, many consumers have noted that service has declined as prices continue to rise. This is giving way to new entrants, with both low cost providers and business class specific competitors having either launched or set to launch in the near term. It should take a while for this to have an impact upon the big four airlines, but this could have a larger impact upon margins than even jet fuel. Commodity exposure may no longer be the biggest risk for these names, but rather new competitors introducing better service, lower prices and more capacity.
Disclosure: The author has no positions in any stocks mentioned, and no plans to initiate any positions within the next 72 hours. The author wrote this article themselves, and it expresses their own opinions. The author is not receiving compensation for it (other than from Seeking Alpha). The author has no business relationship with any company whose stock is mentioned in this article.