By David Russell
Discover Financial Services (NYSE:DFS) is challenging a 26-month high, and one investor is turning up the leverage.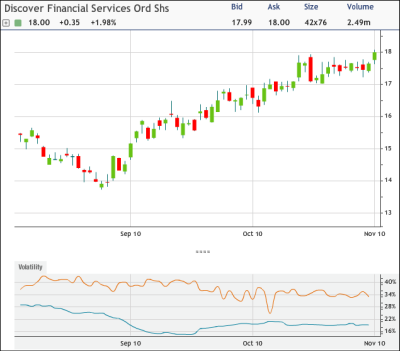 optionMONSTER's Heat Seeker tracking system detected the purchase of more than 4,300 November 18 calls for $0.55 to $0.58. About 2,100 November 17 calls were sold at the same time for $1.22 against existing open interest.
The trade boosted the investor's gamma to 37 from 22, meaning that the new calls will enjoy greater sensitivity to a rally in DFS shares. It also increased the number of calls owned.
The resulting position is much more leveraged to the upside, reflecting an expectation that the credit-card stock will break significantly above $18.
DFS rose 2.04 percent to $18.01 in afternoon trading. Earlier in the session it touched $18.08, its highest price since September 2008. The company's last earnings report on Sept. 20 was better than expected as transaction volume increased.
Overall option volume in the stock is 6 times greater than average so far today. Calls outnumber puts by 12 to 1.

Disclosure: No position