Cigna Corp. (NYSE:CI) has been on a tear in the last three months. Current stock owners love this uptrend and hope to keep riding this wave, but at one point the wave will die out -- and I believe it's in a matter of weeks. The stock price is up 31.74% in just over three months and 11.82% YTD. Cigna keeps on rising, closing at an all-time high four out of the past five trading days, but a pullback is imminent.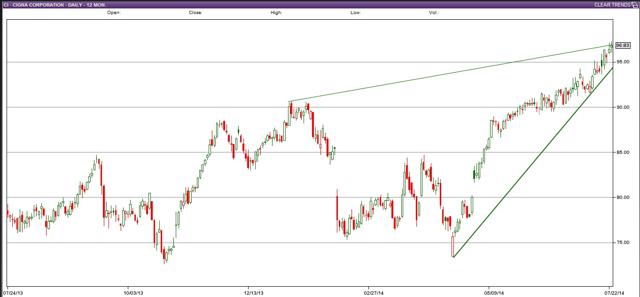 Source: Scottrade Daily Chart.
Don't get me wrong -- Cigna's fundamentals are strong. They consistently have net income over $1 billion, current assets have been on the rise year to year, and the stock price has reflected their strong financial foundation. Their $6.92 EPS is great, and their ROE of 19.06% beats the industry average by almost 7%. The Zacks consensus estimate for Q2 EPS when they report earnings is $1.84/share. Cigna is climbing and starting to gain ground on the main leaders in the healthcare industry, but it won't happen overnight.

Source: Yahoo Finance.
Why am I worried? With earnings being released in less than a week, I am not confident revenue can outpace the cost of revenue. The past three years the revenue-to-cost ratios have decreased. Although they are maintaining a solid gross profit, cost of revenue is just going to continue to increase with healthcare costs increasing.
I'm not a big fan of earning plays; I don't like the volatility a price can endure after earnings are released. Yes, a stock can beat earnings and soar, but on the flip side I do not like risk losing 5%, 10%, maybe even 20% when a stock's earnings badly miss. If Cigna beats earnings, that would demonstrate how strong the company is and the future growth of the company, and I may re-enter into a position post earnings report.
When I first bought into Cigna, I had an exit price of $100/share, but I did not imagine it would get near that until first part of the fall; it has definitely outpaced my expectations. Like I mentioned before, the price currently is trading at $96.80/share, which is right in the middle of the channel and is making new highs every day. I'm waiting for it to get to close to my exit price and I'm taking profits. I do foresee a pullback, whether right after earnings or within the next month. If the price drops back below $80/share, I will reconsider buying back into a position.
Disclosure: The author is long CI. The author wrote this article themselves, and it expresses their own opinions. The author is not receiving compensation for it (other than from Seeking Alpha). The author has no business relationship with any company whose stock is mentioned in this article.
Additional disclosure: Will sell ownership when stock reaches $100/share or July 30 (day before earnings), whichever comes first.