The following is a list of stocks with a high short float, meaning that a significant portion of the company's shares outstanding have been shorted. All of the stocks mentioned in this list have short floats higher than 15%.

In addition, all of these stocks have seen improving analyst sentiment over the last three months. Analyst ratings are presented on a linear scale, where 1 = "Strong Buy" and 5 = "Strong Sell". All of the stocks in the list have seen their ratings move closer to 1 over the last three months, i.e. more optimistic analyst sentiment.

Analysts seem to think the shorts are underestimating these names. What do you think? Full analysis below.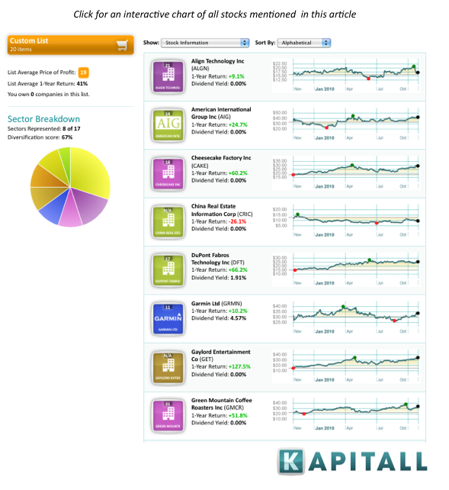 The list has been sorted by change in analyst ratings over the last three months.

1. PHH Corporation (NYSE:PHH): Credit Services Industry. Market cap of $1.12B. Current analyst rating at 1.5 vs. a rating of 2.5 three months ago. Short float at 17.81%, which implies a short ratio of 11.53 days. The stock has gained 25.25% over the last year.

2. InterOil Corporation (NYSE:IOC): Oil & Gas Refining & Marketing Industry. Market cap of $3.19B. Current analyst rating at 1.67 vs. a rating of 2 three months ago. Short float at 18.32%, which implies a short ratio of 11.51 days. The stock has gained 59.81% over the last year.

3. American International Group, Inc. (NYSE:AIG): Property & Casualty Insurance Industry. Market cap of $27.97B. Current analyst rating at 2.8 vs. a rating of 3.2 three months ago. Short float at 16.64%, which implies a short ratio of 4.93 days. The stock has gained 24.69% over the last year.

4. Gaylord Entertainment Co. (GET): Lodging Industry. Market cap of $1.61B. Current analyst rating at 1.83 vs. a rating of 2.09 three months ago. Short float at 17.2%, which implies a short ratio of 13.55 days. The stock has gained 127.54% over the last year.

5. McMoRan Exploration Co. (NYSE:MMR): Industrial Metals & Minerals Industry. Market cap of $1.54B. Current analyst rating at 2.12 vs. a rating of 2.38 three months ago. Short float at 17.74%, which implies a short ratio of 4.66 days. The stock has gained 115.6% over the last year.

6. Masimo Corporation (NASDAQ:MASI): Medical Appliances & Equipment Industry. Market cap of $1.76B. Current analyst rating at 1.73 vs. a rating of 1.91 three months ago. Short float at 15.37%, which implies a short ratio of 15.34 days. The stock has gained 12.68% over the last year.

7. TCF Financial Corporation (NYSE:TCB): Money Center Banks Industry. Market cap of $1.86B. Current analyst rating at 2.65 vs. a rating of 2.89 three months ago. Short float at 18.19%, which implies a short ratio of 12.44 days. The stock has gained 11.9% over the last year.

8. Align Technology Inc. (NASDAQ:ALGN): Medical Appliances & Equipment Industry. Market cap of $1.31B. Current analyst rating at 2.11 vs. a rating of 2.29 three months ago. Short float at 21.45%, which implies a short ratio of 13.06 days. The stock has gained 9.1% over the last year.

9. JetBlue Airways Corporation (NASDAQ:JBLU): Regional Airlines Industry. Market cap of $2.1B. Current analyst rating at 1.88 vs. a rating of 2 three months ago. Short float at 16.91%, which implies a short ratio of 8.59 days. The stock has gained 43.75% over the last year.

10. Under Armour, Inc. (NYSE:UA): Apparel Clothing Industry. Market cap of $2.37B. Current analyst rating at 2.64 vs. a rating of 2.8 three months ago. Short float at 18.05%, which implies a short ratio of 8.77 days. The stock has gained 73.18% over the last year.

11. Garmin Ltd. (NASDAQ:GRMN): Scientific & Technical Instruments Industry. Market cap of $6.49B. Current analyst rating at 3.18 vs. a rating of 3.35 three months ago. Short float at 17.62%, which implies a short ratio of 12.98 days. The stock has gained 17.55% over the last year.

12. Green Mountain Coffee Roasters Inc. (NASDAQ:GMCR): Processed & Packaged Goods Industry. Market cap of $4.44B. Current analyst rating at 2.3 vs. a rating of 2.4 three months ago. Short float at 19.74%, which implies a short ratio of 5.44 days. The stock has gained 51.85% over the last year.

13. Regency Centers Corporation (NYSE:REG): REIT. Market cap of $3.5B. Current analyst rating at 2.61 vs. a rating of 2.72 three months ago. Short float at 16.98%, which implies a short ratio of 15.95 days. The stock has gained 34.37% over the last year.

14. China Real Estate Information Corporation (NASDAQ:CRIC): Internet Information Providers Industry. Market cap of $1.35B. Current analyst rating at 1.2 vs. a rating of 1.25 three months ago. Short float at 21.75%, which implies a short ratio of 13.32 days. The stock has lost -26.12% over the last year.

15. The Cheesecake Factory Incorporated (NASDAQ:CAKE): Restaurants Industry. Market cap of $1.73B. Current analyst rating at 2.48 vs. a rating of 2.58 three months ago. Short float at 16.54%, which implies a short ratio of 8.23 days. The stock has gained 60.18% over the last year.

16. M&T Bank Corp. (NYSE:MTB): Regional Bank. Market cap of $9.23B. Current analyst rating at 2.89 vs. a rating of 3 three months ago. Short float at 16.3%, which implies a short ratio of 11.53 days. The stock has gained 27.84% over the last year.

17. NetLogic Microsystems Inc. (NASDAQ:NETL): Semiconductor Industry. Market cap of $1.9B. Current analyst rating at 1.89 vs. a rating of 1.96 three months ago. Short float at 30.62%, which implies a short ratio of 9.68 days. The stock has gained 57.21% over the last year.

18. DuPont Fabros Technology, Inc. (NYSE:DFT): Property Management Industry. Market cap of $1.48B. Current analyst rating at 1.62 vs. a rating of 1.67 three months ago. Short float at 16.72%, which implies a short ratio of 11.29 days. The stock has gained 68.41% over the last year.

19. Mylan, Inc. (NASDAQ:MYL): Generic Drugs Industry. Market cap of $6.24B. Current analyst rating at 2.1 vs. a rating of 2.16 three months ago. Short float at 27.71%, which implies a short ratio of 14.2 days. The stock has gained 24.26% over the last year.

20. GSI Commerce Inc. (NASDAQ:GSIC): Business Services Industry. Market cap of $1.62B. Current analyst rating at 1.74 vs. a rating of 1.78 three months ago. Short float at 17.79%, which implies a short ratio of 10.5 days. The stock has gained 28.15% over the last year.

Disclosure: No positions