When it comes to the housing market, a significant point to consider when determining the real value of a home is rental income. That is, monthly rent payments ought to justify the mortgage payments for a home.
While since the housing bubble burst, housing prices saw a sharp decline and have since started to recover, with rents we see a steady growth in cost.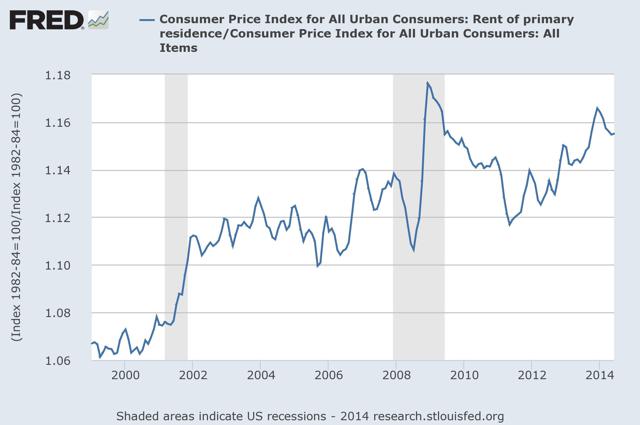 In this chart, showing the CPI component "rent of primary residence" over total CPI, we see that rents have consistently outpaced inflation in the rest of the economy. This is a trend that has been constantly moving upward for the past 14 years except for a brief spike during the height of the recession. However, simply outpacing inflation is not sufficient to show that rental prices are too high. High prices could also be caused by high demand for rental units.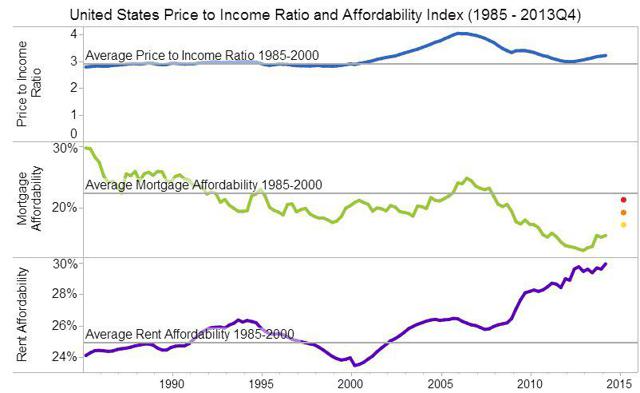 Source: Zillow
According to data from Zillow, while mortgage payments have become more affordable, rents have increasingly become less affordable. The previous average rent was about 25% of a household's income. Since 2000, this percentage has grown to where we see about 30% of a household's income going to rent.
Clearly the historical trend has been bucked, but what have the consequences been? They certainly have not been for younger generations to get into housing.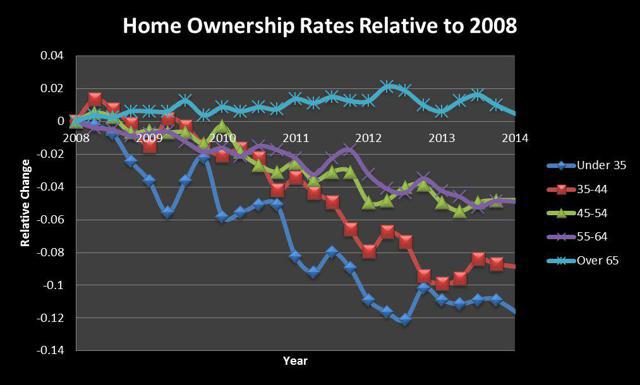 Source: Census Bureau
Young people on the whole have been pushed out of the housing market in recent years. High rents are not making mortgage payments more compelling. In fact, for a variety of reasons, mortgage payments are becoming more unpalatable for younger people. Instead, the correction that we have seen is that young people are moving back home.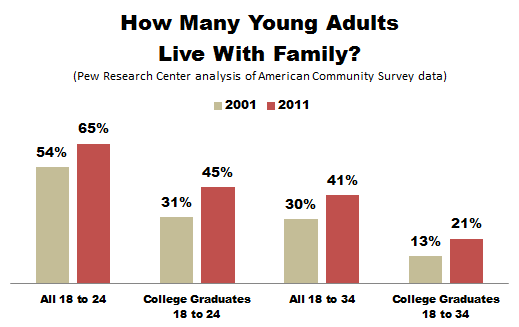 This figure, taken from a story written in The Atlantic by Jordan Weissmann, shows a tremendous increase in the percentage of young people who live with family rather than living on their own. While this is clearly due to issues surrounding debt (especially student loans), the impact on rents ought to be clear. With the debt service payments that these young people are facing in addition to a rising cost of rent, they are in essence forced out of the housing market altogether. As these numbers grow, downward pressure on rents becomes greater. These rents will not be sustainable.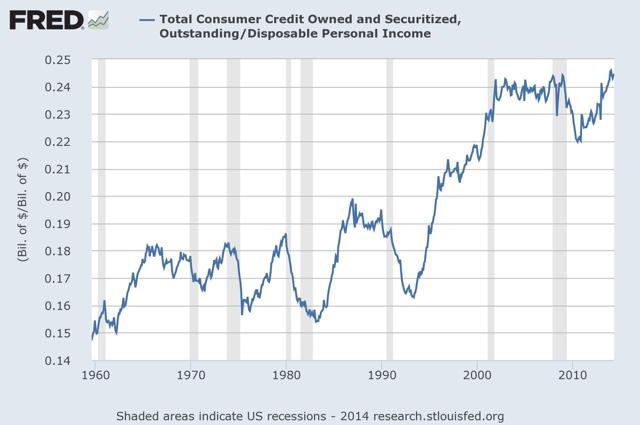 Finally, this issue of debt must be confronted. This ratio of credit to disposable income is the highest it has been since at least the 1960s, and it is not even close. This is one reason why many people are priced out of buying homes, and it is why increasingly people are unable to even afford rent.
Summary
Clearly future rental income prospects must be tempered based on the increasing unaffordability of rents and the increase in number of those choosing to live at home because of the high cost of rent. This ought to dampen home prices if they are being based on rental income prospects. Not only that, but housing prices themselves relative to income are still above historic norms even before taking into account growing concerns over consumer debt relative to incomes.
Action to Take
Any REITs heavily dependent on rental income will likely take a large tumble. Some specific REITs include Essex Property Trust (NYSE:ESS), AvalonBay Communities (NYSE:AVB), Camden Property Trust (NYSE:CPT), and BRE Properties (NYSE:BRE). If you own any of these equities, now would be the time to sell. If you want to take advantage of the expected downturn, try buying put options on these stocks, but make sure that the expiration date gives you plenty of time, since it is impossible to predict exactly when the correction will happen.
Disclosure: The author has no positions in any stocks mentioned, and no plans to initiate any positions within the next 72 hours. The author wrote this article themselves, and it expresses their own opinions. The author is not receiving compensation for it (other than from Seeking Alpha). The author has no business relationship with any company whose stock is mentioned in this article.