Anyone catch the name of the rocket carrying H&R Block's (NYSE:HRB) bonds to the moon?
Check it out (click to enlarge images):

Block 14's at PAR!
How about a graphic:
Yesterday the climbed to par. Yeah, about a 15% return on this since 10/21 - yep 10 days!
The print:

Oh yeah, not to leave the 13's out:
The last decent size print on the 13s was $103.81, a 5.99% yield. I hate the premium, but am a buyer of 13s at these levels. Bigger deal, bigger spread - you have to put $4 into the trade on swap or pony the premium outright.
I'll admit I was on the wrong side of this one, believing that their OptionOne exposure might kick 'em in the chops. A trader friend of mine told me to look at it from a long view, but did I listen? No.
And the equity: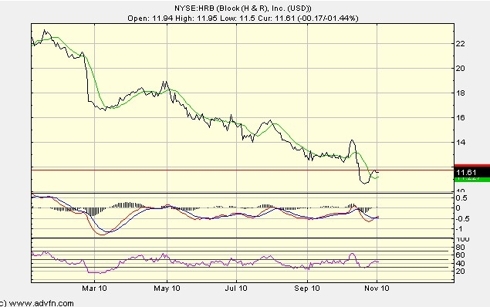 Bonds are telling you to get long the equity. The senior part of the capital structure has outperformed, and when trading over par, they say there is indeed equity value.
H&R Block, Inc. (H&R Block) has subsidiaries that provide tax, banking, and business and consulting services. The Company's Tax Services segment provides income tax return preparation, electronic filing and other services and products related to income tax return preparation to the general public primarily in the United States, and also in Canada and Australia. It offers the H&R Block Prepaid Emerald MasterCard and Emerald Advance lines of credit through H&R Block Bank (HRB Bank). Its Business Services segment consists of RSM McGladrey, Inc. (RSM), a tax and consulting firm primarily serving mid-sized businesses.

Disclosure: No positions