Leading pharmaceutical care provider, Omnicare Inc. (OCR) reported third-quarter 2010 adjusted (excluding one-time expenses) earnings per share of 52 cents, higher than the Zacks Consensus Estimate of 49 cents but lower the year-ago earnings of 76 cents.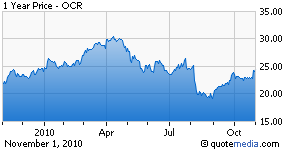 Revenues
Total revenue was $1,544.4 million, flat year over year and exceeding the Zacks Consensus Estimate of $1,541 million.
Segment-wise Revenue
The Pharmacy Services segment generated sales of $1,518.0 million, up 0.7% year over year. Segment revenues were slightly higher on a year-over-year basis largely due to the positive impact of branded drug price inflation and buoyancy in the company's specialty pharmacy business. These factors were partly negated by the effect of lower prescription volumes, reduced utilization for some drugs and a reduction in the number of beds serviced by the company.
The Contract Research segment had sales of $26.4 million in the third quarter, down 28.5%.
Margins
Adjusted operating profit at the Pharmacy Services segment was $137.0 million, down 16.7% year over year. The drop in segment operating profit was a result of ill effects, such as lower prescription volumes and competitive pricing issues. These factors were partly countered by additional utilization of higher-margin generic drugs, inflation in drug prices, and productivity enhancement steps, such as the Omnicare Full Potential Plan.
Adjusted operating loss at the Contract Research segment was $2.8 million, down from a profit of $0.7 million in the year-ago period. Its backlog, as of September 30, 2010, was $147.0 million.
Balance Sheet and Cash Flow
Omnicare had cash and cash equivalents of $351.3 million, as of September 30, 2010, up 27.4% year over year. Long-term debt (including notes and convertible debentures) was sizeable at $2.2 billion, up 11.7% year over year. Total debt-to-capital ratio, as of September 30, 2010, was 36.8%, up from 36.1% in the year-ago period.
Outlook
Omnicare reaffirmed its expectations for adjusted earnings per share, for 2010, in a range of $2.00 to $2.10. The company continues to expect operating cash flow in the range of $400 million to $450 million for 2010 (excluding legal settlements and premium payments).
Omnicare is a market leader in an industry that is essential to serving the needs of the long-term care population. The company has reduced costs and increased efficiency through its Full Potential Plan. However, the beneficial effects are partly offset by pressure from reimbursement cuts.
Longer term, the company will be able to offset some of these reimbursement cuts through better purchasing. Generics coming to market in the next few quarters present a substantial profitability opportunity due to Omnicare's higher exposure to the institutional pharmacy channel than in past years.