By Bryan McCormick
US stock index futures are higher this morning, roughly in line with yesterday's pre-market levels.
Asian markets were weaker on a surprise rate hike by Australia's central bank and another rate increase in India. Inflation expectations have risen in both countries, forcing central banks to act to curb booming local economies.
The Australian dollar is now approaching parity with the US dollar. The moves in currency have sent the US dollar lower against most of the basket, with the euro currently up most against the dollar. This has helped push commodity prices higher, with energy and industrial metals benefiting most.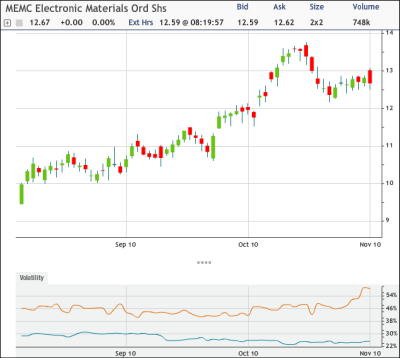 European markets started in the red this morning but have rebounded. This move corresponds to the improvement in US futures today, which were mostly negative by slight margins overnight.
Energy stocks in Europe are higher this morning, boosted by big oil names and strong underlying results from BP (BP). Factory orders in the eurozone showed higher-than-expected growth in October, with Spain and Ireland improving as well. This broadening was a welcome sign, given that Germany alone had been leading in manufacturing.
In earnings news, Vulcan Materials (VMC) and MEMC Electronic Materials (WFR) turned in weaker-than-expected earnings reports. MEMC suspended forecasts for the full-year 2010, though the company said it expected strong fourth-quarter revenues. Vulcan is down more than 4 percent in the pre-market, and MEMC is down more than 2.5 percent.
BP is trading higher this morning after reporting its earnings results. Despite taking a higher charge for the Gulf of Mexico clean-up, the underlying metrics of the business were stronger than expected. Shares are up more than 1.4 percent, helping other major oil names move higher this morning, along with related names such as Transocean (RIG).
Newmont Mining (NEM) beat its third-quarter consensus, coming in at $1.08 versus expectations of $0.96. The stock is up over 1.5 percent.
Tomorrow the following names in the S&P 500 will report earnings results: Aetna (AET), Chesapeake Energy (CHK), CVS Caremark (CVS), El Paso (EP), Murphy Oil (MUR), News Corporation (NWS), PulteGroup, Prudential (PRU), Qualcomm (QCOM), Molson Coors Brewing (TAP), Time Warner (TWC), Whole Foods Market (WFMI), and WellPoint (WLP).

Disclosure: No positions