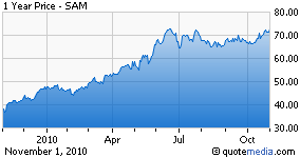 The Boston Beer Company (NYSE:SAM), the largest craft brewer in the United States, has a lot of great business characteristics that long term investors are constantly searching for in an investment. Good management, strong brand equity, and a small presence in both their industry and around the globe (99% of sales in the US) have kept investors optimistic and the stock trading at a multiple with expectations for strong future growth.
From recession lows below $20/share back in March 2009, SAM is now trading at $72.61/share, an increase of 281% over a 20 month period. On top of that, Samuel Adams is just pennies away from its all time high, and has recently crossed the $1 billion market cap hurdle. With the company set to report earnings after the close on November 4th, the question is are we still at the beginning stages of good things to come, or have buyers had a little too much to drink for the moment?
Taking a look at the income statement, we can see that trailing twelve month net income for SAM is equal to $40.36 million, so we are looking at a current multiple of 24.8x earnings. Net income and EPS growth from year end 2006 through 2009 are equal to 19.6% and 20.28%, respectively. For people who like to use PEG (as popularized by Peter Lynch), SAM's ratio is currently 1.22, suggesting that it is slightly overvalued; in my mind, this is one of those types of ratios that gives you an idea of the valuation, but is far from a complete picture.
As of the most recent filing, the company had just under $54 million in cash on the books and no debt, so they are financially sound and don't have to throw away cash to pay off interest payments. From looking at cash flows, we can see that capital expenditures have been consistently inconsistent. The outlier is 2008, when the company spent nearly $60 million on CapEx, the majority of which ($43.9M) was spent on improvements at the Pennsylvania Brewery on upgrades and to restart the brew house after the brewery was purchased from Diageo North America for $56.5 million in June 2008.
Besides 2008, the annual average spend on capital expenditures is in the mid teens, a manageable number, especially considering that all three company owned breweries (Boston, Cincinnati, and now Pennsylvania) have been recently upgraded. As noted in the 2009 10-K, management "believes it could support growth in 2010 in excess of 10% without significant capacity expansion of its owned breweries, and that further growth could be supported through expanding the Company's use of production arrangements with third parties, including those currently under contract."
An interesting side note on the shift in the company's business model is the overall movement away from third party brewing. Since 2007, the percentage of core products brewed at company owned breweries has increased from 35% to over 95%. After issues with the Rochester Brewery, it shouldn't come as a surprise to shareholders if Samuel Adams tries to avoid third party brewing almost entirely in the future.
The main issues I see at this current valuation is a complete disregard for two things that I personally believe directly affect a company like The Boston Beer Company. The first is increased competition. As the big domestic brewers have attempted to mitigate slow/no growth in their core brands, they have started to move into the one category that continues to take share: craft beers. In the sense of a double edged sword, this has brought in new brands, but has also expanded the shelf, and subsequently the demand for craft beers (think Jamba Juice (NASDAQ:JMBA) when McDonald's (NYSE:MCD) entered the smoothie business). As noted by Jim Koch on the Q3 call, this can provide an opportunity for Sam Adams in two distinct ways:
I think it does open up opportunities in the short term for us to get distribution of other styles beyond you know, lager and light and seasonal, 6s and 12s; and it'll depend on the market how many additional styles and SKUs we can you know, we can gain.

I think longer term it does give us an opportunity as our volumes continue to grow to get second facings, because there are starting to be you know, out of stock situations of some of the stronger-selling craft beers like Sam Adams because you've got, you know, a shelf, one slot for Boston Lager six-packs. And that maybe holds four six-packs and somebody comes in and buys two of them on Friday at 5:00 and somebody else comes in and buys the other two on Friday at 7:00, and you've got an out of stock maybe even for the whole weekend.
In that sense (more shelf space to avoid stock outs), this move will certainly help someone like Sam Adams, who usually only has 3-4 12 packs in the coolers at the supermarket. But on the other side, increased competition brings more choices for consumers, which leads me to my second concern: pricing. In this environment, with consumers looking to save any way they can, I cannot get myself to believe that buyers are grabbing 6 packs at the $9.19 price point (at least in my area).
Even with a superior product, I think Sam Adams risks losing customers to companies that are willing to settle for promotional pricing to push sales. While this is currently happening in a lot of industries (the percentage of branded dollars sold on promotion from 2008-2010 was equal to 40% according to Treehouse Foods CFO Dennis Riordan), I feel like SAM is in a position where they could certainly feel the effects of a weak consumer.
So where does that leave us? In my mind, there is no question that SAM is a great company, and I think that their management team has done a fantastic job developing a brand and a company that consumers want to be a part of. In my mind, the price isn't unreasonable; this is a company that is hitting record highs for a reason. With that being said, I will not be buying shares in SAM before the call on Thursday.
I see little reason (due to the conditions described above) why this stock should expand the multiple past the mid-20s, even with good results. On the flip side, I think we may see a buying opportunity if the stock gets beaten down on a miss. If it does, I recommend starting a position, and immediately after heading to the store and buying the seasonal 12 pack to celebrate; start of which the Chocolate Bock, it is a truly fantastic beer.
Disclosure: No position