The Census Bureau released its new home sales report for June today (July 24). Even with substantial downward revisions to previous reports, the sales numbers for June plunged over 8% from May and over 11% from June 2013. That this drop in June occurred in what should be the highest month of the year for all home sales is highly indicative of a market that is deteriorating at an accelerating pace. The big drop occurred despite a drop in the median price of homes sold, which theoretically should have stimulated sales. Taking all of these factors into consideration, I believe that this report further reinforces my view that the housing market is fundamentally damaged, homebuilder stocks are significantly overvalued and the next leg of the housing market depression that started in 2005 is unfolding.
The new home sales for June (data from the link above) was reported to be 406k on a seasonally adjusted annualized rate (SAAR). Please see my last article on existing home sales for the problems with using SAAR for a monthly-based report. This 406k was not only a steep decline from May and June 2013, it was 14.5% below the Wall Street consensus estimates. It was 11.5% below the lowest analyst estimate per Bloomberg. Not only this, but the numbers reported for the last three months were revised lower: March 410k to 408k, April 425k to 408k, May 504k to 442k. In other words, June's new home sales were nearly 20% below the number assumed for May by the market prior to today.
The degree of this "miss" of the estimates in conjunction with the downward revision of the past three months indicates that Wall Street and investors have expectations about the market that are far too optimistic. This optimism is especially unfounded given that, on a seasonal basis, June is the strongest month of the year for home sales. In my view, that June's sales were significantly below the monthly sales of every month going back to October 2013 except March underscores the inherent weakness of the housing market.
Based on the recent trend in mortgage purchase applications, I believe this optimism will be tested again when next month's new homes sales report is released. As I've detailed in previous articles, on average over a long period of time 93% of all new home construction buyers use a mortgage for the purchase. Additionally, the Census Bureau reports new home sales based on contract signings (rather than closings/deliveries). This means that data on mortgage purchase applications should track new home sales pretty closely. This graph sourced from Mortgage News Daily (edit in red is mine) shows that the mortgage purchase index has been declining nearly every week for the past several weeks: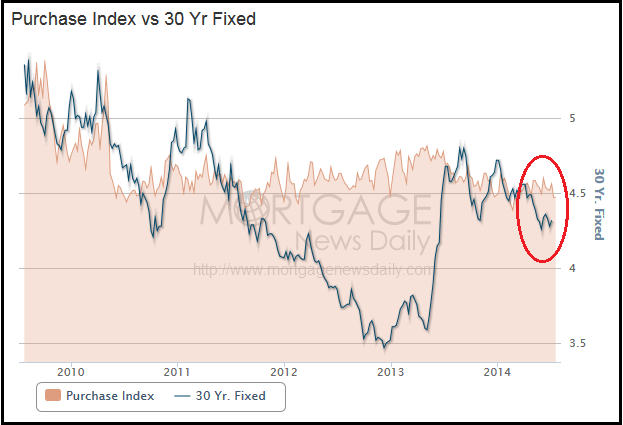 As you can see, applications filed for mortgages to purchase homes is in a clear downtrend this year. This should translate into lower sales next month. This is despite the fact that mortgage rates are at their lowest levels since mid-2013. With the Fed tapering from its support of the mortgage market, I believe that demand for mortgages from new home buyers is going to continue to decline for the foreseeable future. This is why I stated above that I believe the housing market may be entering the second downleg of the housing bear market that began in late 2005.
Perhaps the biggest indicator that the market had expectations built into it that were too high was today's 5.1% drop on unusually high volume in the Dow Jones Home Construction Index (DJUSHB) after the new home sales report was released. I have been arguing that the homebuilder stocks are overvalued and should be sold or shorted. I have also been suggesting that the DJUSHB's significant negative divergence from the S&P 500 was the market's signal that the housing market is not healthy. I believe that today's reaction in the DJUSHB not only reflected the fact that expectations for the housing market are entirely too high, but that sales going forward are going to be below forecasts.
For this reason, I continue to urge investors, especially those in a position of fiduciary responsibility for managing the money of others, to reduce or eliminate their housing market exposure. For aggressive traders, I recommend shorting the homebuilders. I am short DR Horton (NYSE:DHI), KB Home (NYSE:KBH) and Ryland (NYSE:RYL). Yesterday I shorted August 22 DHI 22-strike calls for close to $2 and covered them before the close today ($1.70 profit overnight). I also like short-sell plays in Toll Brothers (NYSE:TOL), Pulte (NYSE:PHM), Lennar (NYSE:LEN), Beazer (NYSE:BZH) and NVR (NYSE:NVR). Because of today's big drop in the homebuilders, I recommend waiting to see if we get a shortable bounce over the next day or two. A good way to start a position is to short near-money calls and collect the premium. If you end up getting exercised because the market moved up, at least you've improved your cost basis by the amount of the premium on the calls your shorted. Investors with long positions should not worry about timing and just start reducing and eliminating.
Disclosure: The author is short DHI, RYL, KBH. The author wrote this article themselves, and it expresses their own opinions. The author is not receiving compensation for it (other than from Seeking Alpha). The author has no business relationship with any company whose stock is mentioned in this article.