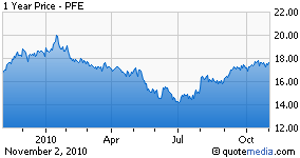 Click to enlargePfizer Inc. (NYSE:PFE) reported third quarter earnings of 54 cents per share, 3 cents above the Zacks Consensus Estimate, and 6% above the year-ago earnings of 51 cents. Performance was boosted by the Wyeth acquisition, which was partially offset by increased expenses and lower revenues from legacy Pfizer products.
Revenues were up 39%, mainly due to the Wyeth acquisition, which added $5.2 billion or 44% to the total. While foreign exchange negatively impacted revenues by $160 million or 1%, legacy Pfizer products negatively impacted revenues by $458 million or 4%. Third quarter revenues came in at $16.2 billion, short of the Zacks Consensus Estimate of $16.6 billion.
International revenues increased 33% to $9.1 billion, reflecting 35% operational growth and a 2% unfavorable foreign exchange impact. Meanwhile, US revenues increased 48% to $7.1 billion.
Following the Wyeth acquisition, Pfizer operates through two segments: Biopharmaceutical and Diversified. The Biopharmaceutical segment posted third quarter revenues of $13.9 billion, up 31%. Wyeth products contributed $3.9 billion to segment revenues with performance being boosted by drugs like Premarin, Enbrel, and Prevnar. Foreign exchange negatively impacted Biopharmaceutical segment revenues by 2% ($173 million).
Meanwhile, several Pfizer legacy products like Camptosar and Norvasc continued to struggle during the quarter, mainly due to the presence of generic competition. Moreover, Lipitor lost exclusivity in Canada and Spain earlier this year and impacted legacy Pfizer's performance by 4%.
The Diversified segment posted third quarter revenues of $2.2 billion, up 155%. Products like Centrum, Advil, and Caltrate and other Nutrition products helped boost revenues. Foreign exchange fluctuations did not have a material impact on Diversified revenues.
Revenue by Major Products
Lyrica, which grew 10% to $757 million, has experienced a very strong ramp since its introduction, and we expect the strong growth to continue with recent label expansions including for the treatment of fibromyalgia. The anti-epileptic market, as well as the market for the treatment of pain associated with diabetes and shingles, have recently become big growth areas for the drug.
Oncology product Sutent continues to witness strong uptake with sales coming in at $257 million (up 9%).
Meanwhile, sales of Pfizer's mega-blockbuster anti-cholesterol medicine Lipitor declined 11% globally to $2.5 billion in the third quarter. While US sales of the drug declined 6% to $1.3 billion, international sales fell 16% to $1.2 billion. The product, which is facing increased competition from cheaper generic rivals, is slated to lose exclusivity in the US in 2011. Lipitor lost exclusivity in Spain and Canada earlier this year.
Sales of Chantix, an oral nicotinic partial agonist for smoking cessation, increased 6% to $163 million mainly due to strong performance in international markets. US sales, however, declined 1% to $74 million. Chantix has been under pressure over the past few quarters primarily because of safety concerns surrounding it. On July 1, 2009 Pfizer announced that the US Food and Drug Administration (FDA) required it to add a black-box warning to the Chantix label. This is the most severe warning the FDA issues and is expected to further impact US sales of the drug.
Generic competition continued to eat into sales of products like Norvasc ($330 million, down 35%) and Effexor. Wyeth legacy products like Prevnar 13, Premarin family and Enbrel posted sales of $735 million, $263 million and $799 million, respectively.
Expenses
Selling, informational and administrative (SI&A) expenses increased 43% to $4.6 billion during the quarter, mainly due to the Wyeth acquisition. Full-year SI&A expenses are expected in the range of $19.2 - $19.7 billion (old guidance: $19.0 - $20.0 billion).
R&D expenses also increased during the quarter to $2.2 billion (up 33%), primarily due to the addition of the legacy Wyeth operations and continued investment in the late-stage development portfolio. Full-year R&D expenses are expected in the range of $9.1- $9.5 billion (old guidance: $9.1 - $9.6 billion).
Foreign exchange fluctuations helped decrease total third quarter 2010 costs by 4% or $298 million.
Guides In-Line With Expectations
Although Pfizer increased its 2010 earnings guidance, the revised guidance was in-line with expectations. Pfizer now expects earnings in the range of $2.17 - $2.22 on revenues of $67 - $68 billion. The company was previously expecting earnings in the range of $2.10 - $2.20 on revenues of $67 - $69 billion. The 2010 Zacks Consensus earnings estimate currently stands at $2.22, towards the higher end of the guidance range provided by the company. The Zacks Consensus revenue estimate is currently $67.7 billion.
Pfizer also maintained its long-term guidance for 2012. The company expects to earn $2.25 - $2.35 per share in 2012 on revenues in the range of $65.2 - $67.7 billion. Pfizer said that it remains on track to achieve its goal of realizing synergies of about $4 - $5 billion from the Wyeth acquisition by the end of 2012.
Neutral on Pfizer
We currently have a Neutral recommendation on Pfizer, which is supported by a Zacks #3 Rank (short-term "Hold" rating). Near-term earnings growth will come in the form of cost-cutting and share repurchases. While Wyeth brings with it an attractive biologics platform and some complementary products and businesses, we do not believe they are enough to sustain long-term top-line growth.
Longer-term growth will be dependent on successful drug development. Pfizer has been conducting several business development activities including acquisitions and partnership deals to drive long-term growth. Major deals announced recently include the company's upcoming acquisition of King Pharmaceuticals (KG), which should help strengthen Pfizer's presence in the pain management market.
We remain Neutral on Pfizer based on our reservations that Wyeth will provide the opportunity to grow revenue for the long-term and the substantially lower revenue growth due.
Disclosure: No position