Nobody has a crystal ball to predict what gold will do, but we believe that the bull market still has a long way to run (the high for gold in the '70-'80 bull market in "real" inflation-adjusted terms is over $6,000). Generally, we agree with official investment recommendations by establishment banks such as Credit Suisse that at least 10% of the portfolio should be in gold.
According to a Bloomberg report this week, a Chinese newspaper affiliated with the Ministry of Commerce said China should buy more gold to diversify its foreign exchange reserves. China should increase its gold holdings if the country aspires to "internationalize" its currency, the paper said on its website. This is just one more reason why we believe gold has a long way to go before it reaches bubble territory.
Today investors tend to be cautious and there is a lot of cash sitting on the sidelines. Investors earn close to zero on cash and that cash will have to move somewhere. We believe a good portion of the cash sitting on the sidelines looking for a safe haven will be channeled into gold, but not necessarily right away.
To understand why it may not happen right away, let's take a look at the USD chart. It appears that USD Index levels are likely to rise in the short-term. Since it used to move in the opposite way to gold, silver, and mining stocks, a quick rally here would most likely cause a decline in the metals' prices. It declined on low volume Friday but the situation remains short-term bullish.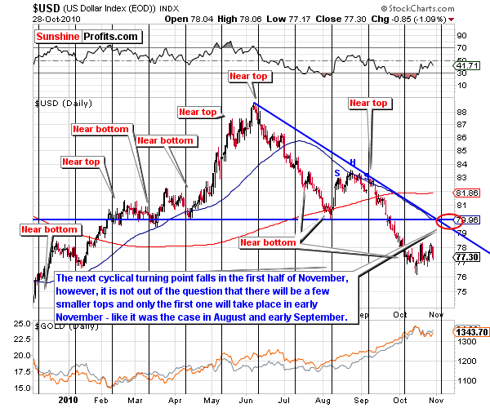 (Click to enlarge)
Disclosure: No positions