By Janet Luby
Part 1: A Biotech/Pharma Revolution
This is the first in a four-part series examining dynamic and durable growth themes that affect the U.S. economy and may present opportunities for investors. The remaining three blog posts will examine the enormous implications of shale energy and the massive changes in mobility.
Over the eight decades from 1928 to 2008, pharmaceutical and biotechnology innovations came to market at a gradually rising pace. But over just the past six years, this evolution has turned into more of a revolution, with new products in new indications becoming available at an incredible rate. The Invesco U.S. Growth team believes the revolution in the therapeutics space is a durable, secular theme that may offer opportunity for investors.
The 'Innovation Curve'
The chart below shows what we refer to as the Innovation Curve. It's the rolling 10-year average number of first-in-class compounds that have come through the drug discovery process, and it tells the story of the progress that's been made over this time frame. In the earlier part of the 20th century, drug discovery was largely hit or miss, and sometimes there was as much luck involved as anything else. For example, penicillin was discovered by accident in 1928 and was not commercialized until it was needed by the army in World War II. With that said, there was fairly good and steady improvement until the 2000s, when it really took off.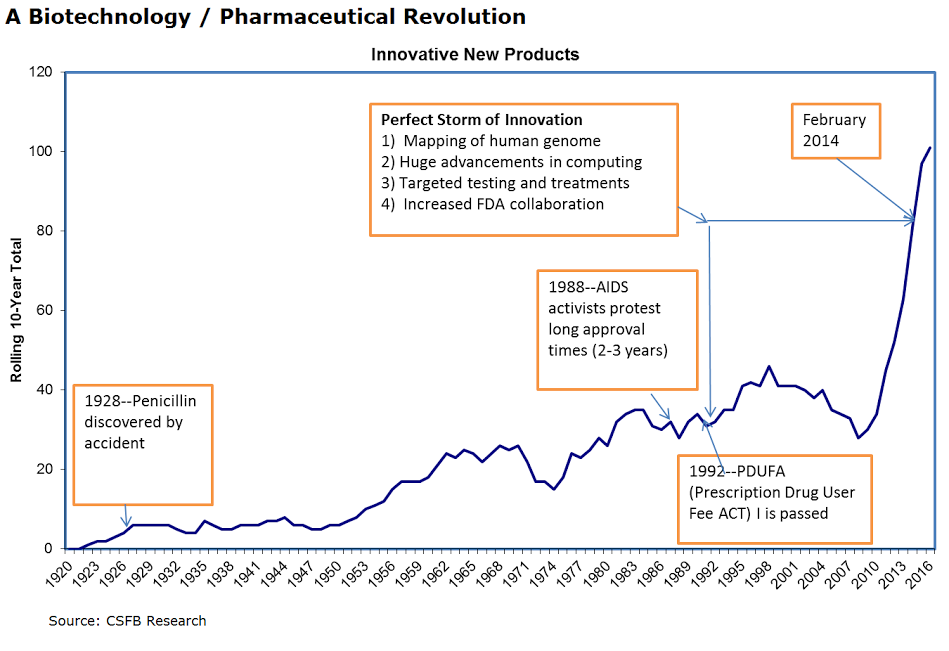 The drivers of revolution
The dramatic upswing in product innovation in the 2000s is a result of many things coming together at once. Important seeds were planted in 1992, when the Prescription Drug User Fee Act (PDUFA) was passed. This was the first formal alignment of drug company sponsors and the U.S. Food and Drug Administration (FDA), and it came about at least in part as a result of pressure from AIDS activists in the late 1980s. This was a time when it sometimes took the FDA three or more years to get a drug approved - a delay that was literally costing lives. Today, we are on PDUFA version five, which includes more collaboration between the FDA and drug companies at earlier stages of the process, so the chances of a drug being approved on its first pass through the FDA have risen over this time frame.
Next came the mapping of the human genome in the early 2000s. This had a huge impact - for the first time, scientists had essentially a roadmap to work with and could break things down to the most fundamental building blocks of the human condition.
Other drivers of the therapeutics revolution are better and faster computing power, better diagnostics and better life sciences tools. What used to take scientists months or even years to accomplish can now be done in seconds. This, in turn, leads to a better ability to identify and actually map a person's condition in a more individualized way, which is essentially the idea of personalized medicine.
As a result, drug companies have been better able to target promising therapeutics with patient populations that they are more likely to help and be relevant for. In addition, more collaboration in the form of partnerships and early-stage investment has taken place between biotechnology and pharmaceutical companies over the past several years and fuels this "virtuous cycle" of innovation.
Investing in opportunity
Biotechnology and pharmaceuticals are a high-conviction theme for the Invesco U.S. Growth team. In 2012 and 2013, we conducted deep dives into areas like hepatitis C, oncology and multiple sclerosis. We saw untapped potential for new therapies that we believed were likely to exceed expectations and drive meaningful growth. As a result, the team has been overweight the group for some time in our large-cap growth strategies, including Invesco American Franchise Fund. We are just beginning to see meaningful acceleration in growth rates as these therapies come to market and have substantial positioning in therapeutics, particularly biotech. We're also overweight life sciences and tools to have exposure to the central engine of this theme.
To find out more, watch this video on the biotech revolution from the Invesco U.S. Growth team.
Important information
Investments focused in a particular industry or sector, such as the biotech and pharmaceuticals industries, are subject to greater risk, and are more greatly impacted by market volatility than more diversified investments.
| | | |
| --- | --- | --- |
| NOT FDIC INSURED | MAY LOSE VALUE | NO BANK GUARANTEE |
Disclaimer: The information provided is for educational purposes only and does not constitute a recommendation of the suitability of any investment strategy for a particular investor. The opinions expressed are those of the author(s), are based on current market conditions and are subject to change without notice. These opinions may differ from those of other Invesco investment professionals.
All data provided by Invesco unless otherwise noted.
Invesco Distributors, Inc. is a U.S. distributor for retail mutual funds, exchange-traded funds, institutional money market funds and unit investment trusts.
Invesco unit investment trusts are distributed by the sponsor, Invesco Capital Markets, Inc. and broker dealers including Invesco Distributors, Inc. These Invesco entities are indirect, wholly owned subsidiaries of Invesco Ltd.
©2014 Invesco Ltd. All rights reserved