By Chris McKhann
Shares of Starwood Hotels and Resorts (NYSE:HOT) have lost almost 10 percent in the last week, and at least some traders are calling a top.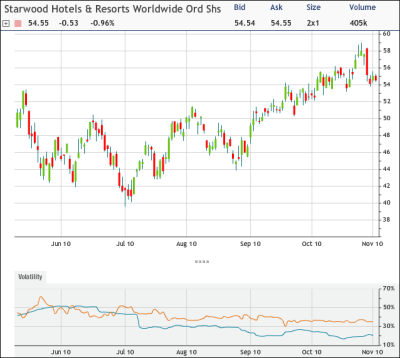 HOT is down 0.96 percent to $54.55 this morning. The stock fell from above $58 after the company's earnings report at the end of last week. The shares had hit a three-year high of $59 on Oct. 26, having traded up from $40 at the beginning of July.
The option volume exceeded the full-day average right out of the gate this morning with 7,500 contracts changing hands. All but a few of those options were the May 60 calls, where 7,000 have been sold against open interest of just 76 contracts. The largest block of 5,932 was sold for $3.85.
This trade wasn't done against any stock action today but may still be covered call selling against existing long shares. The covered call is by far the most popular option strategy, so this seems likely. The covered call in this situation is mildly bullish, as it will take a maximum profit if shares are at or above $60 at expiration.

Disclosure: No position