Kellogg Company (NYSE:K) is an internationally recognized brand in the ready-to-eat cereal and convenience foods. Its principal products include cookies, crackers, toaster pastries, cereal bars, fruit snacks, frozen waffles, and veggie foods.
Kellogg Company sells its products in North America, Europe, Latin America, and the Asia Pacific. The company was founded in 1906 and is headquartered in Battle Creek, Michigan.
Its retirement plan is a reflection of the company -- high quality funds but old style diversification. The 401K plan consists of 8 funds (not including cash). These funds give exposure to 3 major assets: US Equity, Foreign Equity, Fixed Income. The list of minor asset classes cove
| Asset Class | Ticker | Name |
| --- | --- | --- |
| LARGE BLEND | SVSPX | SSgA S&P 500 Index |
| EQUITY | K | Kellogg |
| LARGE VALUE | VWNAX | Vanguard Windsor II Adm |
| LARGE GROWTH | PRGFX | T. Rowe Price Growth Stock |
| Foreign Large Blend | RERFX | American Funds EuroPacific Gr R5 |
| Small Growth | VEXRX | Vanguard Explorer Adm |
| SMALL VALUE | DFSVX | DFA U.S. Small Cap Value I |
| Intermediate-Term Bond | PTTRX | PIMCO Total Return Instl |
In summary
Six US equity funds -- including the company's own stock
One international fund
One fixed income fund
Having fewer US choices and more fixed income and international choices would provide better diversification, as would adding real estate or emerging markets.

Investing in the company's own stock may show loyalty, but it may be better to leave that to an employee stock purchase plan if they have it.

Comparable ETFs

Equity: VTI, VT
Foreign Large Blend: EFA, VEU, GWL, PFA
Intermediate-term Bond: AGG, CIU, BIV, BND
Large Blend: IVV, IYY, IWV, VTI, VV, SPY, DLN, RSP, SCHX
Large Growth: IVW, IWZ, JKE, VUG, ELG, QQQQ, RPG, SCHG
Large Value: IVE, IWW, JKF, VTV, ELV, PWV, RPV, SCHV
Small Growth: IJT, IWO, JKK, VBK, DSG, PWT, RZG, UKK
Small Value: IJS, IWN, JKL, VBR, DSV, PWY, RZV, UVT

As of Oct 29, 2010, this plan investment choice is rated as average based on MyPlanIQ Plan Rating methodology that was designed to measure how effective a plan's available investment funds are. It has the following detailed ratings:

Diversification -- Rated as below average (13%)


Fund Quality -- Rated as great (99%)
Portfolio Building -- Rated as average (47%)
Overall Rating: average (53%)

The chart and table below show the historical performance of moderate model portfolios employing strategic and tactical asset allocation strategies (SAA and TAA, both provided by MyPlanIQ). For comparison purposes, we also include the moderate model portfolios of a typical 3 asset SIB (Simpler Is Better) plan. This SIB plan has the following candidate index funds and their ETFs equivalent:

US Equity: SPY or VTI
Foreign Equity: EFA or VEU
Fixed Income: AGG or BND

Performance chart (as of Oct 29, 2010)
Performance table (as of Oct 29, 2010)
The Kellogg 401K plan beats the 3 core asset SIB based on the quality of the funds and the ability to select multiple funds in the US category.
If we now compare it with a four asset ETF SIB it is possible to see the benefit of having the extra asset class even without the benefit of multiple funds in each asset class.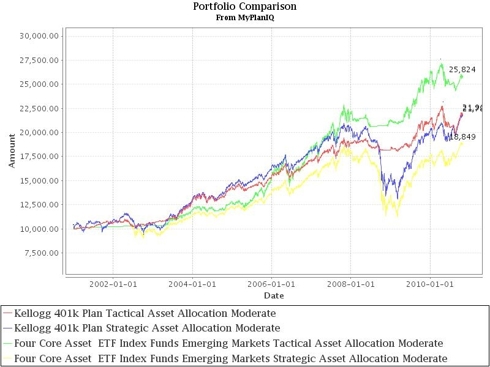 Even with excellent choices of funds, the returns can be beaten by a simple ETF portfolio with an extra asset class.
Kellogg gets strong marks for the choice of funds but are encouraged to add another asset class (or two) to really provide additional returns to their employees.
Disclosure: No positions