Historically known as the "crash" month, October proved to be anything but bad for long investors. Despite ominous signs of a market collapse (Hindenburg Omen, anyone?), the month proved to be a strong follow up to the September rally. In terms of sector outperformers, high beta/cyclical sectors of the market uniformly led the way higher.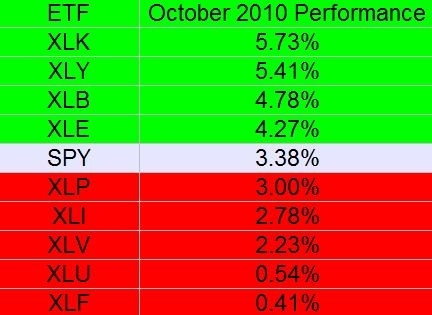 Technology (Symbol: XLK) was the star performer, followed closely by the Consumer Discretionary sector (Symbol: XLY), which continues to be a stellar performer off of the March lows of 2009. It should come as no surprise that expectations of more stimulus pushed commodity based sectors to perform strongly (Symbols: XLB, XLE) as well given the inflationary impact QE2 could have on producer prices.
Utilities (Symbol: XLU) performed poorly mainly due to the concern over higher inflation expectations appearing in the bond market, making dividend-oriented sectors relatively less attractive since they have to effectively compete for investor interest against Treasuries. The most worrisome sign in all this, however, remains the Financials sector (Symbol: XLF), which was essentially flat in an otherwise strong month for the markets.
While clearly markets are able to rally without the Financials sector lifting the indices, its important to note that the Financials sector is crucial for the overall health of the broader economy. The longer the disconnect occurs between strong equity markets in the face of weak Financial sector performance, the more likely it is that the markets will adjust negatively to the message investors in the sector are sending.
Disclosure: The author, Pension Partners, LLC, and/or its clients may hold positions in securities mentioned in this article at time of writing.