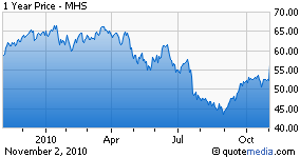 Click to enlargeMedco Health Solutions (NYSE:MHS) reported an EPS of 85 cents during the third quarter of fiscal 2010, up 23.2% from the year-ago quarter's 69 cents. After adjusting for amortization of intangible assets, the company's EPS came in at 91 cents, surpassing both the Zacks Consensus Estimate of 88 cents and 21.3% higher than the year-ago quarter's 75 cents.
Medco, the largest pharmacy benefit manager (PBM), recorded an increase of 10.3% in revenues to reach $16.3 billion, surpassing the Zacks Consensus Estimate of $16.2 billion. The increase in revenues was primarily driven by contributions from significant client wins as well as price inflation on branded drugs, partially offset by a higher volume of lower-priced generic drugs.
Revenues from Medco's specialty pharmacy segment, Accredo Health Group, increased 19.9% to $2.9 billion primarily due to a significant addition of new clients and organic growth.
During the reported quarter, the generic dispensing rate increased 3.9 percentage points to 71.6% compared with the third quarter of 2009. Net revenues of Medco were lower by approximately $1.04 billion due to higher volumes of generics, which are cheap compared with branded drugs. Both the mail-order and retail generic dispensing rates increased 4.7 percentage points to 62.8% and 3.7 percentage points to 73.1%, respectively.
For the reported quarter, out of $16.1 billion of net product revenues, retail products accounted for $9.9 billion, with mail-order products accounting for the rest. Both retail and mail order products recorded an increase of 9.7% and 10.6%, respectively, compared with the same period last year. Total prescription volume (235.2 million) recorded a 6.8% growth compared with the year-ago period, with mail-order volume increasing 7.1% to 27.3 million. Branded mail order prescription volume decreased 4.7% year over year to 10.2 million, while mail-order generic prescription volume increased 15.5% to 17.1 million.
Medco's gross margin during the quarter declined 10 basis points to 6.9%, although it was up 40 basis points quarter over quarter. The 60 basis point decline in Accredo's gross margin resulting from product channel and new client mix contributed to the overall decline of the company.
Medco exited the third quarter of 2010 with $892.4 million in cash and cash equivalents, down 64.7% from $2.5 billion at the end of December 2009. The company has repurchased 17.1 million shares during the quarter for $903.5 million with $1.4 billion of authorization remaining under the $3 billion buyback program announced in May 2010. During the quarter, the company also completed the acquisition of privately held United BioSource Corporation. This acquisition and the share repurchase activity were primarily responsible for the decline in cash balance.
Debt level at Medco increased 25% to $5 billion compared to December 2009, following the issuance of $1 billion of senior notes in September 2010 associated with the acquisition of United BioSource.
Medco is witnessing an impressive selling season with high client retention rates. The company has recorded more than $5 billion in the form of 2010 annualized new-named sales and net-new sales with a client retention rate of more than 99%. The 2011 selling season promises to be quite satisfactory with $1.7 billion of annualized new-named sales and $1.4 billion of net-new sales, at the end of the third quarter.
Outlook
Based on a strong quarter, Medco updated its outlook for 2010. The company narrowed and raised its EPS range to $3.14 to $3.16 compared with the previous guidance of $3.10 to $3.15, representing an annualized growth of 20% to21%. Additionally, after adjusting for amortization of intangibles, Medco raised the adjusted EPS guidance to $3.38 to $3.40 compared with the earlier guidance of $3.34 to $3.39, an increase of 19% to 20% compared with 2009.
The company also provided its guidance for fiscal 2011. Medco expects its adjusted EPS of $3.80 to $3.93, representing a growth of 12%−16% over 2010 guidance. The Zacks Consensus Estimate of $3.91 is within this range. However, the company will be implementing certain changes in 2011 to exclude all intangible amortization. Consequently, the EPS is expected to be $3.99−$4.12, representing growth of 12%−17% over the 2010 equivalent of $3.53−$3.55.
Recommendation
An aging population coupled with the associated higher frequency of chronic diseases continues to drive demand and add to the escalating cost of new drug therapies. As a result, we expect the outlook for the PBM industry to remain positive. The company has adopted several strategies in the recent past to increase its footprint in the European market, which holds immense potential. Moreover, increased opportunity for Medco lies in the form of introduction of generics over the next few years. Although the PBM industry remains highly competitive, especially in the current backdrop of economic uncertainty, we are encouraged by the company's client renewals for both 2010 and 2011.
We are currently Neutral on Medco which also corresponds to the Zacks #3 Rank (Hold).
Disclosure: No position