Google's Second Quarter Earnings Release
Google (NASDAQ:GOOG) (NASDAQ:GOOGL) is going north with a 22% growth in its top line and 26% growth in its operating profits. GOOG is managing to hold margins stable at 27%.
Raving Revenue Growth

Source: GOOG earnings release
GOOG continues to deliver fantastic results, and it's exciting to see how its top line has been growing at an explosive double digit growth rate for years. In the quarter that ended June 30th, total revenue increased by 22%. If we look at the breakup of total revenue, we see that Website revenue grew by 23%, Network Memberships' websites revenue showed single digit growth of 7.2% and other revenue grew by 52.6%.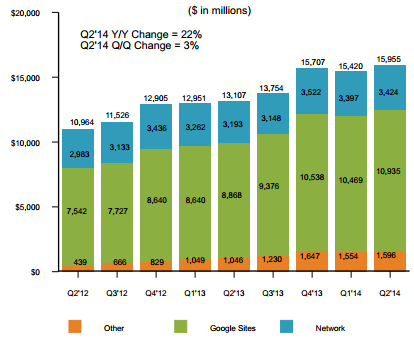 Source: GOOG earnings presentation
Since there has been a rapid PC to mobile platform transition, it is very important for GOOG to adapt its operations accordingly to fully monetize this growth opportunity. GOOG does not provide a breakup of revenue from its mobile and PC businesses and keeps things under wraps. There should be more transparency so that GOOG's mobile performance can be analyzed with more certainty. However, on the whole, the revenue growth was impressive.
If we look at the composition of total revenue, we see that advertisement revenue makes up 90% of the total revenue compared to last year when advertisement revenue was 92% of the total revenue. The total network membership website revenue now makes up 21% of total revenue compared to 24% last year. Website revenue now makes up 69% of total revenue as opposed to 68% last year.

Healthy Bottom Line Growth
GOOG has produced about $3.5 billion worth of net income from operations, reflecting an increase of 26% from the same quarter last year. Operating margins are stable at 27% with a one percent increase from the Q2 2013's figure. If net income/loss from discontinuing operations is included, then there was a 6% YOY increase in net profit.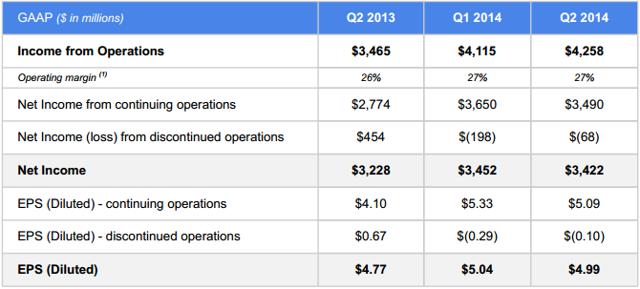 Source: GOOG earnings presentation
Decreasing Revenue Per Click And Increasing Number Of Clicks
Google's strategy is centered on increasing the number of clicks since the revenue per click is decreasing. GOOG's second quarter revenue per click decreased by 6%. The main reason behind the decreasing revenue per click is the increasing use of mobile internet and falling use of the internet on PCs. GOOG makes 57% less revenue per click on mobile phones than revenue per click on PCs. Lower revenue per click from mobile platforms is due to the fact that mobile screens are smaller, and this has impeded some shoppers from purchasing items online. However, if we look at the decrease in revenue per click along with increasing number of clicks and growth in total revenue from paid clicks, the situation looks much less worrisome. GOOG managed to increase the number of paid clicks on GOOG sites by 33%.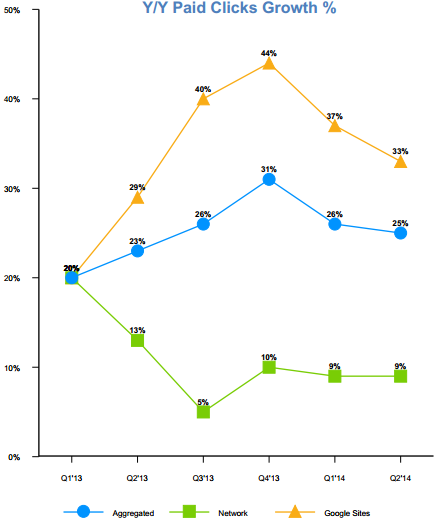 Source: GOOG earnings presentation
Falling Revenue Per Click Trend May Revert
Analysts estimate that mobile advertisement, which currently contributes less than PC revenue, will increase in the coming years. The smart phone gives location-based information that can allow GOOG to offer advertisement for businesses that are located near the user's location. This has the potential to make advertisements more relevant to the user visiting a certain place. These focused advertisements would be more valuable to businesses as they would have a better chance of the customer purchasing their product. This in turn can increase the price charged per click. But at the moment GOOG is making efforts to increase the number of clicks in order to fuel the growth of its top and bottom lines.
To achieve a higher number of clicks, GOOG is finding ways to make adverts more attractive and relevant to users. This will make adverts more valuable to advertising businesses and will pay those businesses return in terms of higher number of buying action by their customers.
Investment in Human Capital
GOOG continues to invest in its future, and one major area of GOOG's investment is its human resources. GOOG is going to hire over 2,000 more employees. GOOG's CFO says that they are very careful with the money that they have for new investment opportunities. It is imperative that these giant companies with huge pockets invest smartly when it comes to prospective growth opportunities without incurring undue loss of shareholder wealth. GOOG's continuous investment in human resources, technology and other infrastructure is expected to continue to give GOOG long-term growth.
Increasing Revenue Diversification: Fuel for Future Growth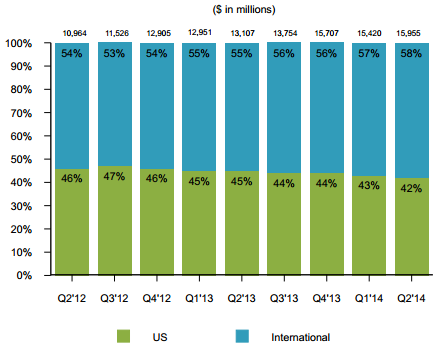 Source: GOOG earnings presentation
Looking at the trend of revenue from US and international businesses, we see that revenue from international operations has steadily increased in the last few quarters. GOOG's international businesses account for 58% of its revenues and are approaching $10 billion in the second quarter of 2014. Moving towards geographic diversification and increasing its share in rapidly growing emerging markets will help GOOG fuel its top and bottom lines.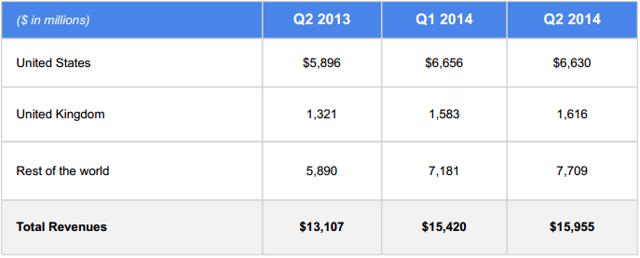 Source: GOOG earnings presentation
Conclusion
If we look at its explosive top line and bottom line growth, GOOG's stock is cheap. GOOG has strong cash flows, continuous investment for future growth, a price multiple of 12 times EBITDA and 20 times earnings. The decrease in revenue per click is likely to revert in the future as smart phones help advertisements become more effective and relevant to each user. GOOG's stock presents itself as a good investment opportunity at its current price.
Disclosure: The author has no positions in any stocks mentioned, and no plans to initiate any positions within the next 72 hours. The author wrote this article themselves, and it expresses their own opinions. The author is not receiving compensation for it (other than from Seeking Alpha). The author has no business relationship with any company whose stock is mentioned in this article.