By David Russell
Watson Pharmaceuticals (WPI) gapped to a nine-year high today after signing a drug-distribution contract, and the bulls see more upside.
optionMONSTER's Heat Seeker monitoring system detected the purchase of more than 7,000 January 50 calls for $1.40 to $1.60, against open interest of 2,249 contracts. WPI must rally another 3-5 percent by expiration for the trades to turn a profit.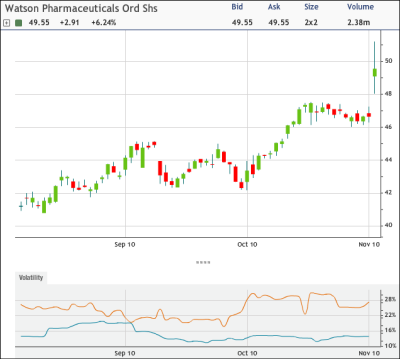 The shares popped higher at the open after the company said it will distribute a generic version of the hyperactivity drug Concerta under a contract lasting through the end of 2014. Early in the session it touched $51.20, the highest price since late 2001.
WPI is now up 6.24 percent to $49.55 in late morning trading. The stock had been trapped below about $47.50 until today, and shares face longer-term resistance at the $50.12 level where they peaked in 2003.
The company is scheduled to release third-quarter earnings before the market opens on Thursday and will appear at the Credit Suisse Healthcare Conference on Nov. 11.
Watson lowered its revenue guidance the last time it issued results on Aug. 5 but raised its earnings outlook.
Overall option volume in WPI is 12 times greater than average so far today, with calls outnumbering puts by 50 to 1.

Disclosure: No position