Financial Steel
This article presents an analysis of how Priceline (NASDAQ:PCLN) has proven its financial discipline and strength in the past decade and how this performance is expected to continue in the coming years. PCLN survived the Dot Com Bubble and its financial metrics grew with consistency over the last decade.
If we look at the top line, we see that PCLN managed to grow revenue at a CAGR of 25% over the past decade. This is no doubt amazing growth. PCLN is operating in a trillion dollar tourism industry and it has made smart use of information technology to excite and delight tourists. PCLN's diversified exposure in different geographical regions including the emerging markets of Asia Pacific, South America, the Middle East and Africa and booming countries like China has allowed it to show strong growth even when America and Europe went through tough economic times. PCLN currently operates in nearly 200 countries.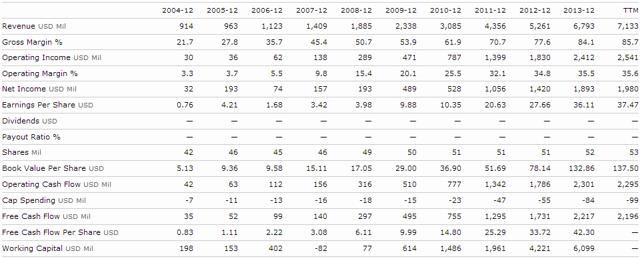 Source: Morningstar.com
Operating Efficiency and Growth in Margins
The company's gross margin has shown tremendous improvement in the last decade. Over this period PCLN brought efficiency to its operations and capitalized on the growing scale of operations. This allowed the company to improve its gross margin from 22% in 2004 to 85.7% by 2014. We see a lot of fast growth companies put top line growth as their first priority but can't translate top line growth to the bottom line during rapid growth phases. However, PCLN's case is different. Financial discipline allowed tremendous growth in the gross margin to flow down to the operating margin that grew from 3.3% in 2004 to 35.6% by 2014. EPS started off at $0.76 in 2004 and reached $37.47 by 2014.
Not short of growth opportunities
PCLN has not started to pay out dividends since it has not been short of growth opportunities. Even after years of operations it is expected to grow like a new company in a growth phase. With a recent EPS of around $37.50, PLCN's dividend payout potential is enormous. Now is not an appropriate time to expect dividends from PCLN as investors are better off investing his/her money back into PCLN's rapidly growing operations than dividends.
Robust Growth in Business Continues

Most of PCLN's business is in the international markets. The last financial results from the quarter ending 31 March show that gross bookings from international markets grew at an exciting 36.8%. This growth is primarily attributed to growth in accommodation room night reservation for Booking.com and Agoda.com. Domestic gross booking grew by 19.5%, primarily driven by growth in retail airline ticket service on Priceline.com. With an overall growth of 34.2% in total gross bookings, PCLN is capturing the high travel demand in North America and Europe and rapid growth from the emerging markets of Asia Pacific, the Middle East, Africa and China.
A Lot More Top-line Growth to Come

Source: Yahoo Finance
As PCLN is making new profitable investments, its top and bottom lines are expected to grow further. Twenty-three analysts covering PCLN are very optimistic about the future top-line growth. Average analysts' estimate is 27.20% growth for the upcoming results of the quarter ending June '14. The most optimistic estimate is a 30% increase in revenue and the most conservative estimate is a 24% increase in revenue. The gap between the highest and the lowest estimate is not very wide and it lies in a very positive 20% plus zone.
Growth Expected to Flow Down to the Bottom Line
Analysts' consensus growth estimate for revenue for the current year ending Dec. '14 is 24.70% and the next year's estimate for the year ending Dec. '15 is 20.30%. Analysts expect top line growth to slow down in the coming year but again this growth is expected to be in a healthy double-digit zone.

Source: Yahoo Finance
Analysts' consensus outlook of the EPS reveals that they expect the top line growth to reflect in the bottom line in the coming quarters. Analyst consensus EPS estimate for the upcoming earnings release forecasts a growth of 24% compared to the EPS of the same quarter last year. The highest EPS estimate is 30% growth while the lowest EPS estimate is 20%. Again, this analysis shows that analysts are very optimistic about PCLN's growth prospects in the coming quarters. PCLN's ability to find acquisition targets with positive potential synergies and successfully monetize to fuel its top and bottom lines is impressive. It is expected that PCLN will continue to make progress in the emerging markets as well as the developed economies of North America and Europe.
Excellent Performance in Profitability Matrices
The profitability metrics show impressive results. PCLN has managed to lower its tax rate in the previous years. All of the profitability measures given in the exhibit below show the general improvement that PCLN managed to produce over several years.

Source: Morningstar.com
Target Price
Analysts are overall very optimistic about PCLN. If we analyze the target price estimates made by 25 analysts covering PCLN, we see that the average target price estimate is about 17% above the current price level. The high valuation of PCLN is the result of its financial strength, its diversified geographical operations and its product line. The highest price estimate is 28% above the current price. The lowest price estimate expects a drop of 2.5% in price from the current level.

Relative Valuation
Let's see whether or not the price of the shock is attractive at its current level. Using P/E ratio analysis, we see that PCLN's P/E of 23.57 times is higher than the S&P 500 but it is lower than the very high P/E ratios of the industry and sector. The PEG ratio that builds forecasted growth in the P/E analysis shows that PCLN's stock is attractive at its current price level. PCLN's PEG ratio is 1.19 times, which is much lower compared to the industry, sector, and S&P 500. So PCLN is attractively priced given the growth potential that it presents.
Source: Yahoo Finance
Conclusion
Priceline survived the Dot Com Bubble and grew at a phenomenal rate. Its management and financial discipline is evident as it seems to be unaffected by the financial crisis that hit the world's major economies. Its diversification across developed and rapidly developing and emerging markets gives its top line consistent growth. As a leader of the trillion dollar travel industry, Priceline is expected to capitalize on the healthy growth in emerging markets and through continuous disciplined investment in new growth opportunities. Relative valuation and target price suggests that it's cheap at its current price level and thus a good investment.
Disclosure: The author has no positions in any stocks mentioned, and no plans to initiate any positions within the next 72 hours. The author wrote this article themselves, and it expresses their own opinions. The author is not receiving compensation for it (other than from Seeking Alpha). The author has no business relationship with any company whose stock is mentioned in this article.