On June 16, 2014 Level 3 Communications (NASDAQ:LVLT) and tw telecom (NASDAQ:TWTC) announced Level 3 will acquire tw telecom in a stock-and-cash transaction which we examined in our last article. We projected pro-forma results over the next five years. Those who follow these articles know I publish detailed historical and projected financials reflected in this and past articles available here and an interactive model allowing readers to input their own assumptions to generate a detailed financial summary and income statement and fair value here.
Those who follow the company know Level 3 does not make public long-term forecasts as to future performance or other prospective financial information beyond the current fiscal year leaving it up to analysts and investors the task of determining if there is long-term value to be had. This article is not going to get into business segments, financial trends based on historical trends, risks etc. Why? Because all this was discussed in the last two articles which can be found here and here.
This is an update to compare the research published in past articles (and data on the IIEX website) to data from the S-4 filed with the SEC. This filing provides selected longer-term financials prepared by Level 3 and tw Telecom as part of the due diligence in connection with the merger. This filing provides a check to existing research which has been based on the historical trends of the new focus (Enterprise) by new Level 3 leadership. There are still some blanks that need to be filled in but these are very predictable since major items like revenue and Adjusted EBITDA are forecast separately for each company in the filing. This information will confirm (or not) our previous projections that Level 3 trades at a discount to fair value.
The following information from the filing was used to perform a check to existing research (source S-4):
Certain non-public projected financial data relating to Level 3 prepared and furnished to tw telecom by the management of Level 3 (referred to as the Level 3 management case)
Certain non-public projected financial data relating to tw telecom prepared and furnished to Evercore by the management of tw telecom (referred to as the tw telecom management case)
tw telecom sensitivity case
Level 3 sensitivity case
Peer Trading Analysis
Sensitivity is defined as unforeseen events, changes in technology or any number of events that may prove to be financial bumps in the road.
The "Peer Trading Analysis" is a ratio defined as TEV/Adjusted EBITDA. Evercore reviewed and compared certain financial and operating information relating to tw telecom, Level 3 and Cogent Communications. Cogent was chosen because it has characteristics that are similar to those of tw telecom or Level 3. Evercore considered these companies as the most relevant peer companies.
For each of tw telecom, Level 3 and Cogent, Evercore calculated and analyzed the ratios of TEV (total enterprise value) defined as market capitalization plus the total outstanding debt plus preferred stock and minority interest, less cash and cash equivalents to Adjusted EBITDA referred to as TEV / Adjusted EBITDA multiple, for each of tw telecom's, Level 3's and Cogent's estimated calendar year 2014. The mean and median trading multiples are 11.3 and 10.7 respectively.
The following is a summary. This table is not in the filing but a compilation of data found in the filing then combined to produce pro-forma numbers along with our projections: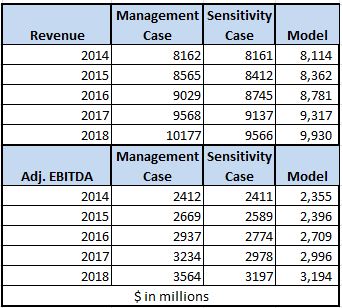 Both cases do not give effect to the mergers. 2018 EBITDA for both cases are used in the calculations below.

Click to enlarge
The 2014 TEV/Adjusted EBITDA was calculated using a current Level 3 price of about $45 at the time of this writing producing a ratio of 11.03. This is based on our model and is in line with Evercore's research. The ratio is used for 2018 to calculate TEV for both cases then MV (market value) can be calculated resulting in the implied share price shown above. Our numbers are closer to the sensitivity analysis giving confidence that the trends in previous articles are sustainable if not beatable.
Share data and other metrics in the IIEX model were detailed in our last article and are given below for clarity:

Click to enlarge
We can only conclude that the trends we have seen developing for the Enterprise business are realistic based on this information. Our current fair value remains unchanged from the previous article summarized below.

Click to enlarge
The stock is trading at a 74% discount to 2018 fair value or an annualized rate of approximately 15%.
Level 3 announces earnings on July 29 and tw telecom on July 30, hopefully pro-forma results will meet or beat our expectations moving the needle closer to the management case vs. sensitivity case.
Disclosure: The author is long LVLT. The author wrote this article themselves, and it expresses their own opinions. The author is not receiving compensation for it (other than from Seeking Alpha). The author has no business relationship with any company whose stock is mentioned in this article.