In an article earlier this week, I listed a few common mistakes that investors often overlook when deciphering earnings reports. One of those is interpreting the actual headlines such that the investor is able to put all of the puzzle pieces and form an accurate picture of a company's financial condition. Earnings results aren't meant to deceive investors, but it's up to the prospective investor to bifurcate the wheat from the chaff.
Once you have a sense of a company's financial health, it's time to check out the earnings call transcript. That's actually my favorite part of the analysis, as it gives me an opportunity to compare my research with many of the analysts on the earnings call.
In addition, I often uncover some "trace of wisdom" from the company's management team. Good leadership is essential, so I stay tuned into clues that may offer a glimpse of a general behavior that could make me feel better or worse. As an investor in any public company, you are actually paying a fraction of the CEO's salary, so you need to view the dialogue like you are the owner (and the CEO is an employee).
Today, several of my favorite REITs reported second-quarter earnings. Let's examine the details:
As announced, Omega Healthcare Investors (NYSE:OHI) closed on $315 million in new investments, including a skilled-nursing facility in Texas for approximately $8.2 million (leased it to an existing operator of the company). The cap rate is 9.75%. Omega also acquired two skilled-nursing facilities in Georgia and South Carolina from an unrelated third-party for approximately $17.3 million, and leased them to an existing operator.
The facilities, totaling 213 beds, were combined into a 12-year master lease with an initial yield of 9.5%. The company noted that the master lease allows for the purchase of a third facility in South Carolina that the company expects to purchase on or around August 1 and then add to the master lease. The combined purchase price, including the third facility, will be approximately $34.6 million.
Omega reported Funds From Operations (or FFO) of $79.7 million, or $0.63 per common share. The $79.7 million of FFO available to common stockholders for the second quarter of 2014 includes a $2.8 million provision for uncollectible straight-line receivables, a charge of $2.6 million for interest refinancing costs, $2.3 million of non-cash stock-based compensation expense and $45,000 of acquisition-related costs.
Adjusted FFO was $0.69 per common share for the three-month period ended June 30, 2014. In reporting its second-quarter earnings, Omega raised its 2014 adjusted FFO guidance to a range of $2.82 to $2.85 per share from the previous range of $2.74 to $2.77 per share. In July, the company increased its quarterly common dividend to $0.51 per share. Using the F.A.S.T. Graph below, I overrode the 2014 growth rate to reflect the updated guidance (I used an 11% growth rate).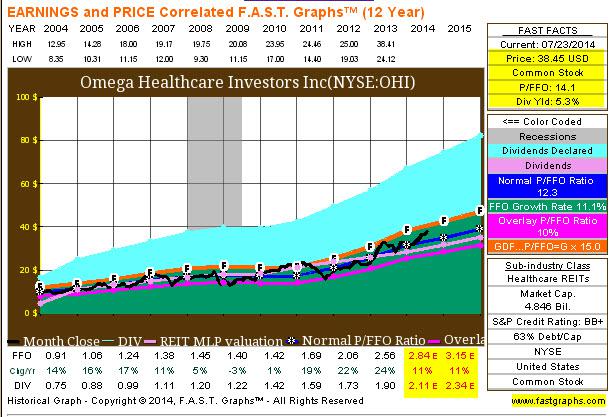 Also announced yesterday, Realty Income (NYSE:O) invested $405.1 million in 73 new properties and properties under development or expansion, located in 27 states. These new properties have a weighted average lease term of approximately 10.6 years and an initial average lease yield of 7.3%.
The tenants occupying the new properties operate in 22 industries, and the property types consist of 75.9% retail, 14.6% office, 5.2% industrial and distribution, and 4.3% manufacturing, based on rental revenue. Approximately 55% of the revenue generated for acquisitions during the second quarter of 2014 is from investment-grade tenants.
During the six months, Realty Income completed $1.06 billion in property-level acquisitions, a record amount for the first half of any year in the company's history. John Case, the CEO, also noted in the press release that "investment spreads remain well above their historical averages."
Realty Income maintains a $1.5 billion unsecured acquisition credit facility, which is used to fund property acquisitions in the near term. As of June 30, 2014, approximately $1.43 billion was available on the credit facility to fund additional acquisitions. Revenue for the quarter increased 22.6% to $228.6 million, and FFO increased 21.1% to $142.4 million (as compared to $117.6 million for the same quarter in 2013).
FFO per share for the quarter increased 6.7% to $0.64, as compared to $0.60 for the same quarter in 2013. In June 2014, Realty Income announced the 67th consecutive quarterly dividend increase, which is the 76th increase in the amount of the dividend since the company's listing on the NYSE in 1994. The annualized dividend amount, as of June 30, 2014, was approximately $2.194 per share (4.90% at market close). Realty Income said that its FFO per share for 2014 should range from $2.59 to $2.62.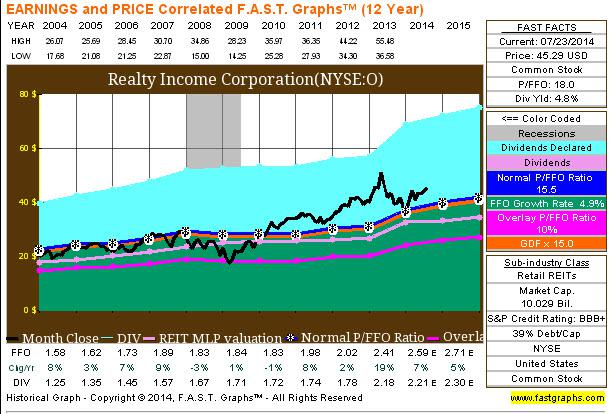 Upcoming Earnings
Now, as mentioned above, I am preparing for the upcoming earnings results (for REITs that I own), and I have summarized below my thoughts and observations:
Since going public in April 2011, STAG Industrial (NYSE:STAG) has been a heck of a growth stock -- shares up around 87%, and adding in the dividends, STAG's Total Return (since the IPO) is over 133%. Unfortunately, I did not get in on the ground floor; however, I'm still happy with my 29% (total) return since purchasing shares in September (at $20.30). In my last article, I was recommending STAG as a HOLD, and I have not changed my opinion. The company has continued to increase its dividend (a 5% increase to $1.26 per share), and management has stayed fixated on paying out around 90% of AFFO.
STAG does not compete with many of the larger peers directly, since the company focuses on smaller markets. That's a risk to consider, as property valuations (in these smaller markets) are less robust, and as an investor in STAG, one should examine the leasing and retention rates closely. As leases rollover, STAG's management team will have to demonstrate that it can maintain occupancy. For a prospective STAG investor, I would wait for a pullback -- shares are trading at a 16.4x multiple and the dividend yield (5.42%) is substantially below the going-in cap rates. STAG shares are up just .50% over the last 90 days.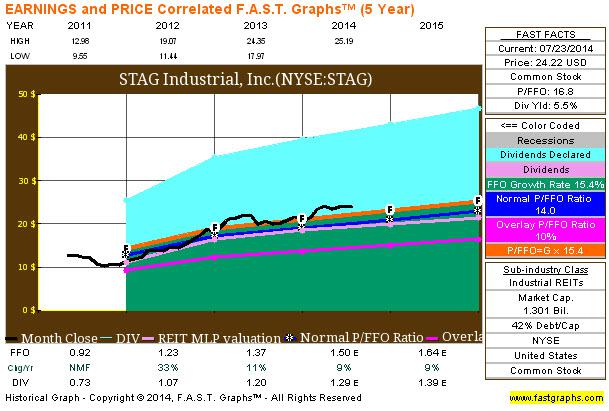 Taubman Centers (NYSE:TCO) recently announced that it was selling 7 of its shopping malls to Starwood Capital Group for $1.405 billion. Following the transaction, Taubman will own 17 properties (just 2 less than when the REIT went public in 1992). As a result, Taubman will have around $785 million in cash to put to work. Assuming Taubman structures the deal tax-free, it will likely implement a 1031 exchange, meaning the company will have to identify a replacement(s) 45 days after closing.
The other option for Taubman is to payout a special dividend, but that seems to be less opportunistic. Hopefully, Taubman can find enough strategic investment alternatives so that it can leverage its high-end, mall-based brand and return higher dividends over time. Taubman has a solid history of paying dividends (never cut one), and the management team has considerable skin in the game. I consider Taubman more of a partner than an employee. Shares in Taubman are trading at $76.43, with a dividend yield of 2.83%.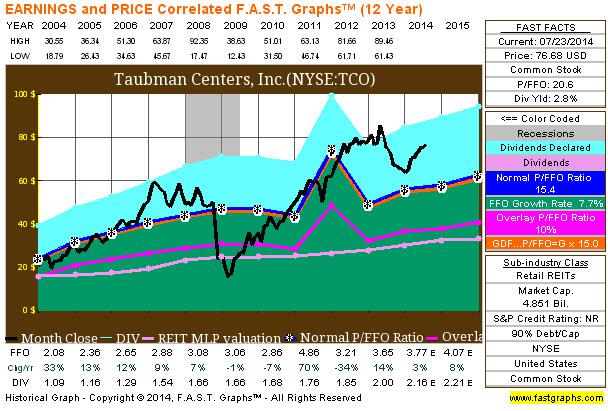 Extra Space (NYSE:EXR) is the most recent addition to my REIT portfolio. Some would argue that I didn't buy in at a "margin of safety"; however, I believe the self-storage REIT has plenty of room to run. Essentially, my bet is on the enormous consolidation within the self-storage sector. Unlike any other asset class, self-storage is predominantly owned by mom-and-pop investors. These smaller operators simply cannot compete with the big 4 REITs, and I see a wave of consolidation over the next several years.
The internet has a lot to do with the growth, since so many of the smaller and regional owners don't have the financial resources to tap into a national marketing database. As I researched the sector, I have concluded that Extra Space has the best technology, and the results back it up. Extra Space is trading at $53.61, with a dividend yield of 3.51%.
On the upcoming earnings call, I will be looking for acquisition numbers, as well as earnings growth. Remember, Extra Space has increased its dividend considerably since 2010, and over 17% this year. In full disclosure: Extra Space is not cheap (the P/FFO is 21.4x), so it's only a sleep well at night REIT under $45.00. I took a little more risk than usual -- we'll see how that goes.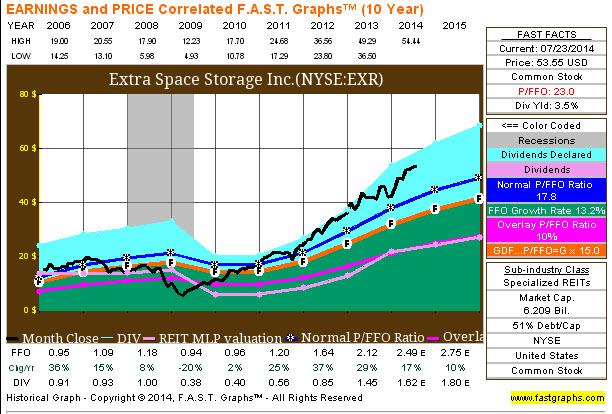 Now unlike Extra Space (above), I bought Health Care REIT (NYSE:HCN) on sale. Back in December, I saw that the diversified healthcare REIT was moving into a cheap valuation range, so I decided to make a move (at $55.59). Like many of the other REITs, the market sell-off had created an opportunity, and there was nothing fundamentally wrong with the stock. I admire HCN's consistently reliable earnings history, and I have been pleased with my (total) return of 16.9% (since December). HCN has increased its dividend by around 7% (so far this year), and I consider the dividend safe (current yield is 4.91%). The shares are trading at fair value today (P/FFO is 15.9x).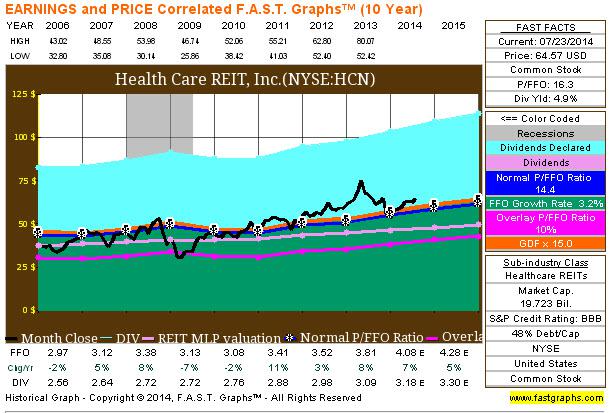 Back in April, I bought shares in W.P. Carey (NYSE:WPC) at $59.56. What's most attractive about Carey is the strong dividend performance: over 15 years in a row of dividends paid and increased. In addition, Carey has increased its dividend by around 30% this year ($3.39 to $3.63), and the company has been consistently acquiring solid net-leased assets. I am also confident in Carey's management team.
I know many of the senior-level executives, and I'm very comfortable with their abilities to source off-market deals in the US and abroad. On the latest earnings call, Carey said it was maintaining its 2014 full-year AFFO guidance of $4.40-$4.65 per diluted share, and I would not be surprised to see the estimate increased. I'm glad the shares are moving in the right direction ($66.39), but for new investors, I would wait for a little better entry point (P/FFO multiple is 17.3x).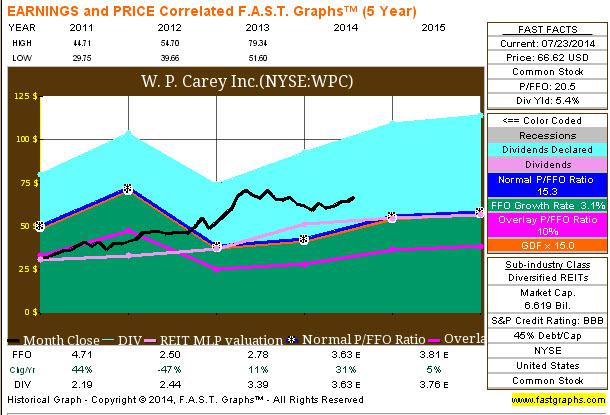 Chambers Street (NYSE:CSG) listed shares on May 21st (of 2013), and since that time, the share price has been relatively flat. Today, shares are trading at $8.08, slightly below the listing price. A few days ago, Dane Bowler wrote an article on CSG, and he summarized that he "anticipates that this discount will evaporate over time, providing excess returns to those who buy now."
I purchased shares in the company on multiple occasions, and my weighted (dollar cost average) cost is around $7.50. CSG is trading at one of the lowest multiples (P/FFO is 11.9x) in the sector, and I concur with Bowler that it's just a matter of time before the market sees the value in the $2-billion REIT. CSG also pays a monthly dividend.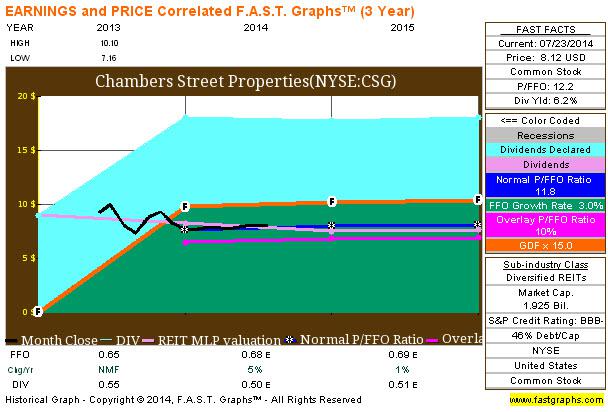 UMH Properties (NYSEMKT:UMH) has been my weakest REIT performer. I purchased shares in the small-cap manufactured housing REIT in September (2013) at $9.73, and shares closed at $9.85. Admittedly, I'm disappointed that UMH has not delivered, and I'm questioning whether I should own the shares today. This is a small cap, so I have not risked considerable capital; however, I'm not certain whether there is adequate return for this risk I'm taking. To put in perspective, I could have redeployed my capital into another high-paying REIT like American Realty Capital Properties (ARCP) that yields 7.78% (compared with UMH yielding 7.31%).
A few days ago, UMH announced that it acquired four manufactured home communities in Pittsburgh for approximately $12.2 million. With the acquisition, the company owns 86 communities consisting of approximately 14,800 developed home sites. I'm going to give UMH the benefit of the doubt and wait on the earnings results. UMH has not raised its annual dividend in over 6 years, and if I don't see any evidence that demonstrates earnings growth, I'll be looking for other options.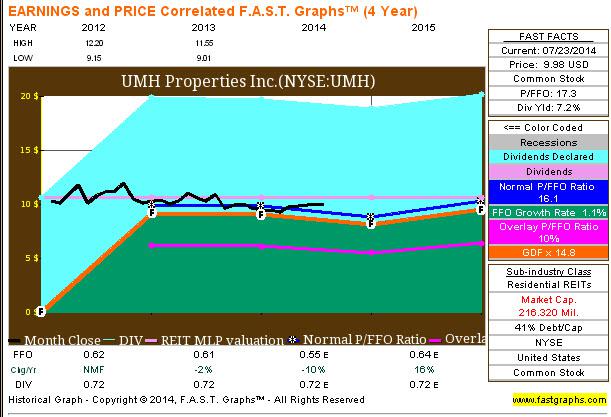 Here's the summary of scheduled second-quarter earnings dates: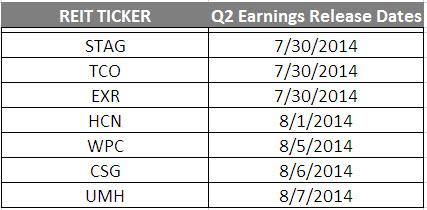 Brad Thomas is the Editor of The Intelligent REIT Investor (aka iREIT Investor). To subscribe to Brad's newsletter, click HERE.
Sources: SNL Financial and F.A.S.T. Graphs.
Disclaimer: This article is intended to provide information to interested parties. As I have no knowledge of individual investor circumstances, goals, and/or portfolio concentration or diversification, readers are expected to complete their own due diligence before purchasing any stocks mentioned or recommended.
Disclosure: The author is long O, DLR, VTR, HTA, STAG, UMH, CSG, GPT, ARCP, ROIC, HCN, OHI, LXP, KIM, WPC, DOC, UDF, EXR. The author wrote this article themselves, and it expresses their own opinions. The author is not receiving compensation for it (other than from Seeking Alpha). The author has no business relationship with any company whose stock is mentioned in this article.