I will not argue the fact that AT&T (NYSE:T) had a less than stellar earnings report. However, it is not as bad as some folks want to make it out to be. Yes, earnings missed and were lower than the same quarter in 2013, but revenues once again increased in a very tough competitive environment. That being said, let's look at several numbers: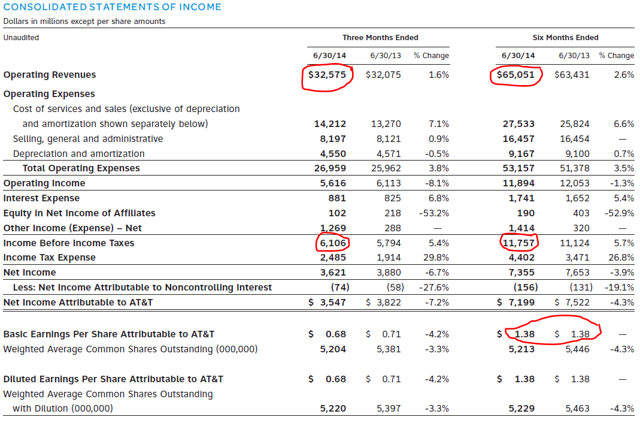 Click to enlarge
Revenue was up for 3 and 6 months, income before taxes was up for 3 and 6 months, and over a 6-month period EPS was exactly the same. Margins WERE squeezed in all business segments, especially the sensitive wireless segment, and in the landline business the company did see further deterioration: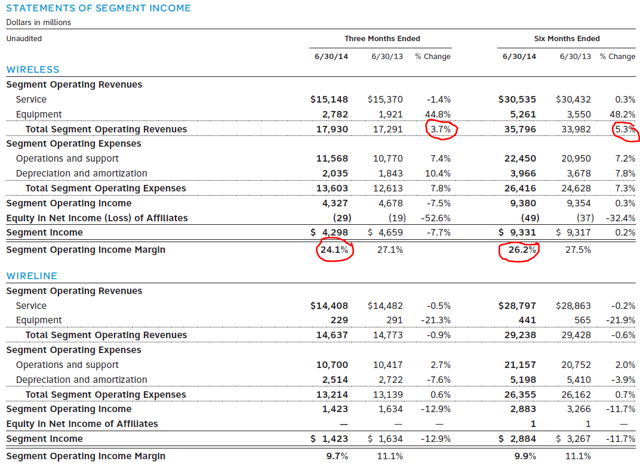 Click to enlarge
Interestingly enough though, the wireless segment total revenues were up 3.7% year over year for 3 months, and 5.3% for 6 months. Margins were squeezed so the company overall made a pinch less money. We all would prefer everything to be exactly perfect as shareholders of course, but that is not realistic, especially for a mature mega cap blue chip company.
The main bright spot, as it has been for several years now, is U-Verse:
U-verse services continue to drive strong consumer revenue growth with gains in high speed broadband and TV.

Revenues from residential customers totaled $5.7 billion, an increase of 3.0 percent versus the second quarter a year ago.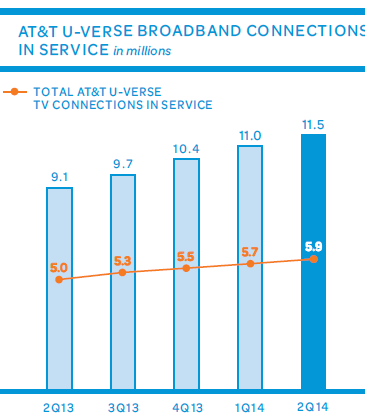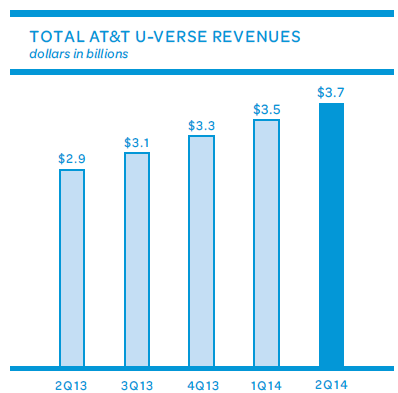 U-Verse is still the key to growth of both revenues and earnings going forward, and with the potential addition of DirecTV (DTV), the future looks awfully compelling for even more rapid growth. For an old fogy company that is pretty exciting stuff.
Since It Is All About The Money, What About The Money?
Well, let me toss up the most important chart I know of: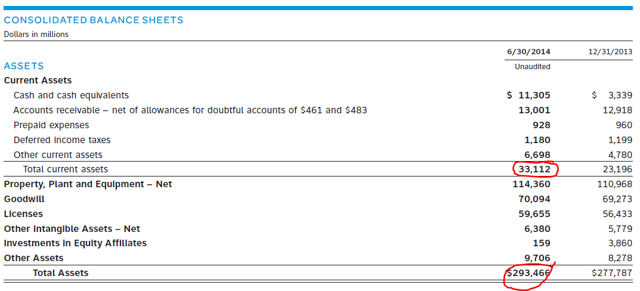 Click to enlarge
The company is a cash machine, period. In 6 months total assets have reached $293.4 billion, up about 9%. The company generates assets and cash, even if they have a less than stellar quarter. To me this is the most important fact that current or potential shareholders should note. It is the reason that T is a dividend champion with a wonderful current yield of nearly 5.20% right now.
The company has increased dividends for 30 consecutive years.
According to Yahoo Finance the company payout ratio is only at 53%, which gives me that warm and fuzzy feeling that dividend increases will continue to for years into the future. As far as I am concerned it is all about my income.
What About Growth?
Between U-Verse, potentially DTV, and the strong Strategic Business Services unit, the combined revitalization of the entire company bodes well for shareholders. At a current PE ratio of just 10.35 (12.91 forward PE), the share price seems on the "cheap" side actually. Price-to-book value is just 2.01, price to sales is a meager 1.43, and the hard cash to debt is a cool 4-1, roughly.
Let's also not forget the seasonality of the wireless business and the new smartphones being launched. Does anyone think that AT&T will not get its fair share if not more?
As these business segments grow, even without DTV, I believe AT&T will continue to deliver shareholder value, both in dividends and capital appreciation.
The Bottom Line
The company had a weaker than desired quarter. It is now ancient history. The share price fell today as I expected, and perhaps there will be further selling in coming days. That being said, compare the PE and the share price to other mega cap blue chip stocks that pay 5.20% dividends every single year, and you just might come to the same conclusion as me.
T is a buy.
Disclaimer: The opinions of the author are not recommendations to either buy or sell any security. Please remember to do your own research prior to making any investment decision.
Disclosure: The author is long T. The author wrote this article themselves, and it expresses their own opinions. The author is not receiving compensation for it (other than from Seeking Alpha). The author has no business relationship with any company whose stock is mentioned in this article.