Over the past eight years, Lyndon and Peter Rive - cousins of Tesla Motors CEO, Elon Musk - have seen their business flourish and have become a huge name in the renewable energy sector. The solar photovoltaic system maker went public in December 2012, when its stock was priced under-$10. Less than two years later, the stock price sits at $69.42, with fast increases in revenue. Here's why those who believe in long-term commitment should keep an eye on SolarCity (NASDAQ:SCTY).
A Lot of Success in Very Little Time
In the short span of time that SolarCity has been public, it has made its stockholders rich. Having grown nearly seven times in just 1.5 years, SolarCity should be one of the most coveted stocks on the exchange, right now, if history is something to be relied upon. Furthermore, the company's market cap clocks in at $6.305 billion, $17 million more valuable than the more popular First Solar (NASDAQ:FSLR), thanks to SolarCity's remarkable performance and execution. SolarCity reported first quarter revenue was more than double its year over year, to $63.5 million, beating analysts' estimates of $53.4 million. But even those who do not believe in trusting a stock should gain faith by looking at the company's steady performance so far and scope for expansion.
Good Prospects
With increasing environmental concerns surroundings electricity produced by non-renewable sources, the market for photovoltaic, thermal and wind produced energy is bound to increase, especially in areas that do not have hydroelectric power. This is why the energy sector has seen a rise in companies offering renewable energy products since the end of the 1990s. Solar power was bound to gain popularity in areas that received a lot of sunlight - and where people could afford the one-time cost of solar panels' installation. SolarCity seems to have capitalized on just that. Further SolarCity has been successful as it has disrupted the growing solar market by offering zero-down financing for installations and marketing the costs similar to a monthly electric utility bill. The company's payment strategy coupled with ease of installation and transferring upon moving point to improved customer metrics.
The company claims to be "America's largest solar panel provider." The claim might as well be true since the company's customer base has been expanding very quickly, with 110,662 customers reported by the company in the first quarter of this year alone. This was, according to the company's quarterly earnings report, an 84% year-on-year and 13% sequential growth. It is important to note that SolarCity still just offers its services in a few American states including California, Washington, Arizona and Colorado, and a few more cities, including New York and Washington, D.C. The following map shows the locations the company has got covered right now: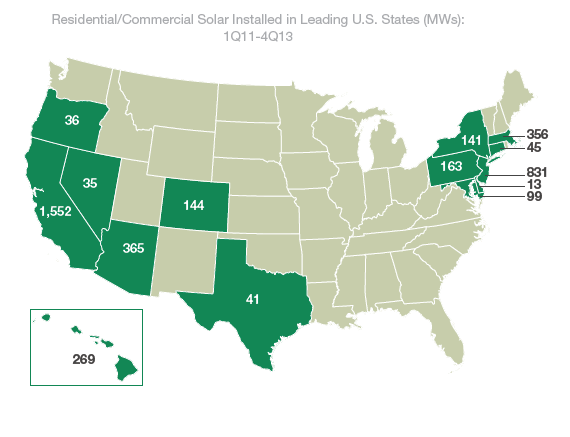 Source: SolarCity U.S. Operating Locations.
So all of the $163.84 million that the company earned in 2013 was made from the states in green, alone. As is visible, these states constitute less than half of the United States of America, with the company still not touching some of the country's sunniest states, i.e. Florida. This shows the vast room the company still has to expand into, in the U.S., alone. Furthermore, with the company's Chairman, Elon Musk's plans to build solar powered Superchargers for his Tesla vehicles, and a Gigafactory that would be powered by solar and wind energy, the company could soon be expanding the type of its customer base, as well, from largely residential to incorporating the corporate sector - a move which could prove profitable.
SolarCity took orders of 136 megawatts in Q1, which was high above the company's 100 megawatt prediction. The company recently expanded its installations to Nevada, looking to break grown in the lucrative Las Vegas market. SolarCity has booked 100,000 solar energy contracts, which provides a strong outlook.
For 2014, the company has estimated total contracts of 500 to 550 megawatts. Ross Shwartz, of Investing.org, discussed the positive outlook,
"Based on these positive results, the company will continue investing its efforts in improving marketing and sales. For 2015, SolarCity predicts 900 megawatts to 1 gigawatt of sales. By the end of 2015, the company plans to deploy over 2 gigawatts of solar panels. If the solar energy company should achieve this figure, it will see a growth rate of 98% for the past five years. Residential installments increased over 100% over the past 12 months from 30 megawatts to 67 megawatts as SolarCity completed 50 megawatts of commercial installments."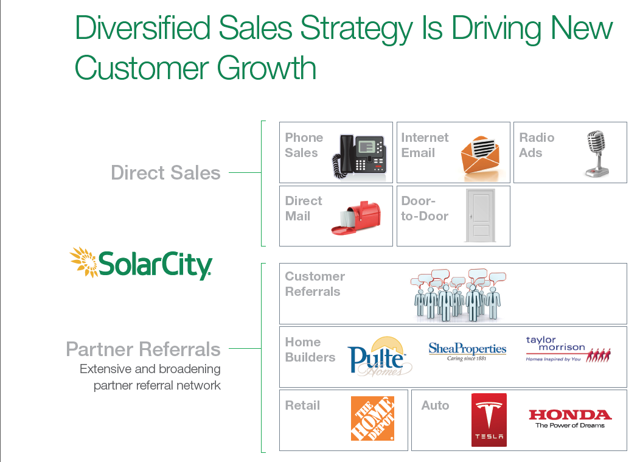 Source: SolarCity Investor Presentation
The company's new sales strategy are produced from two categories; Direct Sales and Partner Referrals. Home Depot and Honda are both part of the company's extensive and growing referral network. Tesla Motors' CEO has discussed the use of solar panels for future and current projects.
Think Global
For a company younger than most photovoltaic system or solar panel makers, SolarCity has done well to surpass many of the more popular of its competitors, such as First Solar and Yingli (NYSE:YGE), in terms of value (First Solar has a market cap of $6.288 billion while Yingli is priced at $540.84 million). However, unlike these two companies, SolarCity does not have a global market, which is why it does not make as much revenue or gross income as either. First Solar reported revenue of $3.29 billion last year, while Yingli reported $2.18 billion. SolarCity made a meager $163.84 million. While manufacturing and installing solar panels is not one of the most mobile businesses around, both First Solar and Yingli have created an international presence. Investors should look for news of this type of expansion from SolarCity in the coming year. By the time SolarCity would have expanded as far as its competitors have, that would be when investors who purchased the stock today would be cashing gold coins for each nickel that they paid.
Projects and Acquisitions
Prospective investors won't have to wait for too long to see which way SolarCity is going. The company is looking to take on large projects sooner than most of us expect. The already-mentioned partnership with Tesla on the solar powered Superchargers as well as the Gigafactory would commence soon, so would a certain plan called the "Riverbend project": the construction of "the world's largest advanced solar panel factory," as Elon Musk himself tweeted. The first step to the actualization of this plan was the acquisition of Silevo, another solar panel manufacturer, on June 16th this year. Silevo's technology, SolarCity reports, enhances energy output while cutting the cost of solar panel production down. The "Riverbend" master plan is to build a plant in Riverbend Commerce Park in Buffalo, which would have a capacity of over 1 GW, within the next two years. With government subsidies already on solar power's side, the construction of a massive solar panel manufacturing plant that would reduce cost of production per panel significantly, using solar power instead of conventional electricity could become very attractive to consumers. The potential here points to a positive and strong outlook for investors who will look to the company's results on August 7th.
Disclosure: The author has no positions in any stocks mentioned, and no plans to initiate any positions within the next 72 hours. The author wrote this article themselves, and it expresses their own opinions. The author is not receiving compensation for it (other than from Seeking Alpha). The author has no business relationship with any company whose stock is mentioned in this article.