The stock market continues to rise like an unstoppable rocket. On Thursday, stocks as measured by the S&P 500 Index (NYSEARCA:SPY) marked yet another new all-time high at 1987. And it is only a matter of days before the major market index smashes through the 2000 barrier. But just as trees do not grow to the sky, neither do stocks. And given how far stocks have come from their distressing lows from several years ago, what can we reasonably expect over the next decade? Will the S&P 500 be poised to break out above 4000 ten years from now? Or is it possible that S&P 500 will still be trading below 2000 in the year 2024?
In order to answer this question, it is worthwhile to take a look at how history can inform us on the topic.
The S&P 500 Index is currently trading at 26.1 times its 10-year cyclically adjusted price-to-earnings ratio (CAPE). With this current data point in mind, the following is a scatter plot diagram using data from January 1881 to June 2004 that shows the monthly historical CAPE for the S&P 500 as the explanatory variable and the subsequent 10-year annualized return on the S&P 500 as the response variable. The data ends in July 2004 since this is the last month for which historical 10-year annualized return data can exist (in other words, we cannot add July 2004 to the scatter plot data set until the end of this month).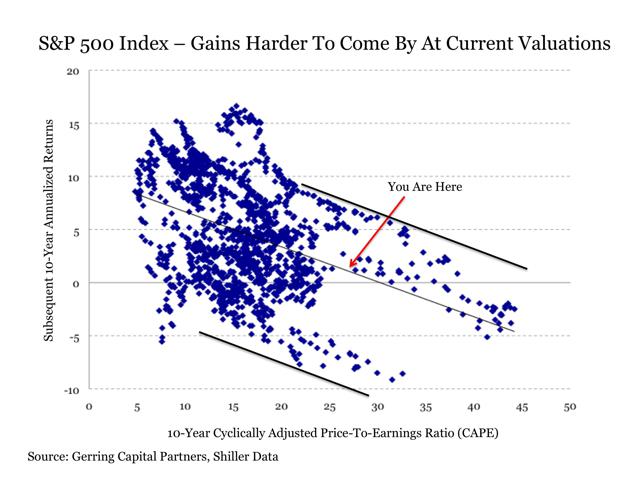 Click to enlarge
What are the key takeaways from the chart? First, when the CAPE is at or below 20, the subsequent 10-year annualized returns on the S&P 500 Index have historically ranged anywhere between -5% to +15% regardless of valuation. But once the CAPE rises above 20, a more discernible trend starts to form. A downward sloping ceiling quickly forms above future 10-year annualized returns the higher the CAPE moves above 20. And a number of outcomes emerge where 10-year annualized returns fall into the -5% to -10% range. In short, future gains over a subsequent 10-year horizon become increasingly harder to come by, the higher the CAPE becomes today. And future losses over a subsequent 10-year period become all the more likely and dramatic.
(Note: For those that have scorn for the CAPE, it should be noted that an analysis based on trailing 12-month as reported earnings yields fairly similar results. Also, for those that believe including data from as far back as the late 1800s is not relevant, it should also be noted that an analysis focused on either the last century since 1914 or even the late 1920s also yields similar results)
This does not imply that we are necessarily entering a lost decade for stocks. After all, the downward sloping ceiling on the above chart still suggests that 10-year annualized returns as high as +7% are still possible based on past history. This would imply an S&P 500 Index on the brink of 4000 in ten years from today, which would be great.
But this should not give cause for excitement either. For it should be noted that nearly all of these high-end outcomes all took place in the mid-to-late 1990s as the technology bubble was rapidly inflating at a time when Fed policy was not only ultra accommodating but also still flexible and policy makers were soon to repeal Glass-Steagall. In short, these most favorable 10-year periods in the chart above were immediately followed by the worst financial crisis in nearly a century from 2007 to 2009. Otherwise, stocks have posted subsequent 10-year annualized returns at CAPE valuations comparable to today that have been generally flat-to-modestly positive at best to outright terrible at worst.
What about these worst case scenarios based on history? These took place both in the late 1920s prior to the Great Depression and again in the mid 1960s leading into the stagflationary 1970s. A repeat of these past traumatic periods would imply an S&P 500 Index trading not only below 2000 a decade from now but also below 1000 in the 850 to 950 range. Is this a likely outcome by the year 2024? Not necessarily. But then again, more than a century of history suggests that it cannot be completely ruled out either. After all, it would have likely seemed completely ridiculous to an investor on February 2, 1998 the idea that the S&P 500 Index would be trading below the 1000 mark a decade later after breaking above this level for the first time in history that day. And this notion would have seemed all the more absurd for this same investor when the S&P 500 Index broke above 1500 two short years later on March 22, 2000. But there we were more than ten years later on November 20, 2008 with the S&P 500 not only trading back below 1000 but below 800 for the second time in the decade since hitting 1000 for the very first time.
Putting this all together and moving beyond the extremes, under the most typical scenario as implied by the trend line associated with the data, stocks could reasonably be expected to generate a 10-year annualized return of just over +1% on average over the next decade. This would imply the S&P 500 trading in the 2275 range ten years from now. Certainly not a disastrous ending by any means, but hardly anything to get excited about either, as it suggests that stocks would likely trail the rate of inflation along the way. For what it's worth, the projected real rate of return annualized over the next 10-years based off this historical data comes in at roughly -1.3% on average. Once again, this is certainly not a crisis, but it suggests that a simple buy-and-hold strategy in the stock market has the potential to not be enough over the next decade in maintaining one's purchasing power.
The Bottom Line
Stocks are expensive by historical measures. And this implies that future returns over the next decade may be much harder to come by than they have since the aftermath of the financial crisis in 2009. This, of course, does not at all mean that investors should simply walk away from the stock market. Instead, what it suggests is that investors may have to work harder and rely more on active management and adhering to a disciplined risk controlled strategy in seeking to generate attractive positive returns over the coming decade despite what the broader market may collectively have to offer.
It should also be remembered that the stock market is not going to move in a straight line to its ultimate destination a decade from now in 2024. For if the S&P 500 Index were to provide a +1% annualized return over the next 10-years, it implies that we may not only see much higher highs before the current rally comes to an end, but we may also see a meaningful correction or two during the subsequent journey over the next decade on which those investors standing at the ready to not only capitalize on the pullbacks but also capture the rallies that follow can benefit.
The stock market is a sanguine and complacent place today. But as the S&P 500 inevitably breaks out above 2000 in the coming days, remember that volatility will eventually find its way back into the market at some point, and perhaps with great conviction. Those investors that remain alert to this fact and at the ready to act calmly and accordingly when the time finally comes will remain in the best position to achieve their investment goals over the coming decade.
Disclosure: This article is for information purposes only. There are risks involved with investing including loss of principal. Gerring Capital Partners makes no explicit or implicit guarantee with respect to performance or the outcome of any investment or projections made. There is no guarantee that the goals of the strategies discussed by Gerring Capital Partners will be met.
Disclosure: The author has no positions in any stocks mentioned, and no plans to initiate any positions within the next 72 hours. The author wrote this article themselves, and it expresses their own opinions. The author is not receiving compensation for it (other than from Seeking Alpha). The author has no business relationship with any company whose stock is mentioned in this article.
Additional disclosure: I am long stocks via the SPLV and the XLU as well as selected individual names. I also hold a meaningful allocation to cash at the present time.