Last quarter we wrote a big post about how Mark Zuckerberg is trying to unbundle Facebook and how Angie's List (NASDAQ:ANGI) could learn from his strategy. Mark Zuckerberg has been executing flawlessly on the monetization of Facebook (NASDAQ:FB) and demolishing the consensus from Wall Street each quarter. On the other hand Angie's List has been growing revenue, but struggling to keep up with growth expectations. Yesterday afternoon Angie's List posted terrible earnings and the stock got slammed 19%. Angie, you should have been paying more attention to what Mark said last quarter.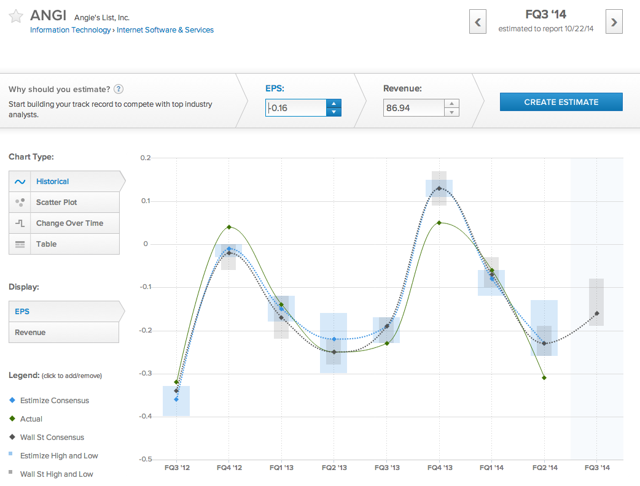 The long short of our post from back in April was that Facebook was going to be unbundled, but Zuckerberg had the vision to see it coming. In an interview with the New York Times Zuckerberg admitted he was working on unpackaging the big blue app into smaller platforms himself. The idea is that if he didn't create smaller apps with best in class user experiences, someone else would, and sooner or later Facebook would become a jack of all trades, but a master of none. Two great examples of the unbundling of Facebook on mobile are Instagram and Messenger. Both apps serve a narrow purpose, but are top quality within their respective product verticals.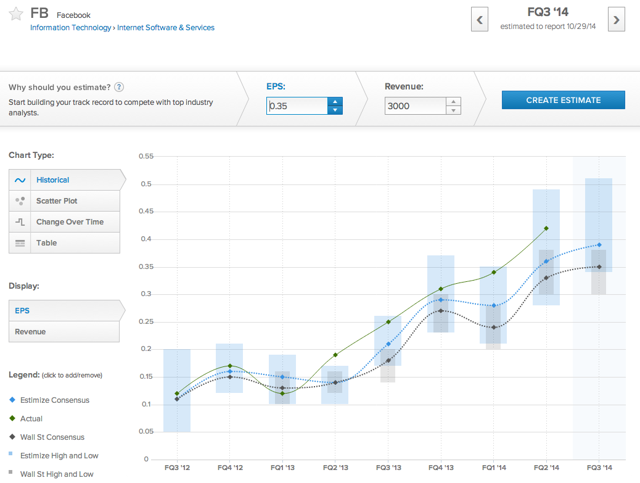 Facebook crushed expectations for the 5th consecutive quarter this week. Not only has Facebook been beating the Wall Street consensus, but they've also been topping the crowdsourced expectations of buy side and independent contributing analysts on Estimize.com. Personal targeted ads have been killing it for Facebook on mobile and on Instagram. Next Facebook is going to figure out how to build a business out of its Messenger app.
Facebook now has 1.32 billion monthly users and 30% of them are strictly on mobile. Smartphone usage and mobile ad revenues are both on fire and Facebook has proven its ability to execute. Facebook now has 1.5 million paying advertisers on its platforms and with exceptional profit margins in the online ads business, Facebook is basically just printing money at this point.
The example we used to show the unbundling of Angie's List last quarter was Yelp. But now a whole array of on demand service apps are eating Angie's List alive. Instead of using Angie's List as a directory for local businesses, people are just using on-demand, Uber style apps to meet their needs. The Handybook app allows someone to easily book a professional cleaner or handyman, and TaskRabbit offers a similar service which includes moving help and miscellaneous personal assistance. With all of these simple to use apps coming out, Angie's List is struggling to grow its business.
In their earnings reports Angie's List management said, "While revenue growth in e-commerce was lower than expected, we continued to make progress against our strategy of enabling service providers and populating their stores with offers." It doesn't come as too much of a surprise to us here at Estimize that Angie's List struggled with e-commerce this quarter, especially because the Estimize consensus was below Wall Street's.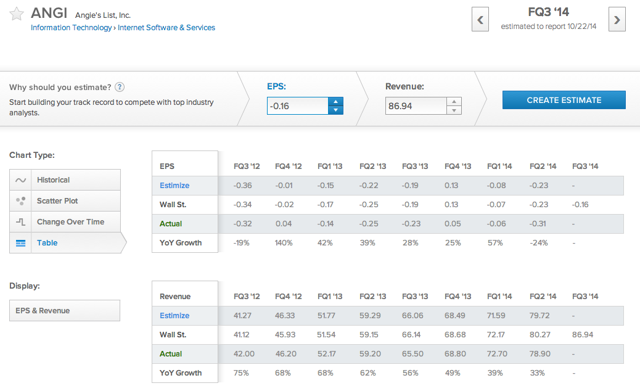 The table above shows the deceleration in revenue growth, and more damningly that Angie's List is losing money. This quarter the quarterly loss at Angie's List increased 24% compared to the same quarter of last year. If Angie's List is bleeding cash and it's being picked apart, where does the company go from here?
Disclosure: None