By Stuart McPhee
Gold for Friday, July 25, 2014
Gold is trying to rally higher after falling sharply below the key $1300 level. You could argue that this has been coming for a few days as it has been slowly but surely easing lower below $1305 heading south towards $1300. The $1300 level has been reinforced as a level of significance in the last week with gold falling sharply from its highs above $1345 back down to this level where it has been met with overwhelming demand. This has seen gold rally higher and now consolidate just above the $1310 level. It will be interesting to see whether the $1300 level can now hold again. During the second half of June, gold steadily moved higher but showed numerous incidents of indecision with its multiple doji candlestick patterns on the daily chart. This happened around $1320 and $1330. Several weeks ago gold enjoyed a stunning surge higher to break through some key levels along its way to reaching a then two-month high just above $1320 and immediately after it eased away ever so slightly and consolidated with its flow of doji patterns. It was then able to slowly move higher to a four-month high above $1345. It was also able to break through the $1300 level which has recently played a role again. If sellers do take advantage of these relatively higher prices, it will most likely bring the $1300 level back into play. The OANDA long position ratio has dropped to its lowest level in a few months around 51% showing a much more bearish sentiment than the long-term average.
At the beginning of June, gold did very well to repair some damage and return to the key $1275 level, then it has continued the momentum pushing a higher to its recent four-month high. After moving so little for an extended period, gold dropped sharply several weeks ago from above the well established support level at $1275 as it completely shattered this level falling to a four-month low around $1240. It remained around support at $1240 for several days before its recent rally higher. Prior to the strong fall a few weeks ago, gold had remain fixated on the $1293 level and had done very little as volatility has dried up completely resulting in gold moving very little. It pushed down towards $1280 before sling shotting back and also had an excursion above $1300 for a short period before moving quickly back to the $1293 area again. Over the last few weeks, gold has eased back from around $1315 to establish its recent narrow trading range below $1295 before its recent slump.
Over the last few months, the $1275 level has established itself as a level of support and on several occasions has propped up the price of gold after reasonable falls. Throughout the second half of March, gold fell heavily from resistance around $1400 back down to a several week low near support at $1275. Both these levels remain relevant as $1275 continues to offer support and the $1400 level is likely to play a role again should gold move up higher. Through the first couple of months of this year, gold moved very well from a longer-term support level around $1200 up towards a six month higher near $1400 before returning to its present trading levels closer to $1300.
Gold settled lower on Thursday as robust economic data from the United States, China and the euro zone deterred investors from buying into safe-haven assets. U.S. gold futures finished the trading session $13.90 lower at $1,290.80 an ounce, after stop-loss orders were placed by traders below $1,300 to limit losses, prompting further selling. Spot gold fell 1.1 percent to its lowest since June 19 at $1,290.40 an ounce. "The dollar is a bit bid after good jobs and housing data, equity markets are also stronger and that is all weighing on gold," MKS SA head of trading Afshin Nabavi said. "We saw some stop-losses as we broke $1,300 and there will be more if we take out the $1,286 area." The dollar was up 0.1 percent against a basket of main currencies, erasing earlier losses after data showed the number of Americans filing new claims for unemployment benefits fell to the lowest level in nearly 8-1/2 years.
(Daily chart / 4 hourly chart below)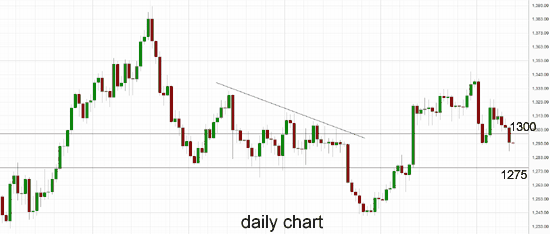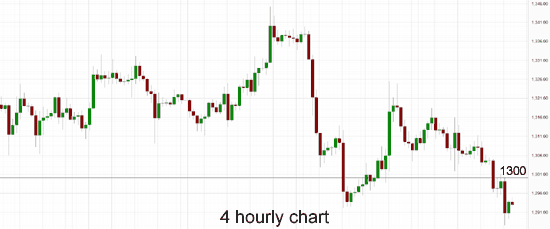 Gold July 25 at 00:10 GMT 1292.9 H: 1294.9 L: 1292.5
Gold Technical
| | | | | | |
| --- | --- | --- | --- | --- | --- |
| S3 | S2 | S1 | R1 | R2 | R3 |
| 1300 | 1275 | 1240 | 1330 | - | - |
During the early hours of the Asian trading session on Friday, Gold is trying to rally higher after falling sharply below the key $1300 level. This has been coming as it has been slowly but surely easing lower just below $1305 over the last few days. Current range: trading just above $1300 around $1303.
Further levels in both directions:
• Below: 1300, 1275 and 1240.
• Above: 1330.
OANDA's Open Position Ratios
(Shows the ratio of long vs. short positions held for Gold among all OANDA clients. The left percentage (blue) shows long positions; the right percentage (orange) shows short positions.)
The long position ratio for Gold has surged up towards 70% again as it has eased back from its highs around $1330 back to now below $1300 again. The trader sentiment is strongly in favour of long positions.
Economic Releases
23:30 (Thu) JP CPI Core (Nation) (Jun)
23:30 (Thu) JP CPI Core (Tokyo) (Jul)
08:00 EU M3 Money Supply (Jun)
08:30 UK GDP (1st Est.) (Q2)
08:30 UK Index of Services (May)
12:30 US Durable goods orders (Jun)
*All release times are GMT