When Steve Ballmer left Microsoft (NASDAQ:MSFT) the financial community seemed to breathe a sigh of relief, and that is reflected in the PE multiple of the stock at this time. However, earnings growth has not come yet, and unless it does soon serious valuation concerns are going to reach the headlines of financial media.
Currently, those valuation concerns are being discussed in financial circles privately, but the media and the general public still seem to be embracing Microsoft's potential without Steve Ballmer.
To be specific, our trailing 12 month yearly earnings growth rate chart below shows us that Microsoft has been reporting lower sequential yearly growth since the second quarter of 2013 (negative growth). The increase in Microsoft's stock has come solely from multiple expansion, at least for now. The second chart below shows the PE multiple for Microsoft over time, and as we can see the multiple went from about 11.5 to 17 between the second quarter of 2013 and today.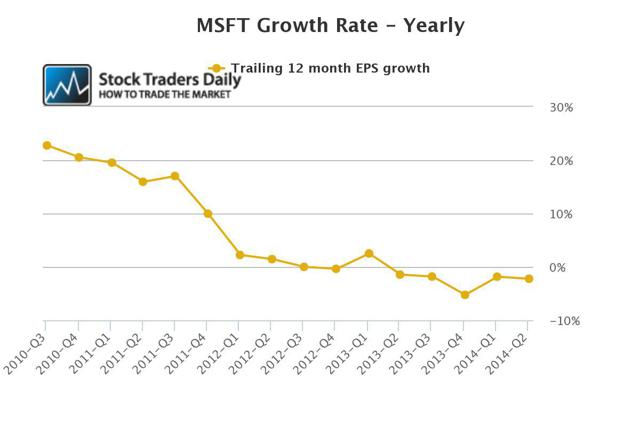 The PE chart above shows us that the multiple expanded by 47% for shares of Microsoft over the past year, but the PEG chart below shows us the concerns that quietly are circulating in the financial community. The multiple expansion is not warranted based on the negative earnings growth rates and unless that changes these concerns will cause longer-term investors to reconsider positions.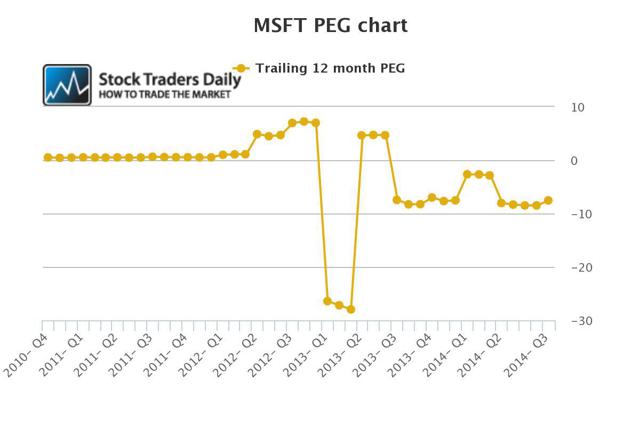 On a technical basis, for investors who are interested in making money over the next few months, shares of Microsoft have also reached a level of longer-term resistance as we have defined that in our real time trading report for MSFT. By rule, when longer-term resistance levels are tested we should expect stocks to decline back down to support levels again, and that rule applies here for Microsoft as well.
For traders, Microsoft may actually be a better short than a buy so long as resistance remains intact.
For longer-term investors, there is one solace because although earnings growth has turned negative, revenue growth has been solid, so if the company maintains margins after this transition phase investors hope that will translate into meaningful earnings growth again. That has not happened yet.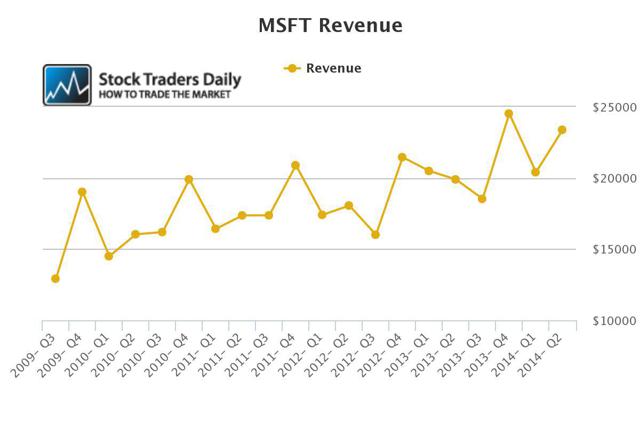 Disclosure: The author has no positions in any stocks mentioned, and no plans to initiate any positions within the next 72 hours.
Business relationship disclosure: By Thomas H. Kee Jr. for Stock Traders Daily and neither receives compensation from the publicly traded companies listed herein for writing this article.