Juniper Networks (NYSE:JNPR) is a technology company that belongs to the industry of network and communications devices. The company recently released earnings results of the second-quarter 2014. Despite strong results, the stock of the company followed a downward trend amid weak third-quarter guidance. This development offers a decent entry-point for investors looking to capitalize on undervalued stocks. Detailed analysis follows:
Business
Juniper offers network infrastructure products, which primarily includes routers and switches. It is also involved in the provision of network security products and services. More importantly, the company is offering products and services related to software defined networking (SDN). Its Contrail platform provides all the necessary components for network function virtualization (NFV). NFV and SDN are gaining popularity lately; it is a threat to specialized networking equipment manufacturers. Offering SDN and NFV solution is, I believe, Juniper's way of hedging against the risk posed by network virtualization technology. Anyhow, the company generates most of its revenue from router-sales as they made-up around 50% of the total revenue in the year ended 2013. From a different classification perspective; product revenue, or PSD, was around 75% and service revenue, or SSD, was around 25% during the year ended 2013.
Industry prospects
According to infonetics, carrier router and switch market is expected to grow at CAGR of 8.8% until 2017. There are concerns about the growth of router and switch market as NFV is upon us. (Explanation: Software defined networking and Network function virtualization brings some of the hardware programming to software level, thereby eliminating the need of specialized hardware.)
Despite these concerns, infonetics believes that telecom and datacom network equipment is on track to grow annually through 2018, with fastest growth coming in 2015. By putting the pieces together, it can be seen that router/switch growth will not be affected in short to medium-term. However, in the long run, if the network companies don't adapt to the tune of NFV, they may witness sales drops. Software defined networking is expected to reach $3.7 billion by 2016. According to ABI research, NFV is expected to reach $6 billion by 2018.
Why Juniper?
In short-term to medium-term, router switching is growing, but why Juniper will grow accordingly? After all, there are other significant players in the industry; for instance, Cisco Systems (NASDAQ: CSCO). In my view, Juniper may not take the leading market share in the router or switching but it has the ability to take that share to justify stock growth in the coming years.
Firstly, the products of Juniper are not inferior to that of Cisco's or any other competitor for that matter. If Cisco is creating versatile and multipurpose machines for space and cost conscious customers, Juniper focuses on specializing their machines for organizations that need hyper-fast core routers for their networks, like Internet Service Providers or content-distribution firms. Moreover, Juniper's products can be half the price of Cisco's products. Secondly, Cisco's edge router line was updated back in 2008 while Juniper updated to MX series in 2012. Consequently, Juniper is gaining market share in routing, and its sales increased by around 7% in 1H 2014 as compared to 1H 2013. All in all, Juniper is positioned to take its share of the router/switch market in short to medium term. Note that Cisco is just used for comparative purpose, any conclusion can't be drawn regarding Cisco's stock or business prospects based solely on the above presented information.
On SDN/NFV front, Juniper is betting on OpenContrail; an agile software defined network solution that automates creation of highly scalable virtual networks. OpenContrail also has the ability to integrate virtual and physical networks. It also reduces latency in virtual networks. The point is that Juniper is hedging against the risk to routing and switching players due to SDN and NFV. OpenContrail is the reason why Juniper is in domain 2.0 vendor-list of AT&T (NYSE:T). AT&T is focusing on SDN and cheaper/bare-metal hardware. No wonder Cisco is not in the list. Juniper found its way in the domain 2.0 list because of the open nature of its contrail platform.
All in all, Juniper will witness growth in router and switch market due to specialization and pricing of its products, and OpenContrail is the company's bet to remain relevant in the SDN dominant market of the future.
Operational and financial highlights
Revenue and EPS of the company grew on a Y/Y basis in the second-quarter 2014. Juniper posted revenue of $1.2 billion, a 7% Y/Y growth. Net income was around $221.1 million; a 125% growth on a Y/Y basis. Guidance for the third quarter was weak resulting in around 9% valuation drop. However, the sell-off was impulsive. The weak guidance is a result of delayed sales closing. Delays in sale are not equivalent to losing sales or market share. Hence, the sell-off, in my view, is impetuous. The stock price will recover, once the effect of the guidance fades away.
Juniper is restructuring that will add to the bottom line going forward. The company is planning to reduce its OPEX to less than $500 million by first-quarter of 2015. The company is also trying to increase its operating margin to 25% by 2015. This will be achieved through personnel reduction, consolidation of Sunnyvale campus and reduction of R&D costs. See the chart below:

Furthermore, Juniper is targeting to return $3B to shareholders in the next three years. Under the accelerated share repurchase, $1.2 billion will be returned by the end of August 2014. So, buybacks will lead to lower number of outstanding shares and can result in stock appreciation. In addition, when will companies fancy buybacks? Obviously, when the shares are trading on a low side.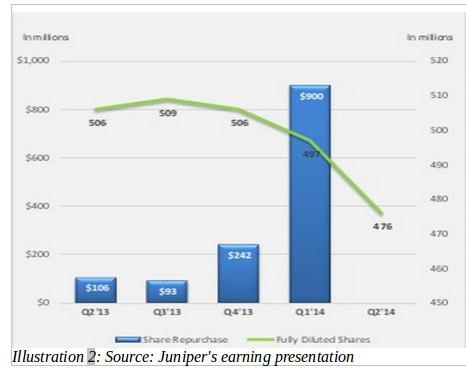 Juniper is reducing costs, initiating repurchases and has been posting revenue and EPS growth. All these facts are pointers that the stock price will recover in coming months. Recent sell-off is an opportunity for investors to buy as the shares are trading on a low side.
Valuation
Juniper's PE TTM stands at around 25.79. But, forward PE (2015) is around 12.41. This metric alone points out that Juniper is undervalued. Industry average PE is around 21. A 15% discount is applied to industry PE, and used as PE multiplier, as Juniper is not the leader in the routing and switching market.

The average PT is around $33 revealing that Juniper's valuation will grow in the next year or so. Even if we take account of the lower guidance issued by Juniper, price target comes at around $30.
Bottom line
Router and switch market is expected to grow for several years. Juniper is set to capture the market share because of specialized nature and low pricing of its routers. The company is also betting on OpenContrail to benefit from the growth of SDN and NFV. From a short-term perspective, being in AT&T's vendor list bode well for Juniper. Therefore, recent sell-off amid weak guidance is just spontaneous. The stock has the potential to post around 35% growth in the next year or so. In my view, Juniper is buy on a short (1 year) to medium (3 years) time horizon.
Disclosure: The author has no positions in any stocks mentioned, and no plans to initiate any positions within the next 72 hours. The author wrote this article themselves, and it expresses their own opinions. The author is not receiving compensation for it (other than from Seeking Alpha). The author has no business relationship with any company whose stock is mentioned in this article.