Fear is rising as measured by the VIX, a popular measure of the market's implied volatility. What fuels this is a tepid earnings reports season. With few signs of improvement in the overall 3% top-line revenue growth rate this quarter, stock market valuations are stretching to their limits.
Fortunately, reported earnings for large capitalization stocks are growing at a 5.5% clip. It seems the cost-cutting initiatives to maintain earnings growth rates and profit margins are working for now. Especially so in the Capital Markets industry that is reporting the highest earnings growth at 22% this quarter.
Yet, the implications of overall economic lackluster top-line growth are clear.
The margin for corporate management error is shrinking. The conference board survey of CEO confidence assessment of current economic conditions was considerably less favorable. Now, 46 percent claim conditions weakened compared to six months ago, down from 54 percent in the first quarter.
Corporate boards are less confident too. Stock buyback announcements in the second quarter are on track to be the lowest in seven quarters. According to Trimtabs, buybacks in June sunk to just $11.5 billion, the lowest level since May 2012.
There is a real possibility of a growth slowdown in the next quarterly earnings numbers as costs start to rise against these flat revenue numbers. Negative earnings guidance for the third quarter could become the norm for large U.S. companies.
The frequently cited causes were weather and lower order activity.
Remember that U.S. durable goods orders dropped 1.0% in May. A pullback in military spending dragged down overall orders for big-ticket items from U.S. factories.
In addition, do not hold your breath waiting for the consumer to bail out the economy. On a national accounts basis, low savings and higher debt could further depress the consumer's ability to revive the U.S. economy.
Low interest rates are still creating distortions.
While we have seen a pickup in housing, previously owned U.S. homes climbed in June to a eight-month high, the retail consumer confidence is not translating to consumer sales at Coach (NYSE:COH), Pepsi (NYSE:PEP), Coca-Cola (NASDAQ:COKE), and the list of no-growth companies is expanding.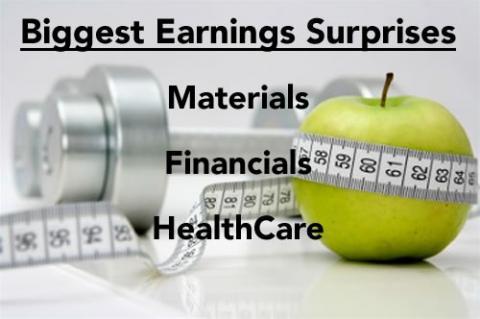 The winners according to FactSet, are companies in the Materials (+7.5%), Financials (+7.5%), and Health Care (+7.0%) sectors. These sectors are reporting the largest upside aggregate differences between actual earnings and estimated earnings. In the Materials sector, Alcoa (NYSE:AA)(+45%) has reported the highest positive earnings surprise. In the Financials sector, Morgan Stanley (NYSE:MS)(+65%) and Goldman Sachs (NYSE:GS) (+34%) have reported the largest upside earnings surprises. In the Health Care sector, UnitedHealth Group (NYSE:UNH) (+13%) has reported actual EPS above the mean EPS estimate by the widest margin.
Value can also be found in high growth regions internationally. If counted as separate economies, eight of the top 30 countries would be provinces of China. The average international beverage stock posted growth akin to Fomento (NYSE:FMX), which recorded an 8% increase in sales last year.
My take on this is that there are still a few U.S. stocks worth buying --emphasis on a few.
A drop in U.S. unemployment to 6.1 percent in June increases the likelihood of the Fed raising interest rates.
Happy Trading!!
Rudy Martin
Disclosure: The author has no positions in any stocks mentioned, and no plans to initiate any positions within the next 72 hours. The author wrote this article themselves, and it expresses their own opinions. The author is not receiving compensation for it. The author has no business relationship with any company whose stock is mentioned in this article.