Last year I explored a number of ETFs that provided exposure to Europe's most troubled economies, Portugal, Italy, Ireland, Greece, and Spain (collectively known as the PIIGS). My conclusion back then was that "The PIIGS Are Roaring." Continued strong performance makes it difficult to change this bullish opinion.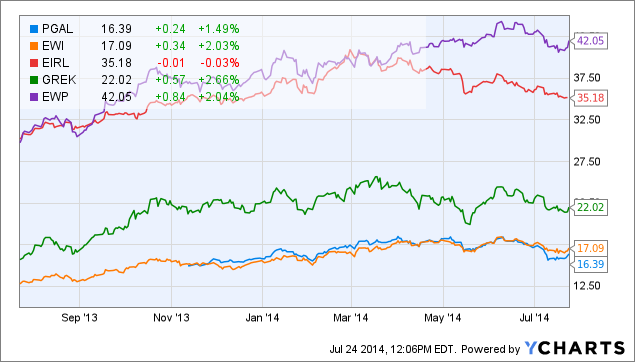 Global X FTSE Portugal 20 ETF (PGAL)
1Yr Performance: +8.03% (Inception date 11/12/2013)
2Yr Performance: N/A
Although unemployment remains high at 15.2%, long gone are the days that 1/3 of Portuguese workers were jobless. Portugal has survived several years of distressing austerity and formally exited its EU bailout this past May.
Caveat Emptor: Up until this past November, Portugal did not have its own country-specific ETF. Instead investors had to rely on the Market Vectors Poland ETF (NYSEARCA:PLND) to gain some exposure. Portugal's new ETF is a testament to a future with new opportunities, but also highlights the ingrained uncertainty of its economic situation. Tread carefully in these new waters; few know what to expect.
iShares MSCI Italy Capped ETF (EWI)
1Yr Performance: +29.34%
2Yr Performance: +80.50%
This ETF continues to perform well as Italy bounces back from the dark days of the crisis. The Italian economy remains fragile and unemployment rates still stand at 40-year highs. However, a boost in investor confidence has allowed EWI to perform very well over the past two years.
Caveat Emptor: Bank of Italy, the country's central bank, recently cut its economic growth outlook. One should watch out for overly optimistic projections that are bound to disappoint. In addition, investors should be weary of the country's young Prime Minister, Matteo Renzi who has a more liberal agenda in mind. Tax cuts for the poor may make Renzi popular but cast some uncertainty as to whether Italy will be able to pay its bills.
iShares MSCI Ireland Capped ETF (EIRL)
1Yr Performance: +15.80%
2Yr Performance: +84.00%
Ireland was one of the hardest hit of the PIIGS, but has since recovered strongly. Housing prices are on the rise and confidence from local CEOs and investors is very high. In June, Standard and Poor's was "first major ratings agency to restore an A rating to Irish sovereign debt."
Caveat Emptor: Out of the PIIGS, Ireland may have the brightest future. That said, a government budget shortfall of 4.5% shows that Ireland is far from being scot-free. Maintaining high investor confidence and improving economic numbers will be key to recovery.
Global X FTSE Greece 20 ETF (GREK)
1Yr Performance: +35.76%
2Yr Performance: +103.90%
Coming out of the financial crisis many may call Greece's survival a miracle in its own right. This year the economy is estimated to grow (.7%) for the first time in 7 years.
Caveat Emptor: Additional public sector layoffs are expected to increase unemployment to 26.7%. With so many Greeks unemployed, political turmoil could be a serious problem in the future. A scheduled presidential election in 2015 have many worried.
iShares MSCI Spain Capped Index (EWP)
1Yr Performance: +36.68%
2Yr Performance: +106.46%
Strengthening domestic demand has pushed Spain's GDP up. The country's central bank recently revised its estimates up to a respectable 1.3%. Further optimism was seen in a recent report from J.P. Morgan that was optimistically titled that "Spain is Back."
Caveat Emptor: As with many of the PIIGS, major economic issues still need to be fully addressed. For Spain, unemployment remains at an embarrassingly high 24.5%. As The Economist predicts that "unemployment will stay stuck above 20% for several years. Recovery may be here, but joy will be a long time coming."
Conclusion
For the patient, risk-taking investor PGAL, EWI, EIRL, GREK, and EWP may continue to provide substantial upside as the PIIGS economies slowly recover and look to the future. Systemic political and economic risks remain, but Europe's "Dark Ages" are far in the past. All this being said, the risk of a profit-taking selloff is very possible-play carefully with the PIIGS.
Disclosure: The author is long EWP, PLND. The author wrote this article themselves, and it expresses their own opinions. The author is not receiving compensation for it (other than from Seeking Alpha). The author has no business relationship with any company whose stock is mentioned in this article.