In Part I of our promised two-part stock market forecast published in early June, I said four important obstacles had been removed that had held stocks up through the first five months of the year. I said an imminent short-term rally was likely due to the newly cleared path. However, earlier this month, I updated my call in an article entitled Warning! The Fed Could Kill Stocks this Week, where I said one of those factors - specifically market expectations about the Fed and interest rates - was re-emerging and was capable of stymieing gains the rest of the year. I'm confirming through this report that the factor will not go away, but rather build in its importance with time like a brewing storm that will rain down against capital gains achieved year-to-date. Meanwhile, a second factor has reemerged to fight stocks, tensions with Russia. Therefore, I'm suggesting investors begin to sell the broader market here, ahead of the storm, and divest holdings in the passive market ETFs, especially the growth biased SPDR S&P 500 ETF (NYSEARCA:SPY). We will have a stock pickers' market to navigate henceforth.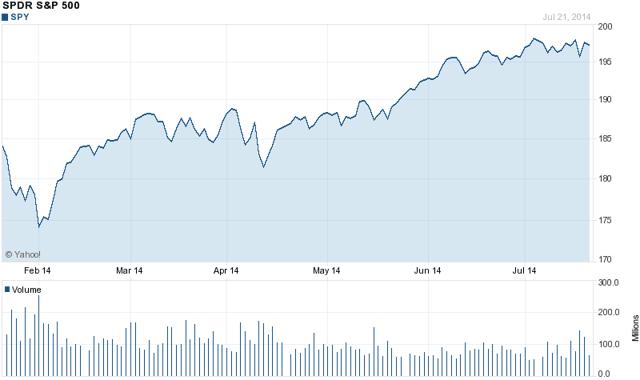 You can see in the chart here that our first forecast article was correct, as a June rally ensued for the SPDR S&P 500, along with gains in the SPDR Dow Jones (NYSE: DIA) and the PowerShares QQQ (NASDAQ: QQQ). You can also see that our recent update and warning at the blog were likewise prescient. Moving forward, I see only darkness that should overcome positive sentiment in a steady stubborn way through brief moments of enthusiastic bear market rallies.
The main reason for my pessimistic perspective for the market and the SPDR S&P 500 through the next 6 to 12 months is clear. The Federal Reserve will raise interest rates in 2015; and all along the way its representatives and other economic experts and market strategists will contemplate it, talk about it and predict it. As the market digests this entirely altered investment atmosphere, it will incorporate the probability of a rising cost of capital for corporations, and it will discount the value of stocks accordingly. That is just the way it works.
The risk to this forecast is that economic growth surprises on the upside and that inflation remains tame. In such a "Goldilocks" type environment that could revive Larry Kudlow, because it's his favorite term, we could have just a brief disruption in the upward momentum of stocks, followed by renewed rise on improving earnings growth and economic health. Unfortunately, I see this possibility significantly less likely than the more likely prospect of rising interest rates alongside modest economic and corporate earnings growth. A big reason for this tempered economic expectation is the fact that the labor market remains scarred from the Great Recession and Financial Crisis of the last decade. Long-term unemployment and underemployment remain important drags on economic recovery, and neither has the housing market risen as would have been hoped for given the excellent affordability of housing over the last several years; and that's about to change as well.
As if the interest rate issue were not threatening enough to stocks, when placed in tandem with renewed and intensifying tensions with Russia, we face quite the one-two punch in the next six months to a year. Before Ukrainian separatists or terrorists shot down Malaysian Airlines Flight MH17, Russia was rebuilding its military presence on the Ukrainian border. It seems Vladimir Putin is committed to his support of a further break up of Ukraine. Wednesday, the Ukrainians were claiming that Russia shot down two of its warplanes.
Russia, understanding its economic vulnerability to Western sanctions, has embarked in a direction toward dollar independence in my opinion. In fact, I've gone so far as to suppose that Russia is waging a war on the dollar, which I've noted should benefit gold and the SPDR Gold Trust (NYSE: GLD). Within the linked to report, I outlined some of the evidence I see of this. If Russia/U.S. relations degenerate toward old cold war norms, nothing good can result from it. The article offers evidence of the dubious extent Russia seems capable of going if pitted against the United States.
While Russia is a wildcard and difficult to predict, the Federal Reserve is clearly altering its monetary policy. Asset purchases will end in October, and I expect benchmark interest rates will begin to see increase sometime from March 2015 forward. Some in the Fed believe a rate hike is long overdue, and the Fed's forecast indicates most Fed-men and women anticipate a Fed Funds Rate increase in 2015.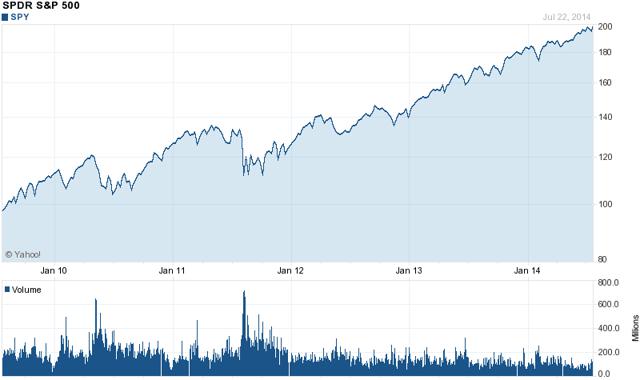 5-Year Chart of SPDR S&P 500 at Yahoo
That will present an obstacle for the SPDR S&P 500 and end this five-year tear in my opinion as investors reevaluate the investment atmosphere. The environment will be especially bad for high flying speculative names that sport no earnings and are dependent on capital markets for their development. I believe this is why the Federal Reserve recently brought attention to the biotech sector (NYSE: XBI) as one group illustrating perhaps irrational exuberance. But it's not just about biotech stocks. Stocks generally are threatened, and especially the growth fueled S&P 500 - that's my expert opinion about the index, as I worked there. Stocks grow into the index, despite its make-up of growth and value names. Many of the value ideas, namely the value traps, fall out of the index eventually, and are replaced by growth ideas.
The S&P 500 Index sports a rich trailing twelve month P/E ratio of 19.7X now, versus the long-term average of about 15.35X. Stocks have come a long way, but the road will be less accommodative moving forward, at least as far as the Fed is concerned. I would sell stocks generally as a result, especially passive interests in the SPDR S&P 500 ETF , until the new environment is fully incorporated into valuations. We have a stock pickers' market on our hands now, so put on your gloves and get to work.
Disclosure: The author has no positions in any stocks mentioned, and no plans to initiate any positions within the next 72 hours. The author wrote this article themselves, and it expresses their own opinions. The author is not receiving compensation for it (other than from Seeking Alpha). The author has no business relationship with any company whose stock is mentioned in this article.