As an investor who has covered the personal products sector for quite some time, I always find it necessary to determine what needs to occur in order for a company to meet and/or exceed analysts' expectations. With that said, I wanted to take a closer look and share my thoughts on what needs to happen in order for Herbalife (NYSE:HLF) to deliver a fairly solid quarter when the company announces its results on July 28.
Company Overview
Headquartered in Georgetown, Cayman Islands, Herbalife Ltd., is a nutrition company that sells weight management, healthy meals and snacks, sports and fitness, energy and targeted nutritional products, and personal care products worldwide. The company offers science-based products in four principal categories, including weight management; targeted nutrition; energy, sports, and fitness; and outer nutrition.
Recent Trend Behavior
On Thursday, shares of HLF, which currently possess a market cap of $6.46 billion, a forward P/E ratio of 9.04, and a PEG Ratio of 0.76, settled at a price of $65.85/share. Based on a closing price of $65.85/share, shares of HLF are trading 2.84% above their 20-day simple moving average, 3.09% above their 50-day simple moving average, and 1.08% below their 200-day simple moving average.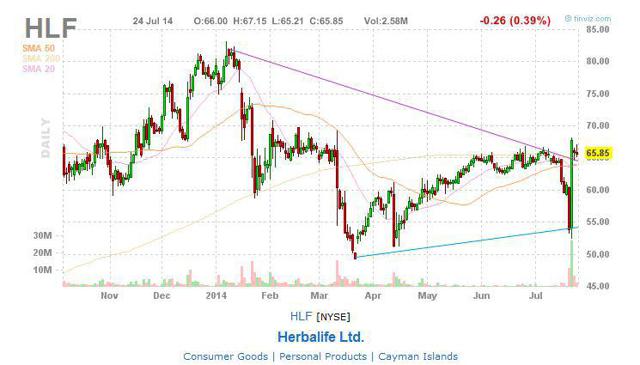 Although these numbers indicate both a short- and long-term uptrend for the stock, which generally translates into a buying mode for most near-term traders and many long-term investors, I strongly believe the company's trend behavior will continue to improve well after it announces Q2 results on July 28.
Upcoming Earnings Outlook
When it comes to the company's upcoming Q2 earnings, there are a number of things potential investors should consider. For instance, analysts are currently calling for HLF to earn $1.57/share in terms of EPS (which is $0.07/share higher than what the company had reported during Q1 2014, and $0.16/share higher than what the company had reported during the year-ago period) and $1.35 billion in terms of revenue when its latest earnings are released on July 28.
In order to meet and/or exceed its quarterly EPS estimates, I'd like to see a 2%-to-4% increase in the company's Q2 adjusted net income (as compared to Q1's adjusted net income of $151 million), a 2%-to-5% increase in the company's Q2 operating cash flow from operations (as compared to Q1's operating cash flow of $191 million) and lastly, a 3%-to-5% increase in the company's revenues (as compared to Q1's revenues of $1.26 billion).
Once Again Bill Ackman Fails To Sway Investors
In his latest attempt at swaying the shareholders of Herbalife, Bill Ackman failed to convince anyone of any new information that may in fact sink the company. During his July 22 webcast, Mr. Ackman presented the findings of his latest investigation into the firm's Nutrition Clubs. Unfortunately for Mr. Ackman and his fellow shorts, there was hardly any new information that would portend a collapse of the company, and as a result of the presentation's lack of new evidence, shares actually finished the day sharply higher.
So where does this leave Mr. Ackman? In my opinion, this isn't going to be the last we hear of Bill Ackman, nor is it going to be his final attempt at trying to convince investors the company is nothing but a scam and until he can provide stronger evidence proving otherwise, the numbers thus far speak for themselves. If Herbalife can continue to enhance shareholder value (as has been the case since the company suspended its dividend in favor of a more aggressive buyback program), I see no reason why anyone would short the stock at its current levels.
Conclusion
For those of you who may be considering a long-term position in Herbalife, I'd actually recommend keeping a closer eye on the company's share buyback program, as any sustainable uptrend could help enhance shareholder value over the next 6-12 months. In terms of the company's upcoming quarter, steady increases of at least 2% in the company's adjusted net income as well as a solid increase of at least 3% in terms of its revenues could help HLF meet or even surpass analysts' expectations when it announces earnings on July 25.
Disclosure: The author has no positions in any stocks mentioned, and no plans to initiate any positions within the next 72 hours. The author wrote this article themselves, and it expresses their own opinions. The author is not receiving compensation for it (other than from Seeking Alpha). The author has no business relationship with any company whose stock is mentioned in this article.