Apple (NASDAQ:AAPL) reported its Q3 earnings and the street was impressed.
Results were more or less in line with sales of 35 million iPhones (2 million more than I forecast) but the average selling price lower so that iPhone revenues of $19.8 billion were pretty close to my forecast of $19.4 billion. That forecast is reproduced below.

Apple's actual ASP was $561, well below the $586 I had expected. That suggests a lot more units sold were the ageing iPhone 4S rather than the much vaunted iPhone 5S or its kid brother the iPhone 5C.
Using some sensitivity testing, my guess is that the actual split of unit sales by model was more like the table below: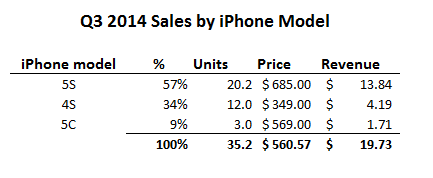 I had expected iPad sales of 12 to 13 million so the 13.3 million actually shipped was no surprise. The balance of Apple's products came in at just over $11 billion, higher than the $10 billion I had thought likely, with Mac sales up 18% year over year. The personal computer market showed signs of life when Intel reported so I should have expected Mac to participate as they did.
What is happening is interesting. Over 40% of Apple iPhone sales are now lower priced products in emerging markets. The ASP of iPhones is declining as I expected they would. Apple sold 2.2 million more iPhones than I forecast but these generated incremental revenues of only about $400 million, a rounding error in Apple economics. In a market that grew some 20%, iPhone revenue grew by 9% year over year and in total Apple revenues grew by only 6%.
The declining rate of growth in smartphone markets is not over but rather only in its first inning. These markets are maturing and increasingly competitive. Soon their growth in units will match population growth and growth in dollars will turn negative. Apple is uniquely positioned to suffer from this trend.
Business Intelligence published this chart of the decline in iPhone and iPad ASPs.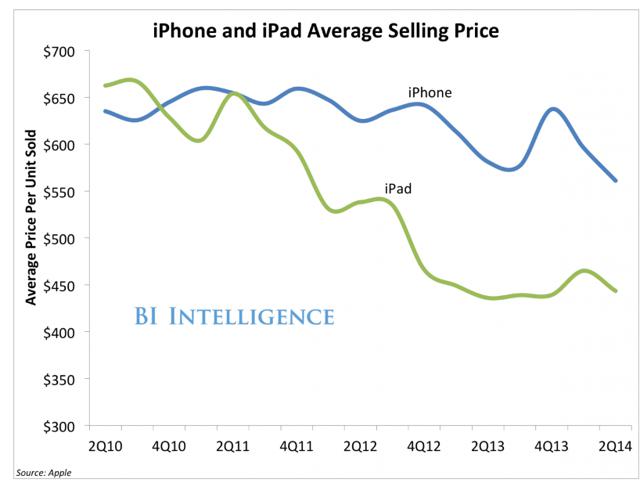 The days of selling devices with a $200 bill of materials for $600 or more are coming to an end for Apple. Sure Apple will sell a boatload of iPhone 6 units at higher prices but in parallel it will sell an increasing number of $350 iPhone 4S or equivalent units as growth shifts to emerging markets and Apple faces the reality of its marketplace.
The Q3 results put up by Apple showed impressive iPhone sales numbers and Tim Cook pointed to very high growth rates in BRIC countries. Tech Crunch reported the disclosure by Apple as follows:
Source: Tech Crunch
If unit sales of iPhone are up 48% and unit sales of iPads are up 51% in China while revenues from China are up only 28% there is something rotten in the state of Denmark.
Big companies with big market capitalizations run by CEOs with big egos sometimes gild the lily somewhat when reporting results. The question is whether that is the case with Apple.
Zauba.com reports imports to India, one of the countries where Tim Cook crowed about iPhone sales success. A look at a chart of iPhone 4S imports into India is a terrific illustration of what seems to be selective reporting.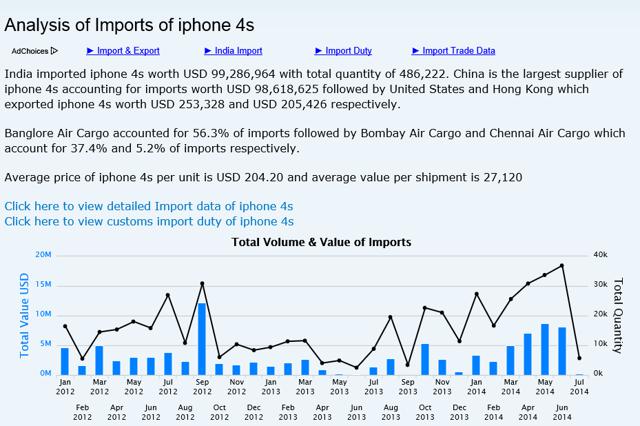 Source: Zauba.com
It seems that Apple shipped about 40,000 iPhone 4S models to India in April, May and June and then cut off shipments in July. Since very few iPhone 4S models were shipped into India in Apple's 2013 Q3 the comparison year over year is very favorable. But an inspection of the data suggests that Apple shipped about 25,000 4S models into India in the 2012 launch and these sold very slowly through the balance of 2013 not clearing for almost year. Then Apple shipped a few more of these devices in the fall of 2013 and early 2014 about in line with the previous sales rate of a few thousand units a month, but ramped up shipments in its Q3. I have seen no evidence sales to end users were robust although that possibility exists with Apple reportedly cutting the price of the iPhone 4S to the $349 range in the spring of 2014.
While we don't have data, I expect the same pattern is likely to have taken place in other areas. With iPhone 5S sales tanking and no new product entering the market before September, I believe Apple did two things:
Flooded the emerging markets with iPhone 4S devices at $349 more or less and managed to keep the ending inventory of these units quite low; and,
Continued to ship iPhone 5S units to carriers in excess of demand to report higher sales of the iPhone 5S than were actually taken up by users, with a salutary effect on gross margins.
If I am right, the real story is that demand for fully-priced iPhones is softening sharply and Apple is betting the farm that the iPhone 6 will save its bacon. Good luck with that. While American iPhone fans will line up overnight to keep the Apple cult alive, I doubt that price conscious consumers in China, Russia, Indonesia or Brazil will flock to the stores to pay close to $1,000 for a larger screened iPhone that won't do anything an iPhone 4S can't do and where there are compelling products from competitors for half the price.
The chickens may eventually come home to roost. If they do, it will not be pretty for Apple bulls.
The fact is that Apple's future is replacement demand.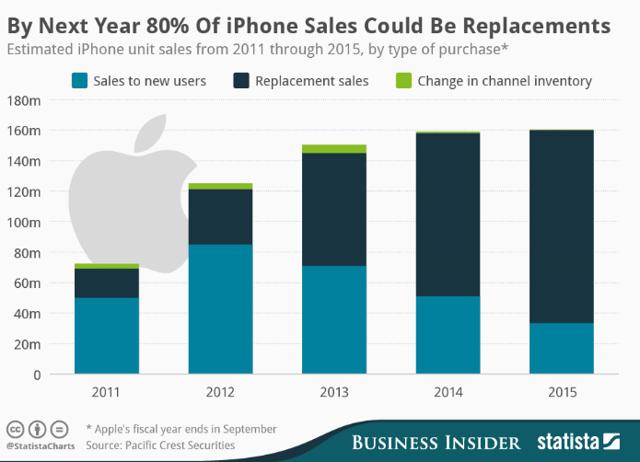 As carriers reduce subsidies and competitors put pressure on ASPs, new users will simply be harder to find and Apple will increasingly look to its loyal customer base for sales. But many will keep their devices longer without the impetus of a subsidy to ease the upgrade cycle, and in my view a 3-year upgrade cycle will become the norm, more or less.
By 2018, IDC sees a global smartphone market of 1.7 billion units.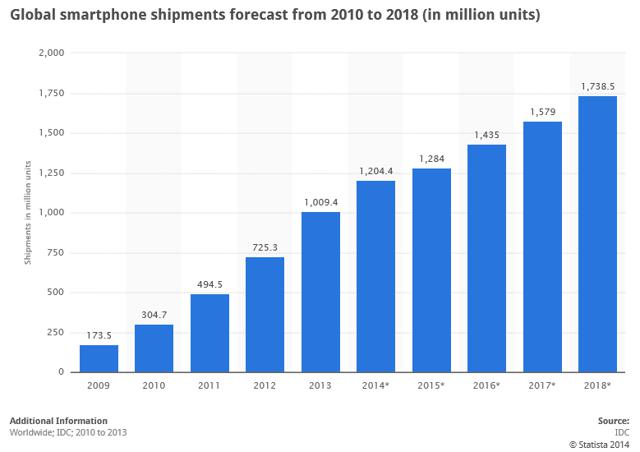 By that time, about 5 billion smartphones will be in use and of those maybe 10 to 12% will be iOS devices or some 500 million to 600 million. With a 3 year replacement cycle, that translates into 170 million to 200 million iPhone units a year. At today's $561 ASP Apple iPhone revenues would amount to $95 to $115 billion but today's ASP is unlikely to hold. At $450 per unit, 2018 iPhone revenues would fall to between $80 and $100 billion and with the lower ASPs margins would also fall.
The point is simple. Apple's days of stellar growth have ended.
Apple can prop up its share price with stock buybacks and balance sheet re-jigging for a while, but sooner or later it will become another boring old tech company. I say sooner. I am short the stock.
Disclosure: The author is short AAPL. The author wrote this article themselves, and it expresses their own opinions. The author is not receiving compensation for it (other than from Seeking Alpha). The author has no business relationship with any company whose stock is mentioned in this article.