There's no denying that the summer typically is a slower time of year, especially for the OTC/small cap marketplace. Over the course of the last several posts, my focus has been on many companies in the burgeoning marijuana sector. Its high volatility and propensity to offer bigger gains within the blink of an eye has, of course, attracted not only my attention, but also the attention of hundreds of other traders and investors since the idea of legalization stopped being an idea and started becoming reality.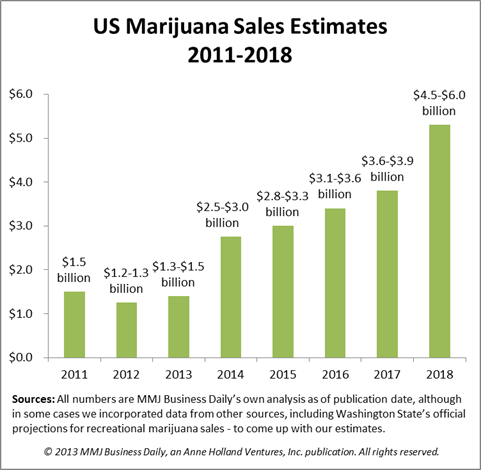 With a market like this and such an uncertain future for the industry, it's no wonder why many companies tried to blind-side and take advantage of investors and used public vehicles to do so. Last year, FINRA warned investors that "con artists behind marijuana stock scams may try to entice investors with optimistic and potentially false and misleading information that in turn creates unwarranted demand for shares of small, thinly traded companies that often have little or no history of financial success."
April of this year marked a massive defeat for would-be pot businesses. The SEC, for example, halted trading on several microcap marijuana stocks, based on "concerns regarding the accuracy and adequacy of information in the marketplace." Whether this is true or not, many of these remain halted, even though several continue to trade with no apparent bid or ask. But since then, the show has gone on, and there have been several standouts that I've seen in the market based on my own diligence.
One marijuana stock that I've followed, among many others, has been GrowBlox Sciences, Inc. (OTCQB:GBLX). There are hundreds of companies out in the market offering accessories and spin-off marijuana business plans, but the fact remains that if there aren't ways for cultivation, there's no need for any of these products. As I stated in a previous article, "Growth In Cannabis Popularity Spawns New Ways For Cultivation Efficiency," the GrowBlox technology is specifically designed to produce optimal environmental growing conditions for medical cannabis cultivation, and is the first chamber of its kind with the ability to monitor and control the growth process in order to produce high-grade medicinal marijuana.
Over the course of the last several months, GBLX has been in an expansionary phase (which is probably one of the major contributors to the company's lean income statement), generating most of its operating revenue from financing activities. However, the fruits of the company's labor may be ready to show come Q3-Q1 '15 as GrowBlox continues to target new licensing in multiple states versus simply becoming yet another product-driven company like so many others in this space.
According to GBLX, the company's technology has been built to set the standard for manufacturing and medical cannabis producing technology, and has it positioned to potentially become a leader within the industry. One of the major revenue drivers that I see as a differentiating factor for GBLX is that the company is partnering with in-state growers to help them cultivate cannabis, in order to meet growing patient needs.
Recent announcements show that GrowBlox has not only entered into the Nevada market through a "high-stakes" bid for being granted a special use permit license for medical marijuana dispensaries, but as of this week, GBLX can put 2 other states and Puerto Rico on its list of target markets. GrowBlox is currently involved in the application process for licensing in Illinois and in Florida via the company's subsidiary, GB Sciences Florida, LLC. More importantly, on Wednesday, the company announced that it is filing for two medical marijuana dispensary locations in Las Vegas, Nevada, which are in addition to the Clark County, Nevada dispensary.
According to the July 23 press release, "If approved, the Rainbow-Vista dispensary will be located at 1040 South Rainbow Boulevard, Las Vegas and the Vegas-Charleston dispensary at 905 South Las Vegas Boulevard, Las Vegas. Both locations are in the heart of the city and well-suited for servicing the medical marijuana patients who are among the 40 million tourists visiting the city each year."
This announcement marks a milestone for the company, where it could now potentially benefit from probable revenues generated from up to 4 US territories, and even a possible 5th alluding to New York in the company's most recent release. I believe that in any scenario, the immediate operations will be established in the state of Nevada.
"We anticipate getting a response on our application for two additional dispensaries in the first quarter of 2015, although the timing of a response is outside of our control. We are very excited about the prospect of adding to our Nevada presence. This is part of our strategy of securing the rights to dispensaries and grow-sites nationwide. As we've previously announced, we have similar expansion efforts in Florida, Illinois, New York and elsewhere. We look forward to updating our shareholders as we continue to execute on our business plan."

- Craig Ellins, CEO, GrowBlox Sciences, Inc.
It isn't just entry into additional states that is key with GBLX, it's how the states are actually looking to bring on cultivation partners. New York, for example, has just recently become legal for medical use through methods that do not involve smoke. The state's Compassionate Care Act will allow physicians to prescribe medical-grade marijuana to patients who qualify under one of the state's numerous health conditions. Being that GBLX has the ability to take out several variables in the growing process, including climate, humidity and key nutrient availability, I would think that a system like this would be ideal for growers in that state to potentially partner or joint-venture with GBLX or a subsidiary.
The newest state that GBLX recently entered into is similar. Illinois also has recently signed into law a motion to allow children and adults with epilepsy to use marijuana to ease their symptoms. Additionally, unlike Washington State, the tax repercussions will be much less at the wholesale and distribution levels in IL, which can only add to the bottom line for GBLX and/or its operating partners.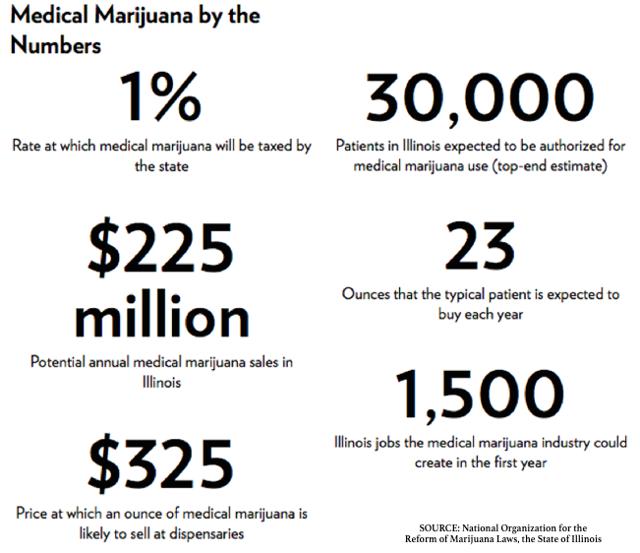 In addition to operational expansion, GrowBlox also had the fortunate success of being in a right-place and right-time situation with the current state of affairs within the banking industry as it pertains to the marijuana market. As stated previously in another article, GBLX's recent "financial chain of events" could immediately put GBLX in a place to benefit. This includes:
GBLX securing a letter of intent with First Security Bank of Nevada for the purpose of managing the currency and banking flow of the company's operating facilities.
A recent decision by The House in a 236-186 win will support the process of making it easier for banks to do business with legal pot shops and providers of medical marijuana.
Moreover, the company has aligned itself with a strong funding partner who has just recently reinvested into the company through the market and actually cost-averaged up in price per share. Assuming we're all of the mindset that the face value of a stock is a better sell when it's higher than the purchase price, GBLX's financing partner, Lazarus Investment Partners LLLP, should assume a higher share price by investing an additional $322,000 at a higher PPS. Since making this announcement, however, GBLX has pulled back from the July 7 highs of $1.48 and settled out the Wednesday session around the $1.10 mark.
In my most recent article, "When Pot Stocks Aren't So High: Looking In The Bargain Bin For Opportunity," I focused on 5 marijuana companies that had recently seen consolidation periods. Of those companies, GBLX has been one out of only two stocks to bounce back from its previous lows at the time that article was written.
Given the current developments within the company, not only in the Nevada market but also from its progress in obtaining licenses in more states, GBLX has focused on fulfilling the need for consistent, medical-grade strains of marijuana for states that have legalized its use. Based on the recent progress from states like Illinois, New York and Florida, I would say that GBLX has worked to achieve an early foothold by anticipating its entry into these markets and acting quickly upon meeting the requirement for possible licensing opportunities.
This doesn't go without saying that there are risks involved with GBLX. With the industry as a whole, keep in mind that up until recently, marijuana companies that had any type of physical contact with the plant itself couldn't even have a federal bank hold money. Additionally, many marijuana companies have ridiculous valuations, based on their financials. Much of the extreme valuation could be due to the fact that fully diluted market caps of most of the medical marijuana stocks are higher than the one usually stated on financial websites. Moreover, many financial websites fail to include convertible debt, convertible preferred stocks, warrants and options into their calculations of market cap.
For GrowBlox in particular, it doesn't really take that long to see it has undertaken considerable financing activities. A look into the most recent filing shows GBLX's principal source of funds to this point has been cash raised through financing activities. In addition to financing risk, the company, through its expansion process, still has yet to turn any profit, and most likely will not begin building revenues until sometime in the fourth quarter of this year, as noted in a recent press release. Additionally, the income statement and balance sheet don't necessarily support a thriving current state of affairs.
GBLX has less than $340,000 in cash, $1.5 million in liabilities to only $537k in assets, with a net loss of more than $600,000. So be aware that as a development-stage company, despite the growth the stock has seen, the company does hold several fundamental risk factors that potential investors should be aware of in commencing further diligence.
Going back to the high-point with Lazarus Investment Partners LLLP, this could also be a potential risk, as this company holds a significant amount of shares, and even though it was a cost-average up, Lazarus does have a significantly lower-cost basis, since the majority were originally at $0.50. To this point, it doesn't seem that it is a deterrent to positive movement in the stock. Despite these risks, it would appear that many are taking a less averse approach to stocks in the industry as a whole, especially being that the market itself still has yet to fully develop.
For the OTC in general, summer months can be slow, but this can allow many investors the opportunity to take advantage of lower-priced entry points and less market activity in preparation for the "back to school season." The marijuana industry is still incredibly young, and with so many companies out there vying for space, it has been harder to weed out those with potential and those without. GrowBlox has shown that it has the ability become an established business operation. This was most notably proven when it became only 1 of 18 out of nearly 80 companies approved for a special use permit for a medical marijuana dispensary in Fort Apache, Clark County, Nevada, as well as a special use permit for a cannabis cultivation and conversion facility, also in Clark County, NV.
Subsequent to the company's March filing, GrowBLOX has also released a shareholder update stating additional capital raising activities. This most notably included a $5 million private placement with institutional and accredited investors. The financing included warrants which, when fully exercised, amount to a $30 million financing. Based on this, the company has identified that it expects to see "significant monthly revenues by next year from its grow facility and dispensary in Nevada.
On top of that, the company also has extended into more states, in order to be at the forefront of the cultivation movement. For these reasons mentioned above, GrowBlox will continue to be a company that I watch at least through 2014 and into the first half of 2015.
Disclosure: The author has no positions in any stocks mentioned, and no plans to initiate any positions within the next 72 hours. The author wrote this article themselves, and it expresses their own opinions. The author is not receiving compensation for it (other than from Seeking Alpha). The author has no business relationship with any company whose stock is mentioned in this article.
Editor's Note: This article covers one or more stocks trading at less than $1 per share and/or with less than a $100 million market cap. Please be aware of the risks associated with these stocks.