Executive Summary
Rocky Brands, Inc. (NASDAQ:RCKY), is a footwear and apparel designer and manufacturer, which I believe may be undervalued and under-appreciated in the market. The context of this under-appreciation is primarily due to the low analyst coverage, low market capitalization and low growth. This undervaluation is especially displayed through the P/Book multiple of 0.9x. In terms of scope, my price target for Rocky Brands is $25.70, an implied upside of 71%. The main catalysts are management focus on competitive advantages and a more-efficient use of capital, along with any added benefits from more analyst coverage. Downside risk is assessed to be at a safe 42% margin of safety. The time frame of this investment is 3-5 years, as it will take time for catalyst realization in the market.

Context / Search Process
There are many reasons that this opportunity exists. Firstly, RCKY is a small-cap U.S. company trading on the NASDAQ with a market capitalization of $113mn, after recently receiving an after-hours price bump from beating consensus EPS on July 23, 2014. $113mn is well below the threshold for searching for value stocks as many value discrepancies occur within these small-cap stocks. RCKY also has very low analyst coverage, another sign that they are under-followed and potentially undervalued. Their LTM P/E is ~16x, slightly above the desired value investing range. However, their price to book value is only 0.9x. RCKY has also been experiencing very slow growth over the past 5 years, a sign that this stock is out of favor with investors and it is time for the value investors to step in and reap the rewards of being a long-term investor. To add, since last year, RCKY has provided a $0.10 dividend per quarter. At a 2.7% rate, this is a great addition to the upside potential this company brings.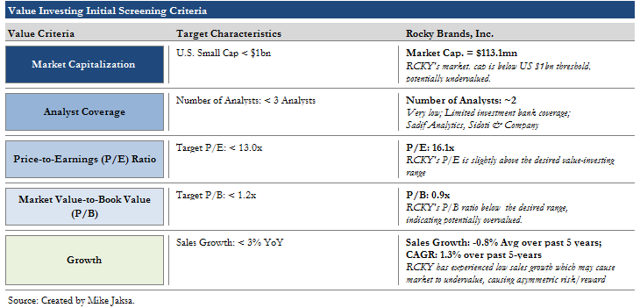 Industry & Company Analysis
RCKY designs, manufactures and markets premium quality footwear and apparel under many well-recognized names in their respective field, including: Rocky, Georgia Boot, Durango, Lehigh, Creative Recreation and Michelin. RCKY's product lines are: outdoor, work, duty, commercial military, western, and lifestyle. Shoes are a necessity, which makes RCKY's business a lot less cyclical than it seems at first. This is shown through the fact that they were not hit hard in the recent recession.
Business Risk: Due to RCKY having exposure to many different industries within their own industry through their various product lines, they are well diversified. Also, RCKY's operating margins have been extremely stable over the past decade. This leads to a medium business risk profile.
Financial Risk: RCKY has a historic average debt-to-capitalization of approximately 26%, and recent years have shown that this is their target capital structure. This places RCKY in the low financial risk category.


Cost of Capital and Return On Invested Capital
RCKY's equity risk premium is 4.0% due to their medium business risk and low financial risk. The pre-tax cost of debt was 7.5%, from an estimated BB- credit rating spread of 5% on top of a 2.5% risk-free rate on U.S. 10-year government bonds. Using RCKY's targeted capital structure, their WACC is 9.81%.

The return on invested capital (or, ROIC) for RCKY is 4.54%, which is much lower than their WACC. Without including goodwill and intangibles in invested capital, ROIC is still only 5.74%. This predicts that their Net Asset Value (or, NAV) is likely far greater than their Earnings Power Value (or, EPV).

Net Asset Value per Share (Replacement Value Approach)
Many assumptions were made to arrive at the replacement value for RCKY. Major differences were accounted for within land appreciation, the actual replacement value of buildings and machinery, and accounting for the customer relationships that RCKY has built over the years.

The resulting NAV per share was found to be $33.17.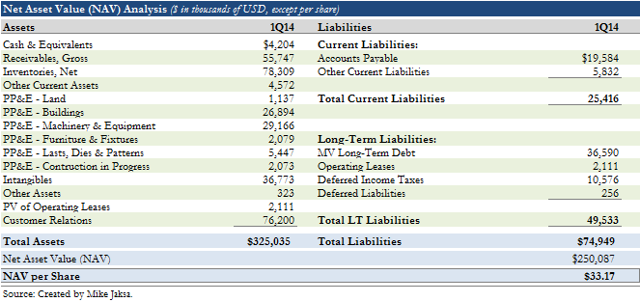 Earnings Power Value per Share
To assess EPV, I first normalized operating profit by taking the average of the last five fiscal years' operating margins and multiplied by the LTM revenue to find a normalized operating profit. Using 10 years of data actually gave a higher number so I chose five years to be cautious. Within the past five years, RCKY has had two significant one-time adjustments, including restructuring and a pension termination charge. As value investors, we must be cautious of these companies, so I used the average one-time adjustment as a percentage of sales over the past five years and factored that by 20% to remove this from EBIT. In essence, this penalizes the company for past adjustments that affect the shareholders. For zero growth capex, we multiply current sales by net PPE/sales by change in current sales, which gives us the implied growth capex. We subtract this number from current capex to find the implied zero-growth (or, maintenance) capex.
From this, I arrived at an EPV per share of $14.49.

Catalysts & Catalyst Probability
Given that the NAV significantly exceeds the EPV, we must assess the catalysts rather than RCKY's franchise value. I believe the main catalysts over the next 3-5 years are management focus, a tighter control on capital efficiencies and increasing analyst coverage. There is also a potential catalyst that could drive value from shareholder activism or a takeover potential. These catalysts together should bring the market value of RCKY closer to their replacement value.
Recently, we have seen a much more focused management team that has increased sales at a CAGR of 8% over the last two years, with management expecting 10-12% organic growth this year. Management seems to be doing something differently from the past, in particular, focusing on more innovative footwear. This has led to more recent demand from existing accounts. This leads me to believe that the catalyst realization is higher now due to the more focused management.
Further, the new capital restraints placed on management ensures that they will be using capital more efficiently. To explain: we have seen that management has increased their attention to capital efficiency since they have announced quarterly dividends of $0.10 per share as of last year. During this last quarter alone, RCKY paid out $750,000 to shareholders. Having these new capital constraints puts pressure on management to increase operating cash flow.
Further, if RCKY receives inclusion in the coverage universes of bulge-bracket research analysts, there will be significant pressure on management to increase profitability and drive shareholder value. Not to mention the increased demand from investors once RCKY is covered by more analysts.
I believe the probability of achieving these catalysts is ~60%. This level is justified due to the increased management attention on competitive strategies and the eventual increased exposure that RCKY may receive which will add pressure on management to perform. I broke down the catalyst realization probabilities into four categories, weighted by importance to share price, that I believe will push the market value toward the net asset value over the next 3-5 years.

Scope / Intrinsic Valuation Analysis
With all the prior inputs, I obtained an intrinsic value of $25.70, an implied upside of 71.3%.
Downside Risk Assessment
When value investors look at margin of safety (or, MoS), they are looking down rather than up; the number one goal should be preservation of money. Benjamin Graham suggests an MoS of 50% for more speculative stocks; that is, paying no more than 50 cents on the dollar for intrinsic value. Due to this 50% being quite outdated, given that those were the years of the net-nets, many value investors now use 33.3% as the MoS (not paying more than 66.7% on the intrinsic value). Given this 33.3%, we arrive at a limit price of $17.13, meaning, a safe entry would be under $17.13 (calculated by applying (1-33%)*$25.70. Therefore, at the current share price of ~$15, the MoS is 42%, calculated by 1-$15/$25.70, implying that you are paying 1-42% = 58 cents per intrinsic dollar for this investment. As seen, even at a catalyst probability as low as 40%, we still achieve a 32% margin of safety.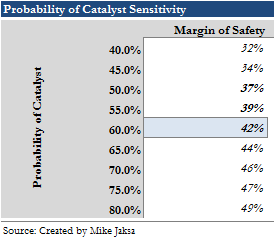 Addressing the Possibility of a Value Trap
A value trap is typically caused by 1) a secular decline in profits, rather than a cyclical one, 2) entrenched management that is not acting in the best interests of shareholders, and 3) a lack of catalysts. Here, RCKY's FYE2013 operating margin is 5%, in line with the range from the last five years of 4.1% to 7.5%. There is no clear secular decline in the operating margin trend. Further, management is not entrenched and are continually up for review, therefore, if management were underperforming, they can be replaced. Lastly, the many catalysts mentioned earlier makes me believe that this a valuable opportunity rather than a value trap.
Recommendation and Time Frame
Due to the asymmetric risk and reward profile of RCKY, I recommend purchasing shares for a time frame of 3-5 years for catalyst realization.
Disclosure: The author has no positions in any stocks mentioned, and no plans to initiate any positions within the next 72 hours. The author wrote this article themselves, and it expresses their own opinions. The author is not receiving compensation for it (other than from Seeking Alpha). The author has no business relationship with any company whose stock is mentioned in this article.