Strong Revenue Growth, Despite Intel's Assault on Tablets
In my calendar Q1 article on ARM (NASDAQ:ARMH), I indicated that I thought this would be a challenging year for ARM Holdings and the ARM ecosystem, due mainly to Intel's (NASDAQ:INTC) mobile initiatives. A careful review of ARM's latest earnings, released July 22, reveal that ARM is starting to hurt, but perhaps not as much as I expected.
Overall, revenue was up by a substantial 17% y/y to $309.6 million for the June quarter. Operating margin was 34.9% for an operating profit of $108 million. The strain on ARM can be seen in processor shipment royalties. Total ARM processor shipments grew 11% y/y to 2.7 billion, while processor royalties fell 8% y/y, indicating that most of the growth was in lower cost ARM processors for embedded applications (Internet of Things).
Most of ARM's revenue growth came from technology licensing, with 36% y/y growth to $152.3 million, including 35 license renewals and 6 new licenses.
Intel's Impact . . . with a Little Help from Microsoft
Currently, the most capable (and from ARM's standpoint the most lucrative) ARM processors go into tablets, and it's here that Intel's Bay Trail giveaway is having the most effect. Apple (NASDAQ:AAPL) and its supporters may not want to acknowledge any effect on iPad sales, but the dots are there for anyone to connect.
The announcement of Microsoft's (NASDAQ:MSFT) "one OS" policy leading to the conclusion that Windows RT will be discontinued also hurt at least the perception of ARM's growth potential. The "one OS" policy, which almost certainly means standardizing on Intel, also serves to explain Nvidia's (NASDAQ:NVDA) recent move to reposition its Tegra processors away from mobile. Microsoft had probably notified Nvidia that there would be no ARM-based Surface 3, which must have come as a real blow.
Microsoft's foray into ARM tablets and phones with Windows 8 seemed to lead to a run-up in ARM's stock in 2012. Microsoft's apparent withdrawal from ARM now seems to be having the opposite effect, and ARM's share price has fallen overall for the last two quarters, as can be seen in my financial history chart.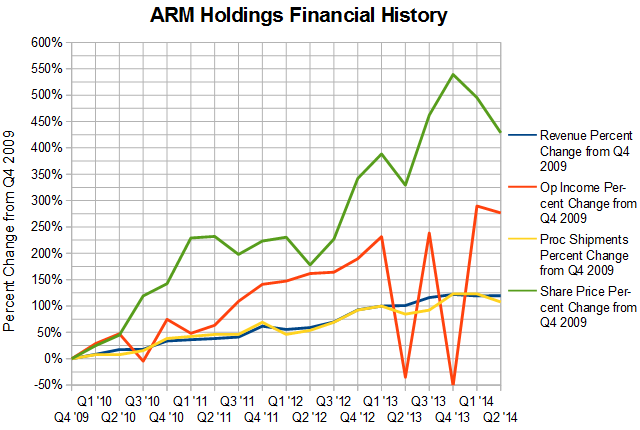 Initial conditions in 2009 Q4:
Revenue: $144.8 million (current exchange rate)
Operating income: $33.27
Processor shipments: 1.3 billion
Share Price: $8.56
The impact of Microsoft's withdrawal may be more perceived than real. Sales of Windows tablets and phones were never strong. In 2013, Windows Phone held only a 3.2% market share for a total of 30.8 million units sold (according to Gartner). Likewise, Microsoft garnered only a 2.1% share of the tablet market in 2013 (also according to Gartner).
Intel's impact on the ARM ecosystem has also been muted by the lack of any Merrifield phones. Merrifield is the dual core sibling of Bay Trail, built on the same 22 nm FinFET process as Bay Trail, and intended for smartphones. Intel had rolled out Merrifield in February at Mobile World Congress (Anandtech has a good overview of Merrifield), and Intel's processor roadmap indicated that Merrifield would be available in the first half of the year.
It's not entirely clear what has happened to Merrifield, but Intel didn't want to talk about phones at all on its most recent earnings call. The lack of product announcements for Merrifield implies that there were no takers. Probably, Intel was unwilling to offer the same contra-revenue subsidies for Merrifield that it has offered for Bay Trail, in order to limit the losses of its Mobile Communications Group (a $1.124 billion operating loss for the June quarter).
The lack of a significant challenge from Intel in phones means that the core market for smartphones (in which ARM enjoys a 90% market share) remains an impregnable fortress for ARM and its ecosystem. Major ARM smartphone players such as Apple will be able to offer 64 bit smartphones this Fall unchallenged by Intel. Other device makers, such as Samsung (OTC:SSNLF), that use Qualcomm (NASDAQ:QCOM) chips may be able to offer 64 bit as well, although Qualcomm's schedule for its 64 bit offerings appears a little soft and may slip into early 2015.
Intel may not field a competitive phone processor until the second half of 2015. The reason is that Intel has apparently decided to wait until it can offer a phone SOC based on its 14 nm process. Part of the economic motivation for this is to be able to offer an integrated LTE modem which Intel has indicated it considers vital to be competitive in mobile. Also, Intel admitted on the conference call that qualification of its 4G LTE modem has been slower than expected, which also may have influenced the decision to wait until 14 nm.
Waiting for 14 nm puts the phone processor at the back of the line, however. Intel intends to roll out a 14 nm Haswell successor, Broadwell, first, with availability by the end of the year. Next will come the successor to Bay Trail, Cherry Trail, and finally a phone processor.
Process Window of Opportunity
Delay in Intel's phone processor gives ARM and its ecosystem a significant window of opportunity to close the process gap that has existed with respect to Intel. As I've discussed before, the recently announced collaboration between Samsung and Global Foundries on a competing 14 nm FinFET process appears to be on track to begin production early in 2015. This is already a delay from earlier estimates that they would be in production by late 2014, so there could be further delays, but I think the chances of getting into production in H1 2015 are very good.
In the end, the battle between the ARM ecosystem and Intel comes down to a battle of process nodes. The ARM ecosystem needs 14 nm FinFET to put down the Intel challenge once and for all. I believe that Samsung and Global Foundries will succeed, with likely help from Apple, which has a huge stake in this and a history of cooperation with Samsung to produce Apple's A-series SOCs.
The probable success of the Samsung-Global Foundries collaboration makes ARM a good long-term bet. The near-term declines in ARM share price, which are likely to continue until an ARM 14 nm process is achieved, represent a buying opportunity for those whose investment return time frame extends beyond 2015.
Disclosure: The author has no positions in any stocks mentioned, and no plans to initiate any positions within the next 72 hours. The author wrote this article themselves, and it expresses their own opinions. The author is not receiving compensation for it (other than from Seeking Alpha). The author has no business relationship with any company whose stock is mentioned in this article.
Editor's Note: This article discusses one or more securities that do not trade on a major U.S. exchange. Please be aware of the risks associated with these stocks.