Bank of America Corp. (NYSE:BAC) continues to add to its litany of financial woes.
Its latest financial setback is a fine of $16.6 million for unwittingly allowing drug traffickers to filter funds through its banking network.
Bank Processed Drug Trafficking Money For Many Years
The agreement to pay the fine in full will resolve all claims that the bank's negligence of proper screening methods played a role in processing financial transactions related to drug trafficking.
The issue of sloppy screening of account-holding drug trafficking clients is not new, and has been under investigation from as early as September 2005.
According to the US Treasury Department, the bank processed $91,192 worth of transactions from 2005 all the way up to March 2009, which amounts to a total of 208 transactions related to narcotics trafficking. These bank accounts belonged to six people whom the Treasury had flagged as traffickers.
In addition, the bank also failed to take action to block four other traffickers from operating their bank accounts through its network. According to the statement from the Treasury, this neglect in blocking bank accounts from recognized drug traffickers violated the Foreign Narcotics Kingpin Sanctions Regulations.
In sum, the bank is accused of having demonstrated a blatant disregard for sanctions imposed by the US to stop the flow of drug money through the banking system. This disregard was evidenced by the bank taking over two years to fix the flaws in its security system that would have allowed the bank to screen out people identified and listed by the government as participating in the drug trade.
Original Penalties: $83.7 million
Although a fine of $16.6 million is a large one for avoidable errors in bank security screening processes, the bank originally faced $83.7 million in fines.
The bank did take action on identifying and blocking other drug-related accounts operated by people listed on the national sanctions. By cooperating with authorities on these cases and fixing the screening issues that allowed these individuals to acquire US bank accounts, the bank was able to whittle down the penalty amount.
Bank of America spokesman, Lawrence Grayson said that the settlement concluded the security problems that arose in 2009, and that the bank had been consistently working on enhancing its systems and controls related to blocking account holders identified on the national sanctions list.
The bank neither admitted nor denied whether the claims about the bank's negligence in creating proper screening procedures for account holders were accurate.
Chief Executive Wrestling with Legal Woes Since 2010
The current embarrassing issue is just one of many that the bank has had to handle. Brian T. Moynihan, Bank of America's CEO, who took tenure in 2010, has been working on the bank's legal blunders since he took office. Many of these legal violations relate to poorly considered acquisitions, like Countrywide Financial Corp. and Merrill Lynch & Co., that looked like a good idea at the time they were purchased.
Only last month, Bank of America paid $8 million in fines. In addition, it refunded about $90 million to clients for inappropriately charged fees. These clients included ministers and charities.
Investors Should Be Very Concerned About Patterns of Mismanagement
Bank of America is headquartered in Charlotte, North Carolina. It is the second-largest lender in the United States, after JPMorgan Chase (NYSE:JPM), which is headquartered in New York City. During its second-quarter report, Bank of America earned $22 billion in revenue, with $2.3 billion in net income. However, profits were down 43 percent from last year.
While the latest ~$16 million fine itself is not likely to hamper BAC's enormous operations (with a market capitalization of ~$164 billion), the pattern of mismanagement and egregious oversight of unlawful matters is what troubles us most about this institution.
In the past twelve months, highly concerning issues have come to light, including:
The startling, non-stop rollercoaster of irresponsibility and oversight does not seem to be correcting itself.
One would think BAC might have learned its lesson after paying an accumulated $50+ billion in settlements regarding mishandled mortgage securities in the financial crisis - roughly equal to all of JPMorgan's, Citibank's (NYSE:C), Wells Fargo's (NYSE:WFC), Morgan Stanley's (NYSE:MS), and Goldman Sachs' (NYSE:GS) related settlements, combined.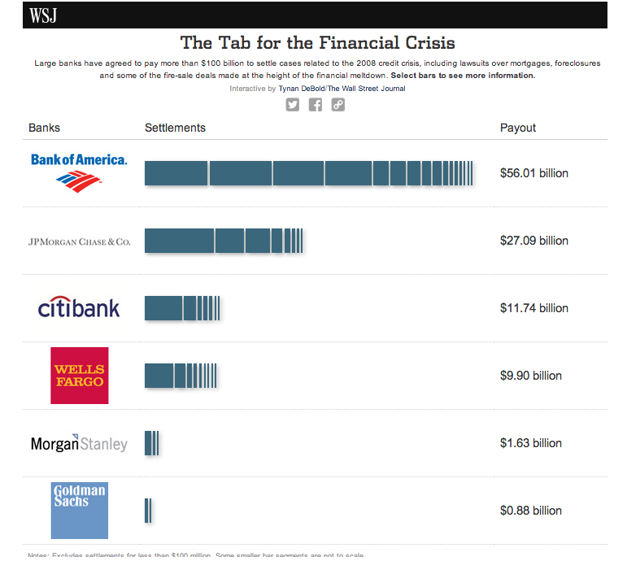 (online.wsj.com)
BAC's stock is down YTD, along with Q1 and Q2 results - in strange contrast with the CEO's recent raise.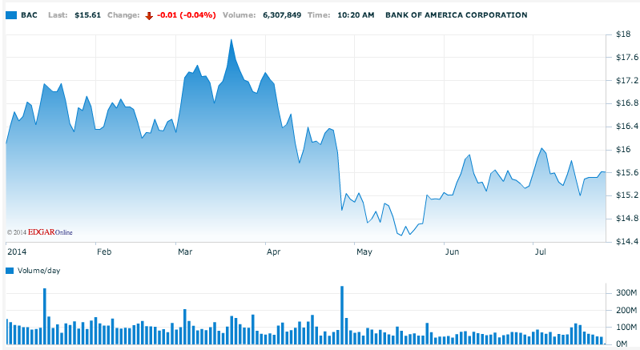 (Nasdaq.com)
We suggest investors sell BAC now - as the cycle of mismanagement appears to have strong roots.
We invite readers wishing to join the discussion on Bank of America to click the +FOLLOW button above the title of this article, and those looking for the latest updates to click +Get real-time alerts.
Disclosure: The author has no positions in any stocks mentioned, and no plans to initiate any positions within the next 72 hours. The author wrote this article themselves, and it expresses their own opinions. The author is not receiving compensation for it (other than from Seeking Alpha). The author has no business relationship with any company whose stock is mentioned in this article.