Alderon Iron Ore Corp. (NAXX) is developing a major iron ore deposit called the "Kami Project". This company appears to have all the right resources in place to become a successful producer of iron ore with a major cash horde, a solid management team, strong partnerships, a smart money investor base, and a significant amount of iron ore indicated at its Kami Project. This stock is priced like an option now at just over $1 per share, and that could give it significant upside in the long-term. Furthermore, potential downside risks appear limited since this company has an extremely strong balance sheet and positive factors going for its Kami Project. Let's take a closer look at the company and the investment potential it has: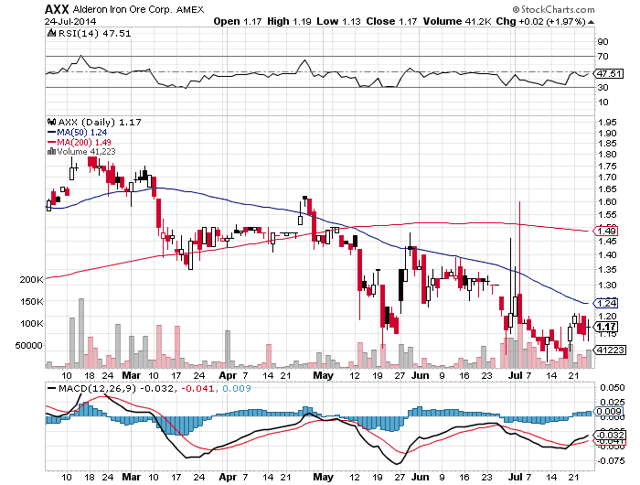 As the chart above shows, this stock was trading for nearly $2 per share earlier this year. More recently (in July) the shares spiked up to about $1.60, but have since been in a trading range of between $1.10 to $1.30 per share. This is giving investors an ideal buying opportunity to accumulate cheap shares. In a short-term rebound, this stock could be poised to trade back up to around $1.49 per share, because this is the 200-day moving average. Longer-term, the potential upside appears much more significant, and one investment firm has a price target of more than $3 per share. However, even a run back up to the $1.50 level would give investors a gain of about 30% from current levels which makes this stock interesting for both short-term traders and longer-term investors.
When considering a number of valuation metrics, this stock looks deeply undervalued. First of all, the book value is $1.40 per share and the stock is trading below that level now. This stock also looks cheap when you consider that this company has about $70 million in cash and just around $15.8 million in debt. At just about $1.17 per share, this company has a market capitalization of about $152 million. Considering that it has just over $70 million in cash, that indicates that about half the market cap consists of cash which greatly reduces potential downside risks for investors. Another big plus is that this company has attracted a number of "smart money" partners and shareholders.
There are a few "smart money" investors who have taken significant stakes in this company. For example, Hebei Iron and Steel Group (the largest steelmaker in China) has invested about $180 million at a price of about $2.40 per share and it will purchase about 60% of the annual production of the iron ore concentrate from the Kami Project. Liberty Metals and Mining Holdings, LLC. (a subsidiary of Liberty Mutual Insurance) has invested about $50 million in equity and around $20 million in debt. Altius owns about 25% of the outstanding shares in Alderon Iron Ore. Combined, these three shareholders own about 60% of the company. Alderon also has an impressive management team. Mark J. Morabito is a founding partner and executive chairman and has significant experience in corporate development in the mining sector. He is also a significant stakeholder with over 2 million shares. Tayfun Eldem is the President and CEO who has many years of mining experience with industry giant Rio Tinto (NYSE:RIO). Brian Penney is the chief operating officer and he spent about 15 years working for Rio Tinto as well.
Alderon's Kami Project is exceptionally promising in a number of ways. For example, it is located in the "Labrador Trough" which is Canada's premier iron ore district. This area has a skilled labor force for the mining industry, paved roads, rails, a nearby port, and easy access to additional transportation which helps to keep costs low. A few other factors also de-risk the project and this includes a positive Federal Environmental report that was received on February 18, 2014. The Kami Project is now "shovel ready", and the company is now positioned to secure the remaining project financing from lenders. An update from the company on this and the start of construction could be coming soon, and might be an additional upside catalyst for the stock. Once construction is underway, it is expected to go relatively quickly as iron ore production is planned to start in 2016.
A number of factors including the seasoned management team, the investments and partnerships with Hebei Iron and Steel Group and other companies, all help to "de-risk" the project. The strong balance sheet also greatly reduces potential downside risks for investors. However, there could still be some project delay risks or the potential for iron ore prices to drop if the global economy were to weaken. However, with the global economy continuing to show signs of growth in most parts of the world, it seems like the most likely scenario is for iron ore prices to rise. This might be one reason why investors have recently started to bid up the share prices of some of the largest iron ore companies in the world.
There are a couple of signs that iron ore stocks have possibly bottomed and are now poised for a significant rally. To see this more clearly it makes sense to look at the charts of two industry leaders Vale (NYSE:VALE) and Rio Tinto below,which both show signs of "breakout" moves to the upside. (Both of these stocks have recently moved above the 50 and 200-day moving averages, which indicates a breakout from the trading ranges.) With these industry giants starting to rally and break out of the recent trading range, it might not be long before small cap junior mining companies like Alderon also see a significant rally. With both of these iron ore industry stocks making strong moves higher, this seems to be confirming that it is time to get into iron ore.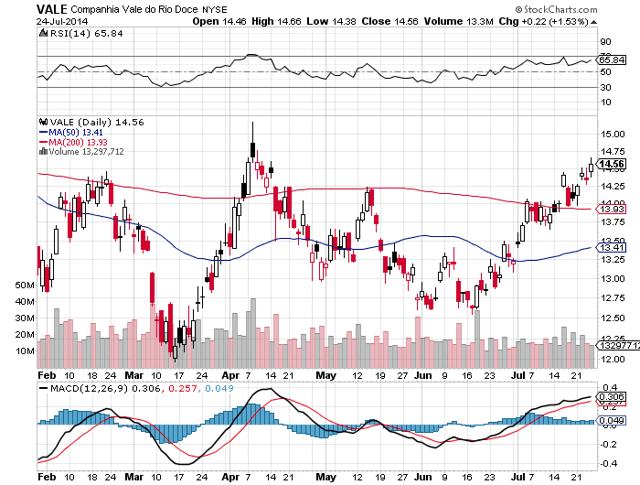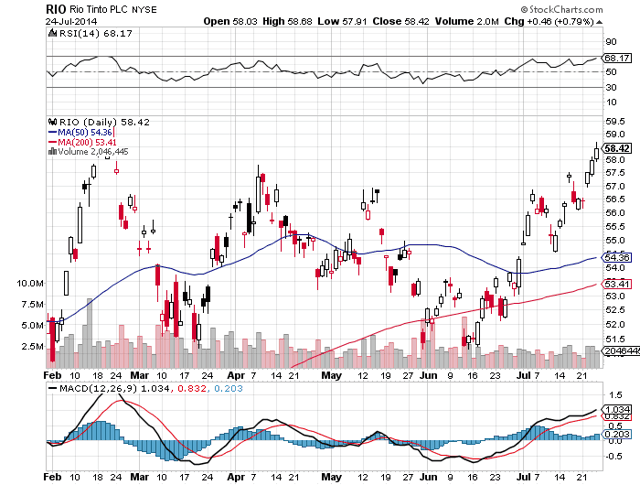 On July 24, 2014, Zacks Equity Research gave this stock a strong buy rating. A number of other analysts are bullish and see major upside potential for Alderon shares: Scotiabank has an outperform rating on Alderon shares and have set a price target of $3.30 per share (in Canadian Dollars which is close to parity with the U.S. Dollar). Analysts at Desjardins have a "top pick" rating on this stock and a $3.25 price target. Finally, TD Securities has set a $3 price target and have a "speculative buy" rating on the stock.
Here are some key points for Alderon Iron Ore Corp.
Current share price: $1.17
The 52 week range is 95 cents to $1.95
Annual dividend: N/A
Data is sourced from Yahoo Finance. No guarantees or representations
are made. Hawkinvest is not a registered investment advisor and does
not provide specific investment advice. The information is for
informational purposes only. You should always consult a financial
advisor.
Disclosure: The author is long AXX. The author wrote this article themselves, and it expresses their own opinions. The author is not receiving compensation for it (other than from Seeking Alpha). The author has no business relationship with any company whose stock is mentioned in this article.