As an investor who has covered the publishing sector from time to time, I always find it necessary to determine what needs to occur in order for a company to meet and/or exceed analysts' expectations. With that said, I wanted to take a closer look and share my thoughts on what needs to happen in order for A.H. Belo Corp. (NYSE:AHC) to deliver a fairly solid quarter when the company announces its results on July 28.
Company Overview
Headquartered in Dallas, Texas, A.H. Belo Corporation operates as a newspaper publishing and local news and information company primarily in the United States. It owns and operates three metropolitan daily newspapers and related Web sites.
The company's newspapers comprise The Dallas Morning News, The Providence Journal and The Denton Record-Chronicle. The company also publishes Briefing, a condensed newspaper, Al Dia, a Spanish-language newspaper, and Journal Express, a weekly publication. In addition, the company offers digital marketing solutions, and owns and operates commercial printing, distribution and direct mail service businesses.
Recent Trend Behavior
On Thursday, shares of AHC, which currently possess a market cap of $249.93 million, a forward P/E ratio of 25.22, and a dividend yield of2.82% ($0.32), settled at a price of $11.35/share. Based on a closing price of $11.35/share, shares of AHC are trading 2.03% below their 20-day simple moving average, 0.89% below their 50-day simple moving average, and 27.51% above their 200-day simple moving average.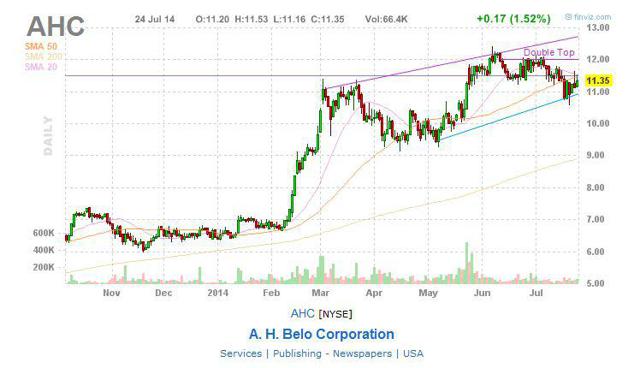 Click to enlarge
Although these numbers indicate a short-term downtrend and a long-term uptrend for the stock, which generally translates into a selling mode for most near-term traders and a buying mode for many long-term investors, I strongly believe the company's trend behavior will continue to improve in the wake of its recent asset sale and well after it announces Q2 results on July 28.
Upcoming Earnings Outlook
When it comes to the company's upcoming Q2 earnings, there are a number of things potential investors should consider. For instance, I'm currently calling for AHC to post a loss of $0.06/share in terms of EPS (which is $0.12/share higher than what the company had reported during Q1 2014, and $0.11/share lower than what the company had reported during the year-ago period) and $82-to-$90 million in terms of revenue when its latest earnings are released on July 28.
In order to meet and/or exceed its quarterly EPS estimates, I'd like to see a 6%-to-10% increase in the company's Q2 EBITDA (as compared to Q1's EBITDA of $3.2 million), a 2%-to-5% increase in the company's Q2 cash and cash equivalents (as compared to Q1's cash and cash equivalents of $82.5 million) and lastly, a 2%-to-3% increase in the company's revenues (as compared to Q1's revenues of $85.58 million).
Recent Sale Of The Providence Journal Has Me Slightly Concerned About The Entire Sector
On July 22, A. H. Belo Corporation announced that it had entered into a definitive asset purchase agreement under which a subsidiary of New Media Investment Group Inc. (New Media) will acquire substantially all of the assets which comprise the newspaper operations of The Providence Journal located in Providence, Rhode Island, including the production facility and related land, for $46 million in cash.
Although I think the additional $46 million will help enhance AHC's cash position over the next 6-12 months, it is the general behavior of the sector that has me a bit worried.
Why am I a bit concerned? Given the recent shift from physical printing to digital accessibility, many customers prefer to read articles on their PCs, tablets and mobile devices without paying a subscriber fee, versus the traditional $1 or so they would pay for a daily version of the printed copy. One the best examples in recent customer behavior comes from the Dallas Morning News, in which the publication moved to shut down its premium website down after only a nine-month run due to the lack of paid subscribers.
Conclusion
For those of you who may be considering a long-term position in A.H. Belo, I'd actually recommend keeping a closer eye on the newspaper publishing sector as a whole over the next 6-12 months as the conversion from print to digital will continue to play a key role in the long-term sustainability of the sector.
In terms of the company's upcoming quarter, steady increases of at least 6% in the company's EBITDA as well as a solid increase of at least 2% in terms of its revenues could help AHC meet or even surpass analysts' expectations when it announces earnings on July 28.
Disclosure: The author has no positions in any stocks mentioned, and no plans to initiate any positions within the next 72 hours. The author wrote this article themselves, and it expresses their own opinions. The author is not receiving compensation for it (other than from Seeking Alpha). The author has no business relationship with any company whose stock is mentioned in this article.