International Flavors & Fragrances Inc. (NYSE:IFF) is slated to release its third quarter 2010 results on Thursday, November 4. The current Zacks Consensus Estimate for the third quarter earnings per share (EPS) is 86 cents, representing an annualized growth of 5.23%.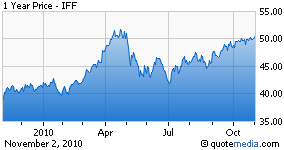 International Flavors has outperformed the Zacks Consensus Estimate in the preceding four quarters. The company has a positive average earnings surprise of 6.55%, implying that the stock has outdone the Zacks Consensus Estimate by the same magnitude in the trailing four quarters.
Second Quarter Highlights
International Flavors' adjusted net income soared 33.6% year over year to $68.7 million in the second quarter of 2010, or 85 cents per share compared with $51.4 million or 65 cents per share in the second quarter of 2009. Earnings per share surpassed the Zacks Consensus Estimate of 82 cents.
Adjusted results for the second quarter 2010 excluded roughly 2 cents per share charge related to the company's ongoing restructuring activities in Europe. In the reported quarter GAAP EPS was 83 cents compared with 60 cents in the year-ago quarter.
Net sales were $665.8 million, up 17.2% year over year from $568.3 million in the comparable quarter of 2009 and 17.0% on a constant currency basis. Results also exceeded the Zacks Consensus Estimate of $620.0 million. The increase in revenue was attributable to new business wins and higher sales volumes in Europe, Africa, the Middle East (EAME) and Greater Asia.
Detailed discussion on the second quarter results can be found here: IFF Beats Estimates, Wary of 2H
Agreement of Estimate Revisions
In the last 30 days, there were two positive revisions in earnings estimate for the third quarter of 2010 and fiscal year 2010 and 2011.
Positive revision incorporates a healthy order flow for fragrances and flavors. Operating margin is expected to escalate in the quarters ahead on the back of the company's strict cost control measures.
Magnitude of Estimate Revisions
Accounting for the positive revisions in the last 30 days, earnings estimate for the third quarter of 2010 moved up a cent to 86 cents, reflecting a year-over-year growth of 5.23%.
Estimate for 2010 escalated from $3.22 to $3.24, representing a growth of 20.0% year over year while for 2011; it was up from $3.56 to $3.57, reflecting growth of 10.28%.
Our Take
International Flavors & Fragrances is one of the leading companies engaged in the creation and manufacturing of fragrance and flavor products in the United States and internationally.
Management's wary outlook for the second half of 2010 has raised concerns as the company apprehends that its results would be influenced by diminishing benefits from restocking activities, normalized revenue growth on a constant currency basis and possibilities of a negative foreign currency impact.
On the other hand, positive revision in earnings estimate raises hopes of a quarter with good results ahead.
We currently maintain a Neutral recommendation on the stock.