Investors look for the next big thing. Woe unto me for not taking my best friend's Microsoft (NASDAQ:MSFT) stock recommendation while we were in high school. Had I listened to him, I would be sitting on a beach, drinking a cerveza, and perhaps not writing this article.

But, hindsight is 20-20. Now I am a more active investor and search for opportunities as they arise. I present one for you in this article which I believe is a very powerful opportunity to take advantage of offshore oil discoveries in Africa.

As I wrote on my blog in The Final Frontier for Black Gold, African offshore oil is an emerging market that still has jewels you can take advantage of.

Why is the African oil market so potentially profitable? The geological features of the West African coast are analogous to that of Brazil for hydrocarbons.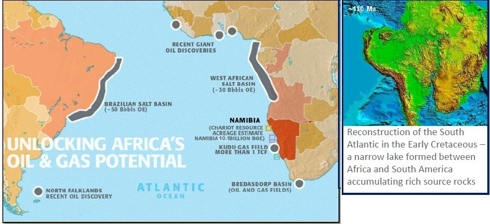 What scientiest have found in Brazil, they are finding in Africa. In fact, Byron King has pondered whether Namibia in particular could have ten times the resource potential of Brazil, by itself.

In the article, Marcio Mello, CEO of Brazil's HRT Petroleum Co., opines,
"But Namibia," said Marcio, "is way underexplored. So you can put down a little money for the concessions and get very rich."
In Namibia, companies can get acreage for 1/10 of what it costs in Brazil. And the Namibian government is very friendly to foreign investment as they are experiencing energy shortages. Namcor, the state oil company, usually takes a percentage of the find in exchange for license rights, but it is by no means usurious.

In addition to oil, companies are finding rich gas deposits such as the Kudu gas field.

For reference, here are the top African offshore oil companies, by acreage (click to enlarge).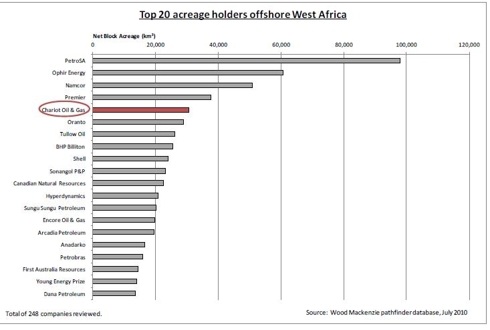 Source: Chariot Oil and Gas

One African oil success story is Chariot Oil and Gas (OTC:CHDSF), which recently announced a 10 billion BOE estimate in Africa and is partnering with PetroBras (NYSE:PZE) to to develop a block of their holdings. Upon the announcements, their stock surged seven-fold in a very short period of time.

This is the type of surge that can make investors very happy. What we want to do is indentify the next Chariot Oil and Gas story.

UNX Energy (UPWRF.PK)

The company formerly known as universal power has announced estimates of 567 million to 2 billion BOE. They have a 90% interest in 5 blocks off the Namibian coast, a 40% interest in 3 other blocks, and a 2.7% interest in Block 1711 with Energulf Resources.

Their holdings include a gas play next to Kudu gas field with potential reserves from 1.3 to 9 tcf of gas (click to enlarge).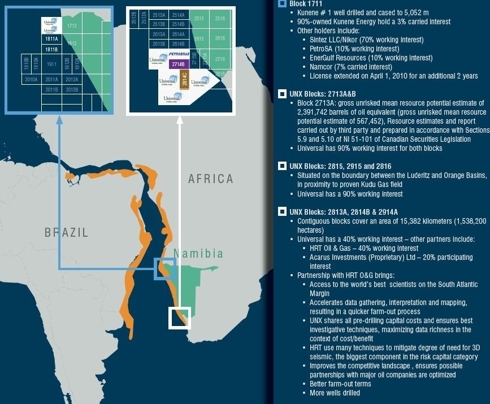 When I first heard about UNX Energy at an investor presentation during this summer, the stock was trading at $1.50, and it is currently at $3.37. That's a nice boost upon the reserves announcements.

I believe it has many more such surges as additional acreage is mapped, and subsequent reserves estimates are announced. If reserve announcements for Namibia hold true across UNX Energy holdings, we theoretically could be talking about a $50 stock price.

The company has recently announced a stock sale to boost cash as they go full steam ahead in their exploration efforts. So it's full steam ahead for investors who want to take advantage of the Namibian Oil Rush.

Disclosure: Author has positions in UPWRF.PK