Since I use Seeking Alpha largely as my own personal investing journal, I find it necessary to expose my scars and failures, along with the occasional victory.
In this case, I'll share what may be an incredibly foolish action on my part.
Today when the market opened (7/25/2014) I sold the vast majority of my stock holdings with only two significant exceptions. (I kept a few shares of AT&T (NYSE:T) and a few shares of Southern Company (NYSE:SO). More on that another time.)
I sold companies that I have carefully pruned and added to over the past 3 years. These were what I thought were the biggest and best companies in the world, with a bias to the U.S. They are largely companies paying a dividend, whose dividend growth rate, or initial starting yield, was attractive. To me that means they were paying in the 2% to 5.5% range. BCE (NYSE:BCE), ConocoPhillips (NYSE:COP), Chevron (NYSE:CVX), BP (NYSE:BP), Target (NYSE:TGT), The Procter & Gamble Company (NYSE:PG), Kinder Morgan (NYSE:KMI), Colgate-Palmolive (NYSE:CL), Kimberly-Clark (NYSE:KMB), 3M (NYSE:MMM), Coca-Cola (NYSE:KO), Wal-Mart (NYSE:WMT), General Mills (NYSE:GIS), Wisconsin Energy (NYSE:WEC), Wells Fargo (NYSE:WFC), Verizon (NYSE:VZ), AT&T and so on.
At better prices I'd happily take them all back into the fold.
I also held a few outliers. Seadrill (NYSE:SDRL), Vanguard Natural Resources (NYSE:VNR), Kinder Morgan Management (NYSE:KMR), Omega Healthcare (NYSE:OHI), Realty Income Corp. (NYSE:O), and Prospect Capital (NASDAQ:PSEC) are examples. These were 1% of portfolio positions, or less.
I've been very happy with the gradual increase in value over the last three years, as well as the increasing dividends and the general prospects for the companies.
So the question is, "Why sell?"
It comes to this. I couldn't sleep last night worrying about the three indicators that I follow the most: the Dow 30, the NASDAQ index, and the S&P 500.
I combined this worry with observations about companies and their earnings reports, with a dash of paranoia thrown in. Some companies appear very solid, with tons of cash sitting offshore, or elsewhere. Others are having nice dividend increases. A few are missing their numbers, but they don't seem to be getting consistently punished.
On the other hand, there are whispers of a faltering economy, another recessionary period, and a howling cacophony from pundits that the end is near. Normally I'd see the heavy consensus of bearishness as a bullish indicator. But I failed to mention one last concern. Janet.
The concern that Janet might close her Federal purse hangs over the market like old cigarette smoke in a seedy bar.
THE SNAPSHOTS
My worries can be drawn on paper. They look like this: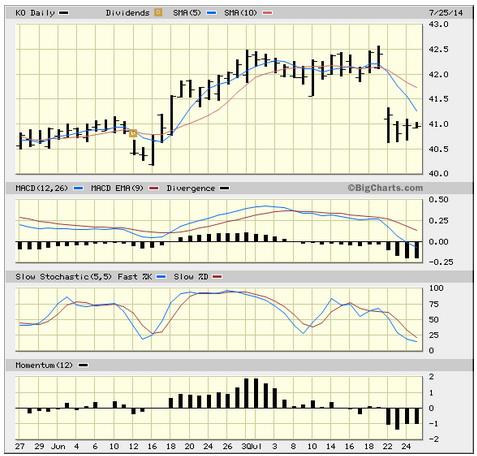 This is Coke (KO), one of a handful of spectacular brands, with an incredible story, broad product footprint, and products that are hugely popular worldwide.
Coke suffered a "disappointing quarter," has endured a management gaff over executive compensation, and soft drinks seem to be the new tobacco.
But we are still talking about one of the best brands, run by one of the best management teams in one of the biggest bull markets of all time.
So the gap down really grabbed my otherwise feeble attention. (Maybe the gap will get filled the way it is supposed to, or not.)
But it does show that fates can reverse abruptly.
THE BIG PICTURE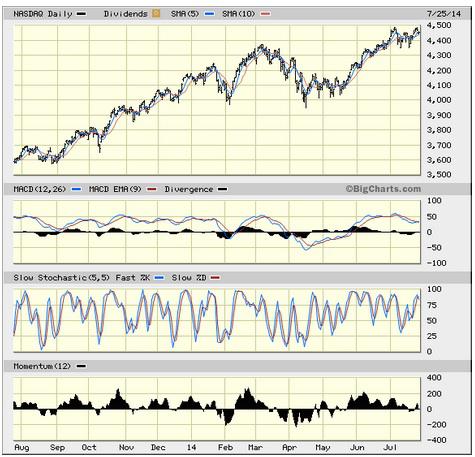 This chart of the NASDAQ serves as stimulus to two contradictory thoughts. First, it doesn't look like a frothy, blow-off top. Second, it's been a nice bull market with only one ten percent retracement.
Looking a little more closely, this pattern seems to be either a nice trading range, which I would take to be bullish, or a nice little double top.

This close up of the highs adds heat but little light.
The advance, below, of the S&P appears a little more relentless.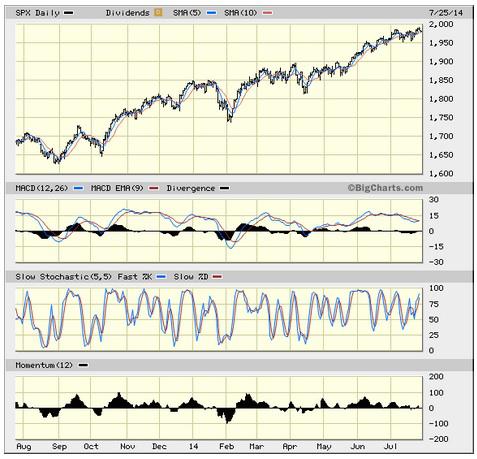 And lastly, thank goodness, the Dow 30.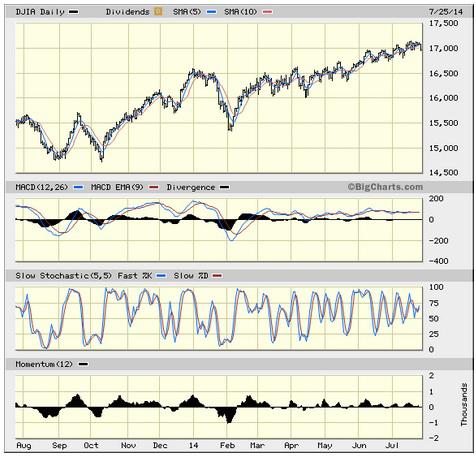 The Dow 30 has been in a pretty unrelenting climb since February.
So these charts make me think that a correction is needed and very possible. A significant part of me thinks that the bull will run until it hits a wall, but I also remember the words of my commodities mentor, "When in doubt, get out."
Rest assured I am not suggesting others do as I did. In fact, I know the market may run further, so please don't follow me. But full disclosure and being authentic requires that I write the truth of my actions. As for the wisdom of those actions, only time will tell.
Additional disclosure: COP, CVX, BP, TGT, KO, WMT, PG, CL, KMB, MMM, GIS, WEC, WFC, VZ, T, SDRL, VNR, KMR, OHI, O, PSEC have all been liquidated today. They may be repurchased at any time.
Disclosure: The author is long SO, T. The author wrote this article themselves, and it expresses their own opinions. The author is not receiving compensation for it. The author has no business relationship with any company whose stock is mentioned in this article.